Confessions of a Grumpy Old Cock-and-Bull
Earlier this year, I suddenly felt a strong urge to visit Green Bay, Wisconsin, where I had attended grades 5-12 and my junior and senior years of college. Not long after that urge set in, I realized that this year is my 30th college graduation anniversary, and so I decided to schedule my trip to coincide with UWGB's Alumni Days. My goal this trip was to visit some of my favorite parks, museums, landmarks, and restaurants.
Those are the only words published online from my original journal of the October 2015 trip. The rest I scrapped. Since then, each effort to resurrect it has again been discarded. Perhaps it's best to let the pictures speak for themselves, but another part of me still wants to tell more about my experiences on the trip. And, in the process, mangle my tenses and wander from my narrative track much as a modern version of Tristram Shandy.
Had I the vacation days to spend, I would most definitely have taken the train. Flying is quicker and cheaper, but that doesn't mean I would enjoy it. The flight is 10 grueling hours, with long layovers at Chicago O'Hare both ways. Of course I've been on worse flights: yes, there are grungier forms of transportation in the world, but in my personal experience nothing spells misery like an overnight flight.
Of any airport I've visited in the world, Chicago O'Hare has always been the one I truly loathe. On one trip to Green Bay, only, was I able to avoid Chicago and transfer at Milwaukee. I still have fond memories of Milwaukee's airport: the shopping area is made up to resemble Old Town, with brick walls and cobblestone streets. And as you may know, my all-time favorite airport experience was at Incheon airport in South Korea. But my memories of O'Hare have been chiefly of the lack of comfortable seating, and the necessity to journey to the Hilton Hotel in order to sit and eat in a real restaurant. Things have changed somewhat since then: there still is no comfortable place to sit, but at least there's a Macaroni Grill in Terminal 3 where I can have a civilized meal with china plates and cloth napkins.
Upon arriving in Green Bay, I come upon another surprise: even though I'd booked an economy rental car, I wind up with a Jeep Grand Cherokee at the same rate, an undeniably guilty pleasure. Now this may sound odd coming from a professional computer programmer, but I can't understand these newfangled cars. True, I have installed a Bluetooth unit in my own car to play music from my MP3 player, but it took me ages to work out its menu. The same is true with the Jeep: by the end of this trip, I will still be utterly unable to locate the odometer to note the mileage.
In an age where much of the digital industry focus is on UX/UI, automobile and entertainment manufacturers seem utterly clueless. However, before I get too smug, I must note some jaw-dropping failures elsewhere. I'm talking especially about the current vogue of using flat, cryptic icons, without any tooltips or other adequate explanations of how to use them. Microsoft's Metro interface is one of the worst pieces of non-intuitive sheepcrap ever. And, imagining themselves to be equally cool, others have shamelessly followed the same path, including Esri, my own bread-and-butter.
Even Google has fallen off the mark recently, thinking that their map imagery is trendier when blended with 3D surfaces, when in reality it just looks crappier, which is why I find myself going to Bing more often lately. I must confess, however, that I was pleasantly surprised by Chrome OS. I used to pooh-pooh it, but when I was looking for a cheap laptop for my trip to Washington DC this past spring, I decided to try out a Chromebook. Not only has it been great for travelling, but I use it all the time at home, even as I write this. It's convenient, very fast, and unlike my other, more expensive computers, I won't feel so bad if I happen to break it.
To return to Green Bay: they say you can't return home. Or at least, you should expect to be disappointed. While I was there, I had a freaking great time.
Thursday, October 15
When planning this trip, I had decided that on my first day in Green Bay, I would immediately leave town ;-) and head up to Door County. There's a lot more 4-lane road than there used to be, but honestly I can't complain about that. On the way, not long after sunrise, I stop at Wequiock Falls County Park. The statue is of Jean Nicolet.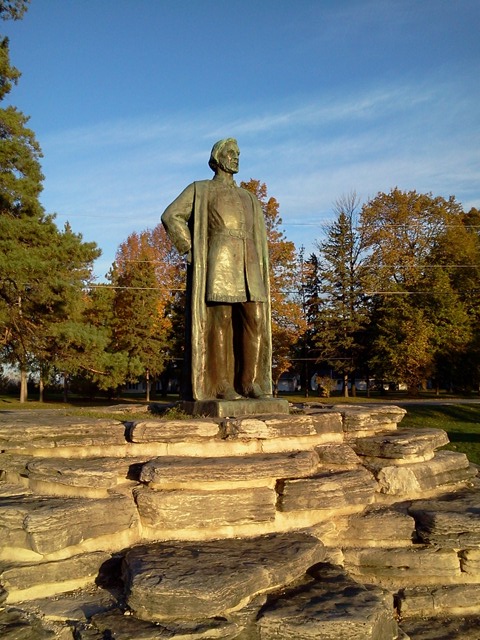 There's no water over the falls this time of year. The best time to go is during spring snow-melt.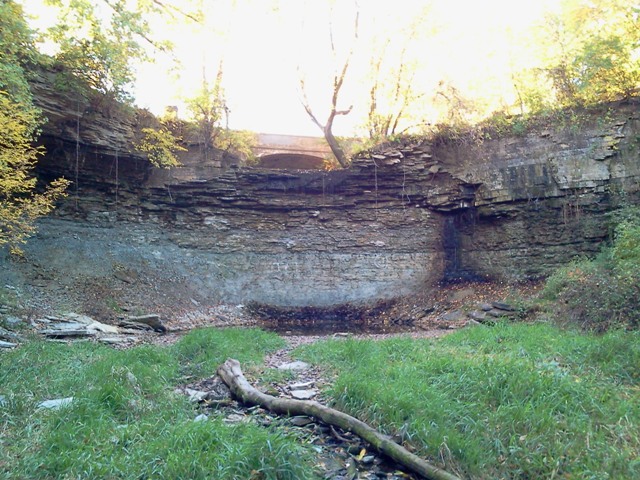 Next stop is at Bay Shore County Park. There's a nature trail there along the Niagara Escarpment, with a long set of steps to the shore itself.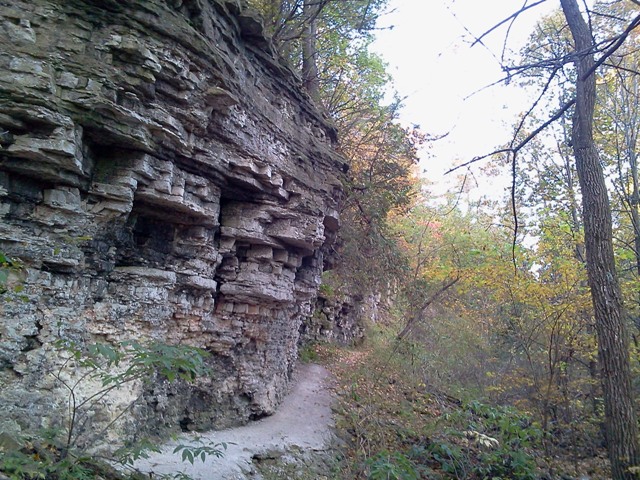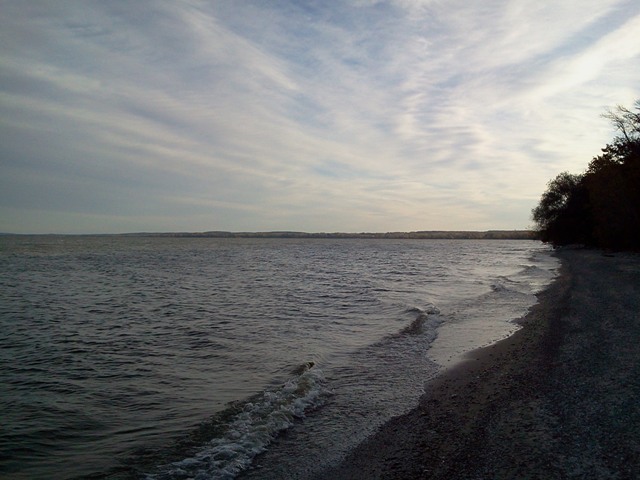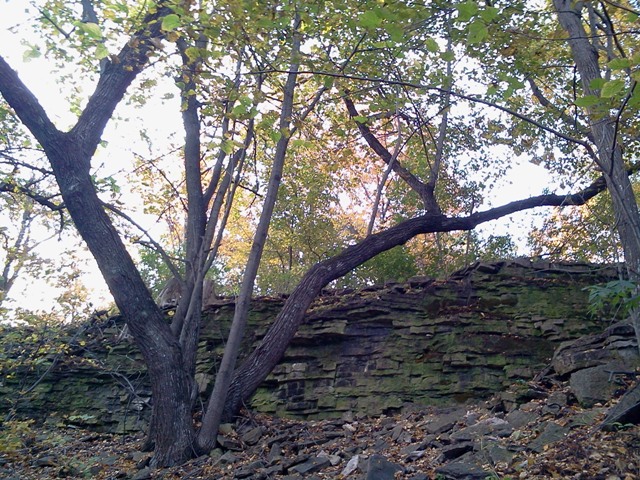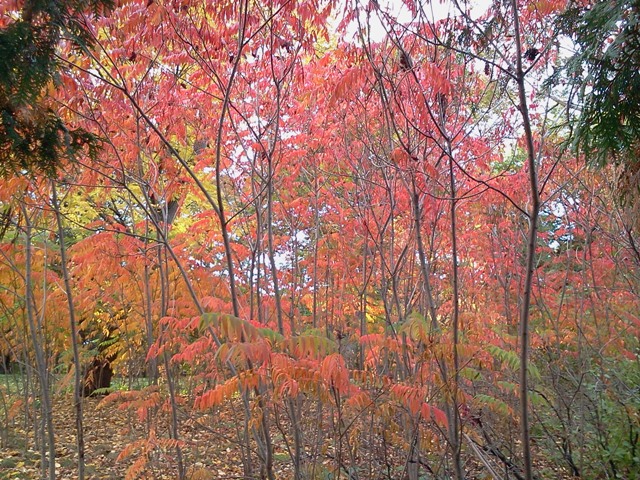 As I drive through some of the smaller towns, I spot my first Piggly Wiggly! From now on, throughout the entire trip, I never fail to call that name out loud whenever I spot one. In the spirit of Tristram Shandy, I promise to devote a chapter (or at least a paragraph), to Piggly Wiggly, sometime in the future.
While driving through Egg Harbor, I can't resist stopping and taking a picture of St. John the Baptist Catholic Church.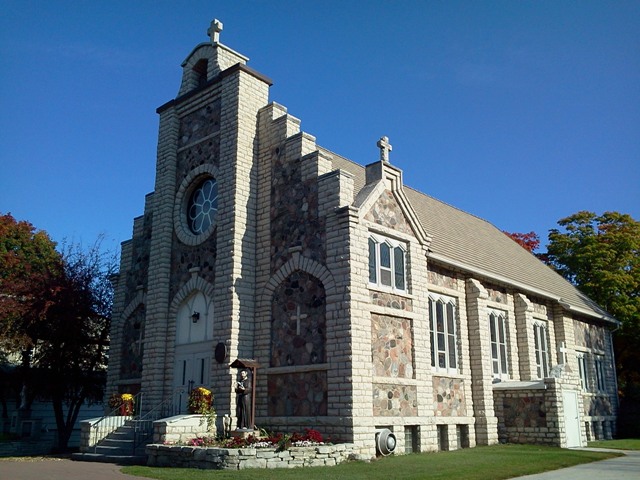 In Sister Bay, I eat brunch at Al Johnson's Swedish Restaurant. Although they are difficult to spot in the pictures, there are indeed goats on the roof.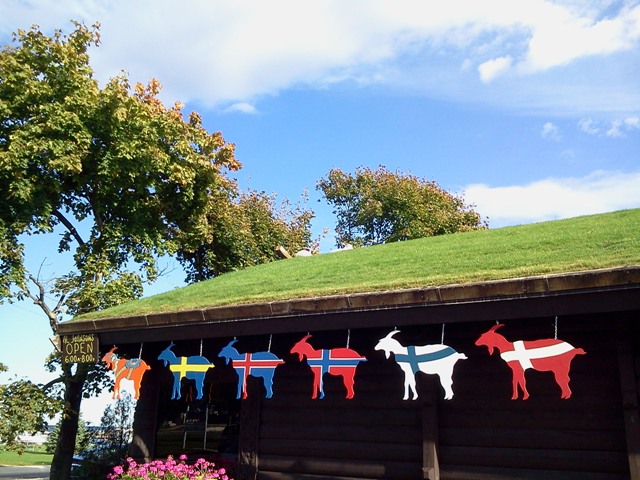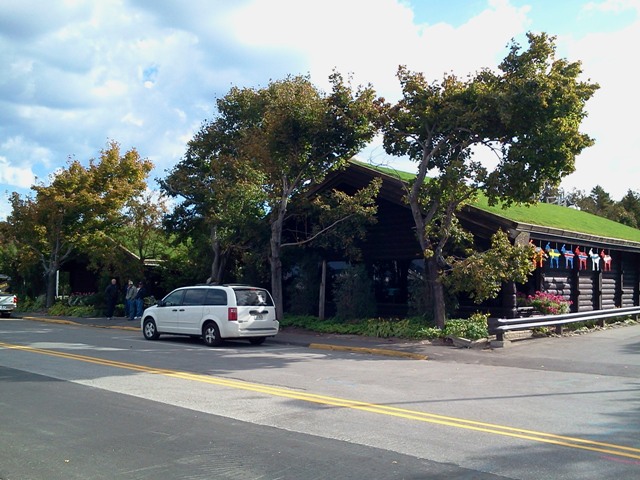 I return to Green Bay by way of Algoma, Kewaunee, and Pilsen. As I drive though the countryside, I'm filled with a wonderful sense of gladness that I'm here. Like Zippy the Pinhead, I almost find myself chanting: Piggly Wiggly, Piggly Wiggly, Piggly Wiggly.
After a rest break at the hotel, I continue on to Fonferek's Glen County Park. I'm positive that I came here once on a field trip in one of my classes at UWGB.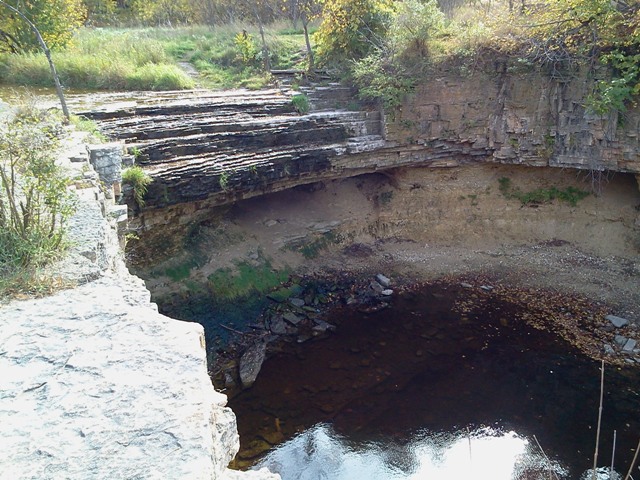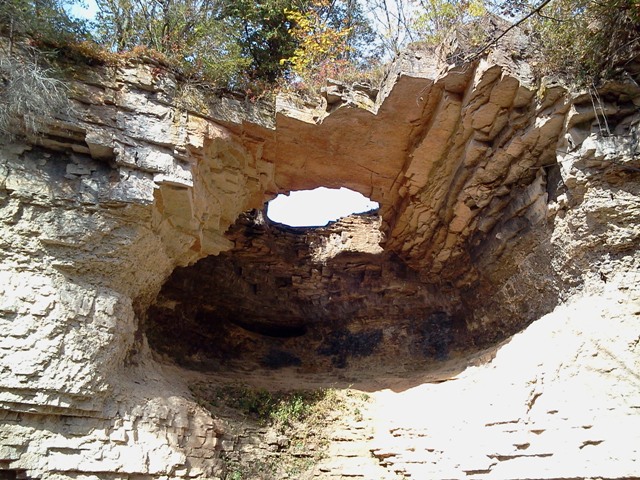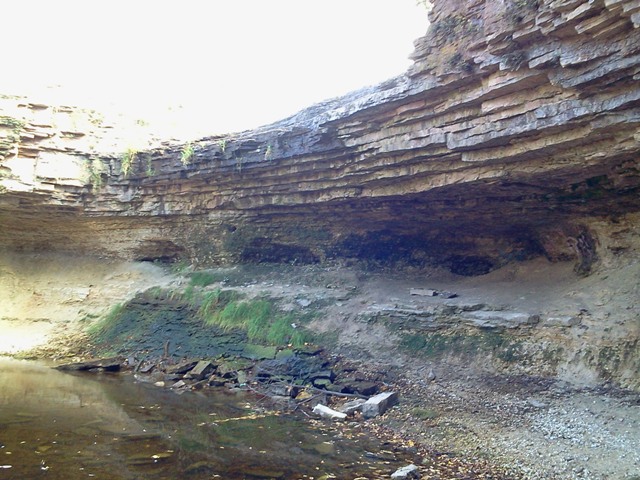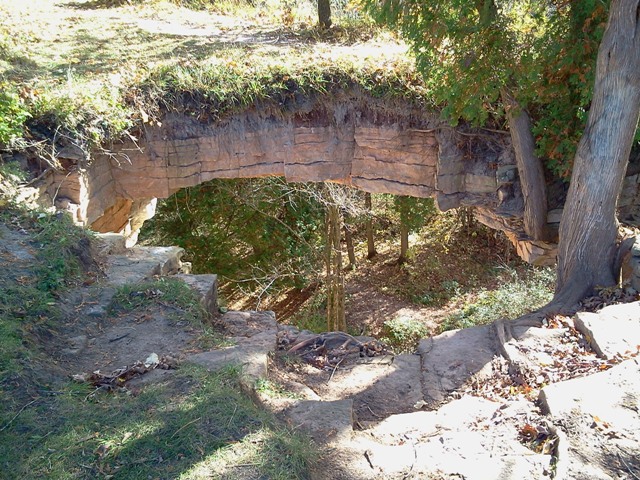 The last park I visit today is Heritage Hill State Park.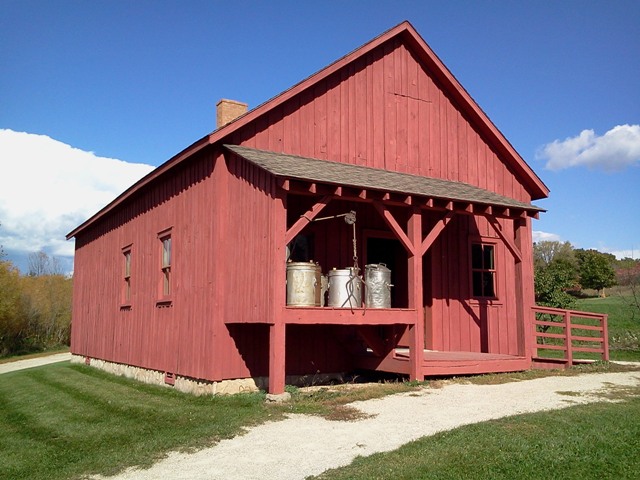 The most recent addition to the park is the newly restored Fort Howard guard house, not even described yet at the park's web site.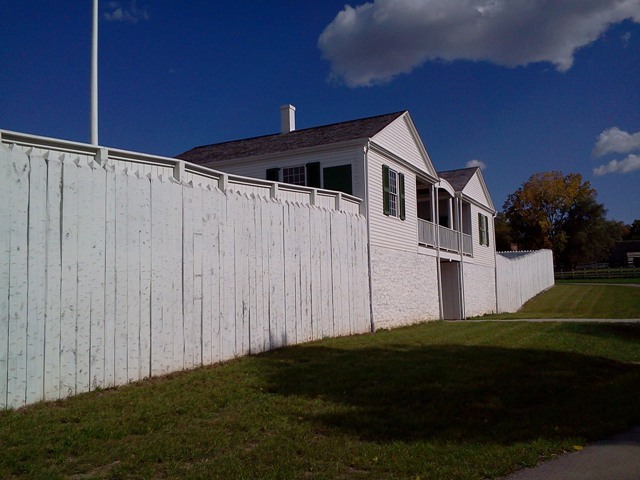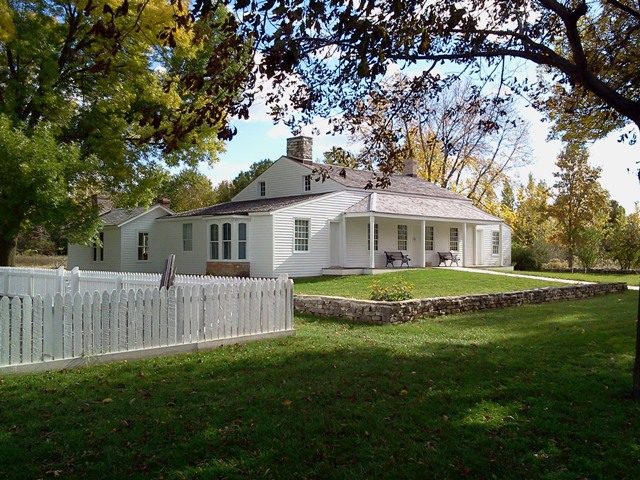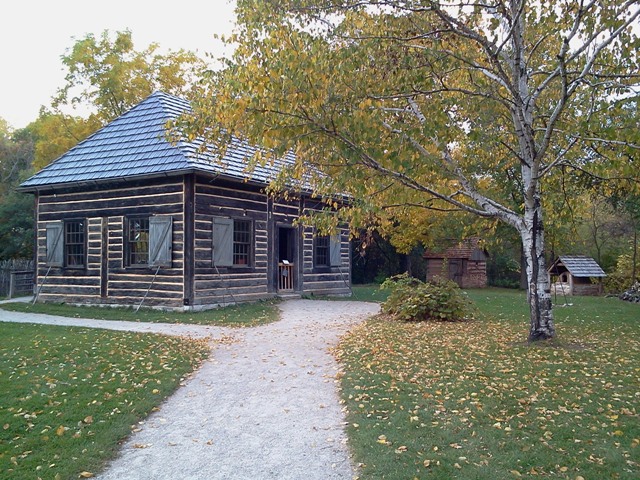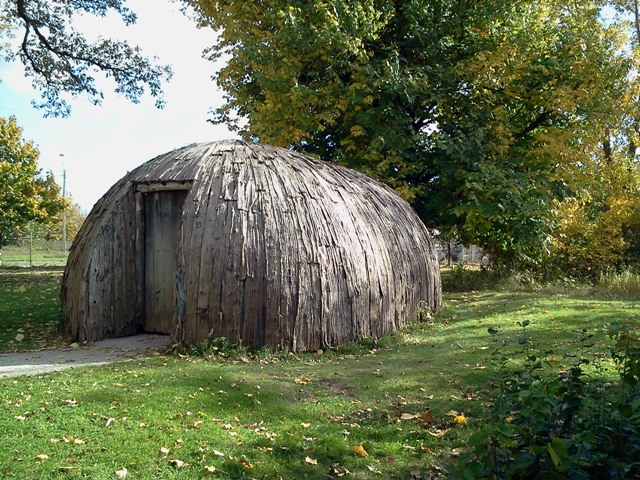 Before returning to the hotel for the night, I eat dinner at Happy Joe's, still there after all these years. I must confess, however, that my favorite pizza, and childhood pizza memories, are at Shakey's Pizza Parlor. Back in the 70's, there was a Shakey's in Green Bay, complete with an old-time piano and banjo duo, playing turn-of-the-century songs [19th century, you kids on my lawn], with lyrics on a slide projector for everybody to sing along. [With Mitch! Come on, who doesn't remember Mitch Miller? Actually, I suspect that relatively few Boomers even know that he played the oboe.] Later on, the musicians were dumped for video games. Back then, there were Pong, Gunfight, Space Invaders, and Asteroids. But the pizza is still excellent, and to this day, every year that I go to Esri Developer Summit in Palm Springs, the first place I eat at is the Shakey's nearby.
Friday, October 16
First thing this morning, I decide to drive around town, visiting the old neighborhoods. The big old cannery on Broadway Street is now partly a restaurant, and the rest is part of Titletown Brewery, which also occupies the old train station nearby. The former Hansen's Dairy plant is now let out for office space. As I drive by my old elementary school, house, church, and high school, the streets all come right back to me, and I have no trouble getting around. Many of the businesses have changed, but not a whole lot else.

My first stop of the day is at Neville Public Museum. I have fond memories of its old location, tucked away almost out of sight behind the WBAY building. In the early 80's the new building opened up, and even after the big move, the much-beloved, cheesy, moth-eaten, shag-rug mastodon is still there.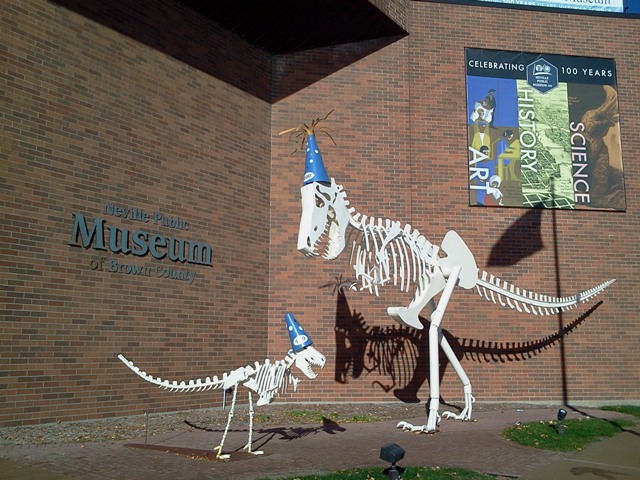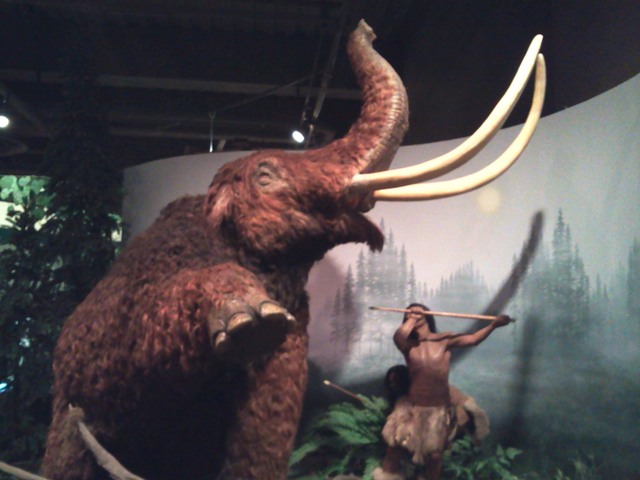 Nonetheless, even after having visited the Smithsonian Museums earlier this year, I'm very impressed by the high quality of most of its exhibits. I remember the outstanding Egyptian artifact exhibit in the new location, right around the King Tut craze. This year, there's an excellent display of historic Green Bay architectural drawings, plus an underwater archaeology exhibit that includes a reproduction of the famous Alvin submersible. Back in the 70's, I thought the Alvin was one of the coolest vehicles in existence, but now I take a look at it and think jeez, what an antique.
Afterwards, I stop at the gift shop and buy the book Tales from the Great Lakes. Good stuff.
Next, I wander over to Bay Beach Amusement Park. It's cold as heck and the rides are closed for the season, but I still enjoy seeing the Pavilion.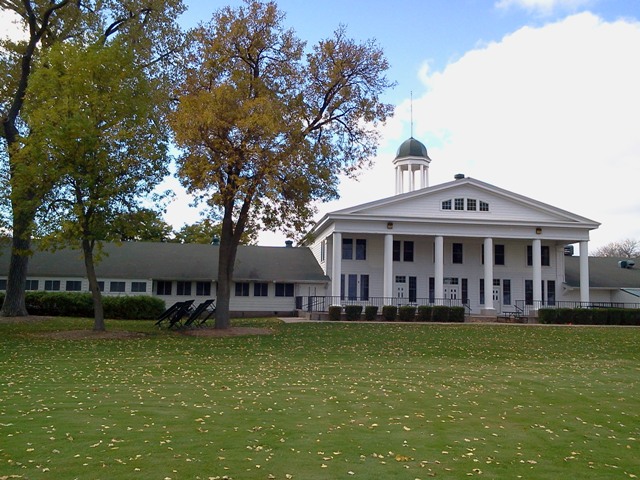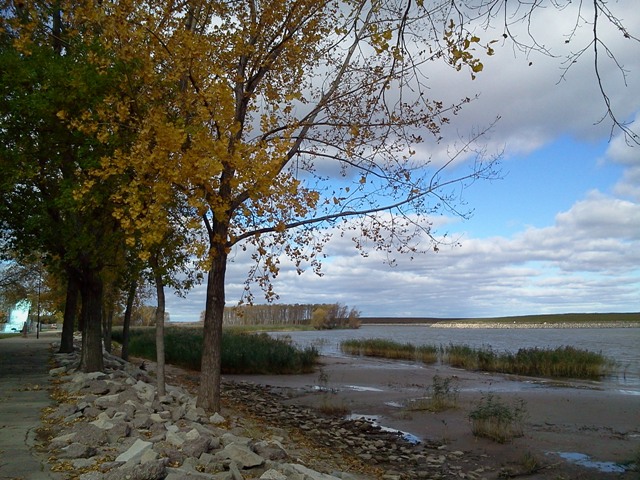 Nearby is the Bay Beach Wildlife Sanctuary. This place has changed considerably since I used to walk the wood-chip trails back in the early 80's. There's now a fancy Nature Center, Woodland Building, and Observation House. To be fair, the Nature Center was under construction when I was there, but [I may be wrong] I don't remember its actually being open yet.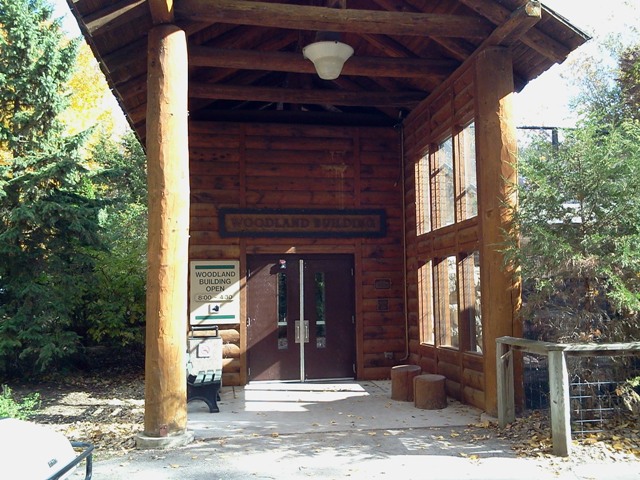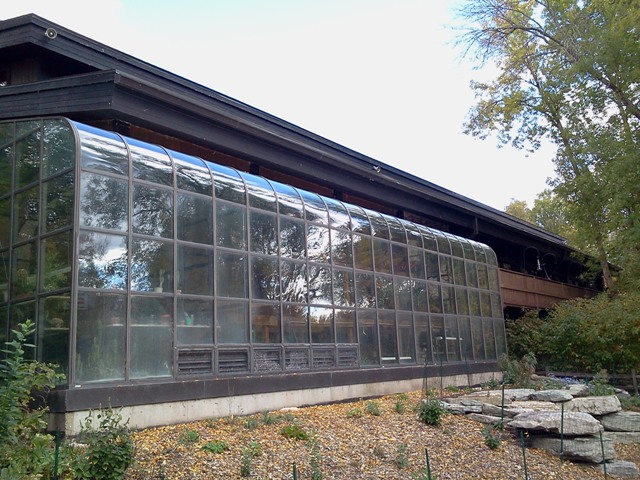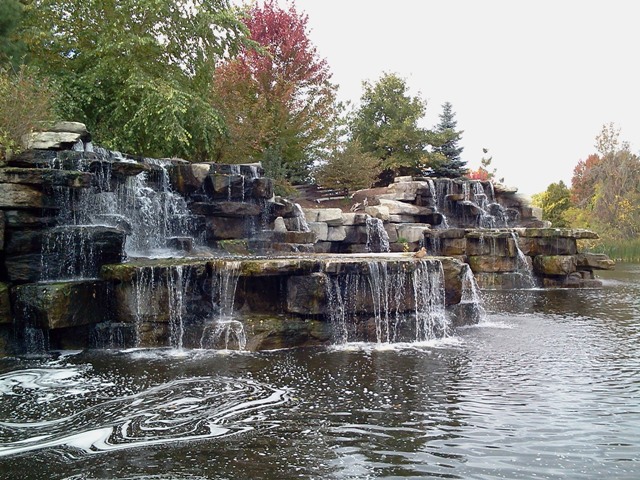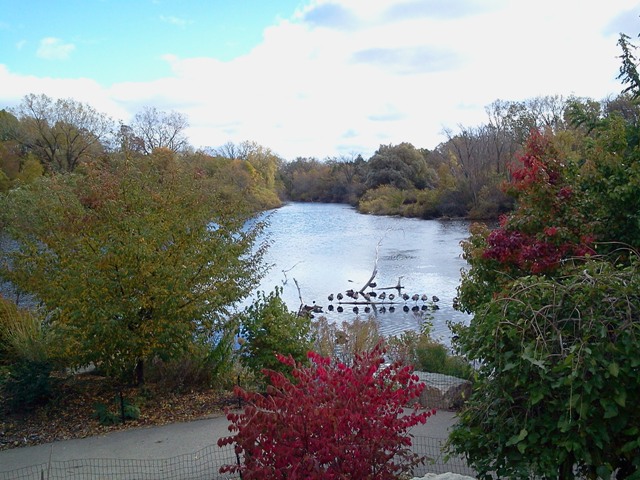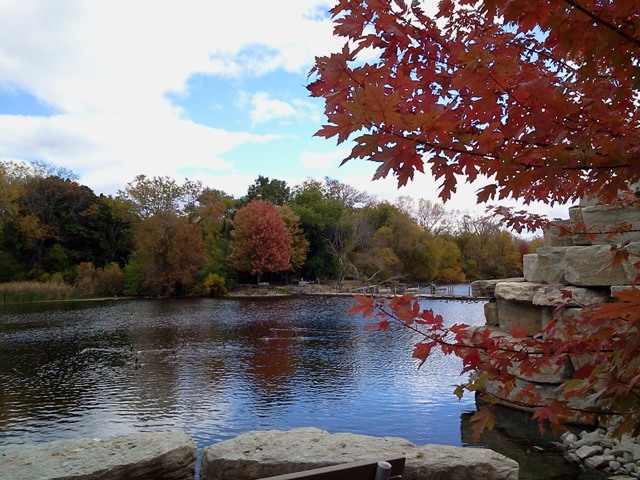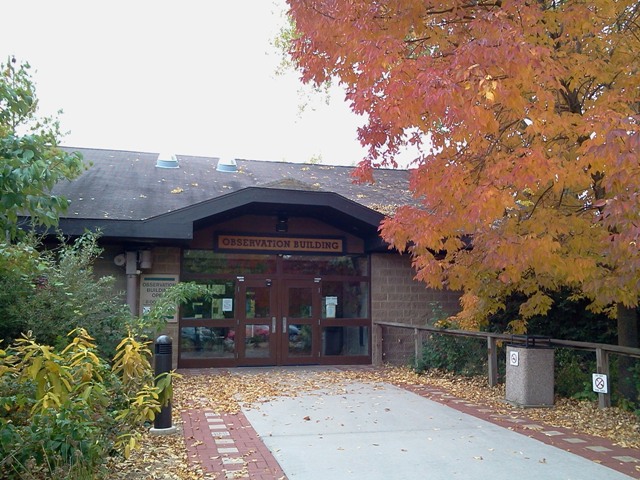 For lunch, I stop at Maricque's on University Avenue [no web site]. In a city renowned for its Friday fish fry, this place is truly one of the foremost old-school dive bars, serving some of the best old-school fish fry around. This is the real thing that you'd have when camping as a kid: take a whole freshly-caught perch, cut off the head and gut it, bread it, and fry it; upon receipt, crack it open, peel out the backbone, pinch off the tail, and eat everything else, fins and all, picking any remaining bones out of your mouth with your fingers.
There are other, more wildly popular fish fry places in Green Bay: the Redwood Inn [no web site] is an old-timer, and the young upstart is Mackinaws. Eh. In case you're wondering: no, Flagstaff is not the best place in the world for a fish fry, but it doesn't completely crap out. Country Host has one of the better, decently priced fish and chips baskets. And, hands-down, the best fish fry in town is the catfish at FieldHouse (be sure to order collard greens as one of the sides).
Also on University Avenue, across the street from what used to be a Hansen's Dairy store, is the most incredibly awesome Willow Street Bakery. Back when I was into sweets [I'm not diabetic, my blood chemistry is still great, but I just don't have the sweet tooth I used to have -- I'm more into beer and wine now], I would get off the UWGB bus here, even though I had to wait half an hour to catch the next, and buy some of the best damn pastry in the universe, even better than my Mom's, including baklava that would knock your socks off. According to their current web site, they're not open now for medical reasons, and their published menu doesn't include baklava. Nonetheless, after having visited a number of Greek and pseudo-Greek restaurants throughout my life, I have yet to taste a piece of baklava that even remotely approaches theirs. Even Mom agrees.
As long as I'm talking about University Avenue, I might as well mention my three remaining memories of this street:
1. The best cheesesteak sandwich I ever had was at ToGo's here in the early 1970's; the place was shut down shortly thereafter for health violations.
2. The Zuider Zee Supper club is long gone: it's now a place called Gipper's Sports Bar & Grill. They had what we used to call a smorgasbord, but is now called a buffet. Now before the Green Bay years, I lived in Eau Claire, WI, which I still consider absolutely the best little city I ever lived in. In Eau Claire, there was a place called the Jolly Troll, which called itself a smorgasbord. Good food aside, the place featured this display of gnarly little motorized "troll" manikins (they were really gnomes) that smiled and waved at you. That location, near what used to be London Square Mall, later became an Old Country Buffet. Anyway, the Zuider Zee was where I had my first taste of lamb, and I wouldn't eat another bite. But that didn't stop me from going back to the buffet for dessert. Years later, it turns out that I like lamb (and mutton): it might have been that loathsome mint sauce that turned me off. Laugh out loud, if you will, but Outback first showed me the right way to prepare lamb chops.
[That's not the first time this sort of thing has happened: I always hated beets, until I was taught (by a good friend) how to cook fresh ones properly, instead of eating them out of cans. Ditto for asparagus and lima beans. However, I still can't eat raw tomatoes, unless they're well-mixed with other, more potent ingredients, as in salsa. I'll return to the topic of spicy foods once I reach tonight's dinner.]
3. "The Empire Strikes Back": I don't see it on the map anymore, but there was a movie theater where my friends and I waited in a line that stretched around the block. It was worth it. Nothing else since then, not even "Gravity," has ever compared to that cinematic experience. And then, George Lucas expelled the Ewoks from his anus, and I've despised that endlessly meddling little bastion of society ever since. [Fortunately, since then, I was able to get an "Episode IV" special DVD edition that has the original version of "Star Wars" on the second disc.]
4. "Ha! whare ye gaun, ye crowlin ferlie?" Fooled myself, there was a fourth memory! There used to be an ancient, dubious supper club called McDonald's, and I'm quite sure it was on University Avenue. There was even a yellow arch on the sign. The fast food chain lawyers went after them, but the restaurant had been around for years before the hamburger stand ever existed. I never went in there. I tried to look them up on the internet without a single relevant hit, but I'm pretty sure I'm not imagining this. In my memory, I can still see the ugly, old, brown building going by as I sit on the bus to UWGB.
As long as I'm in the neighborhood, I swing by UWGB to pick up my registration packet for Alumni Days. It's on the way to UWGB that it first hits me that there are an awful lot of BP gas stations all over the place. There was a time when Holiday, Phillips 66, and Standard were all over the place. There used to be a Sinclair on the corner of Lombardi and Ashland: the dinosaur is still there, but the gas station is now a Shell.
Whiting Brothers and Stuckey's were, of course, the iconic Route 66 stops. Eat here and get gas fast. Pecan logs. I remember driving to Detroit on the way to graduate school at Wayne State (WSU) and seeing what were obviously old Stuckey's buildings painted purple and turned into wine tasting places. Some original Whiting Brothers ruins still stand here in Arizona, and the brand was revived for three existing gas stations: Payson, Show Low, and Safford [well, actually Thatcher, but what's the difference?].
It turns out that, because I'd signed up for the "Bluewhale Coffeehouse" reunion tonight, my registration packet will be available over there.
Next stop is the National Railroad Museum. The last time I was here was in 1975, when the American Freedom Train came through.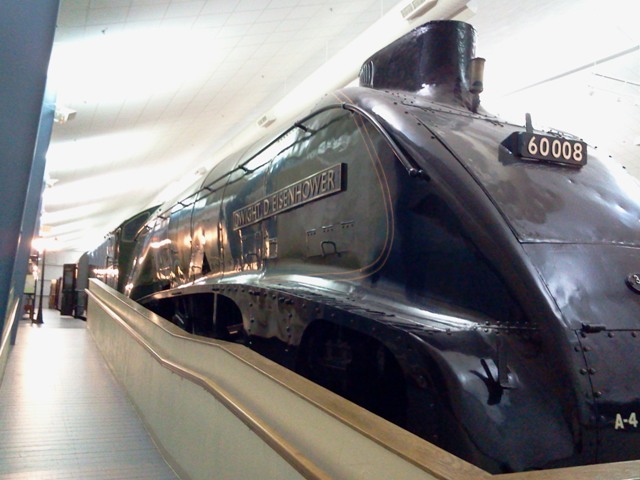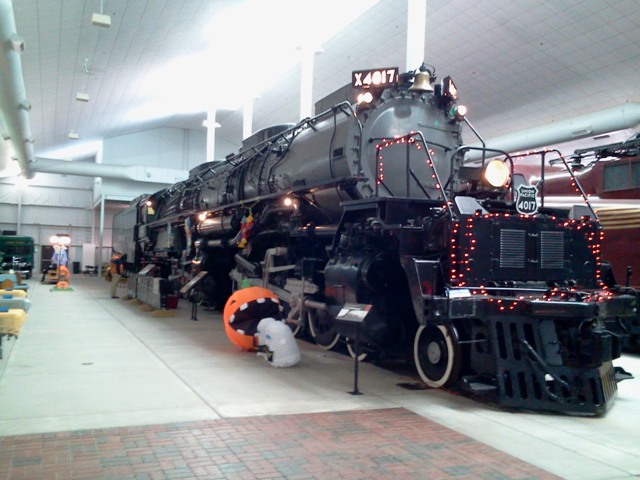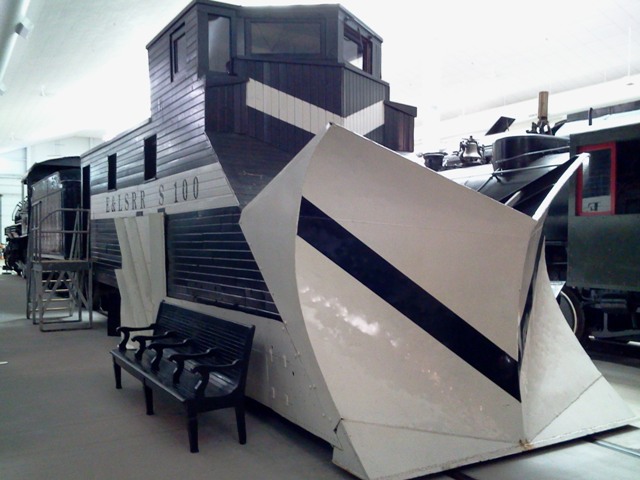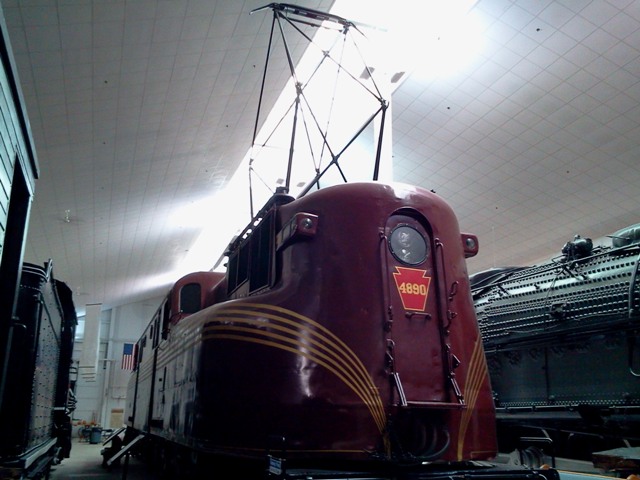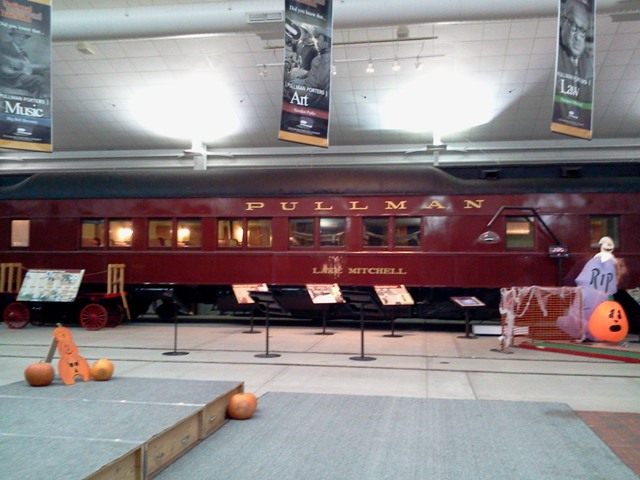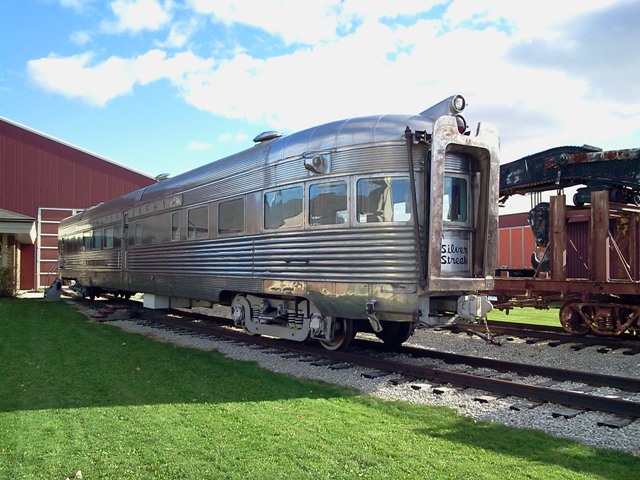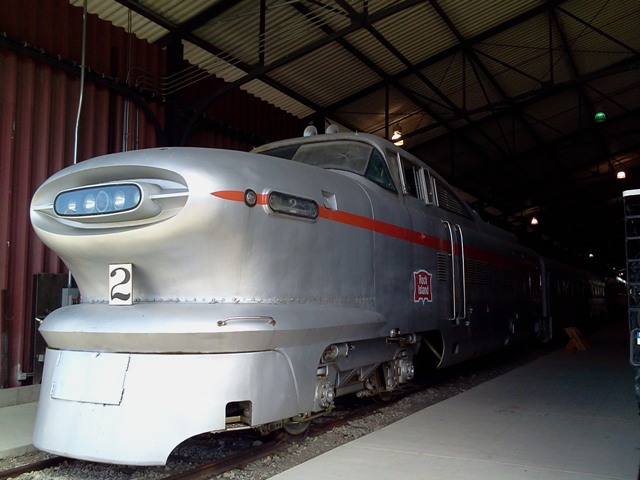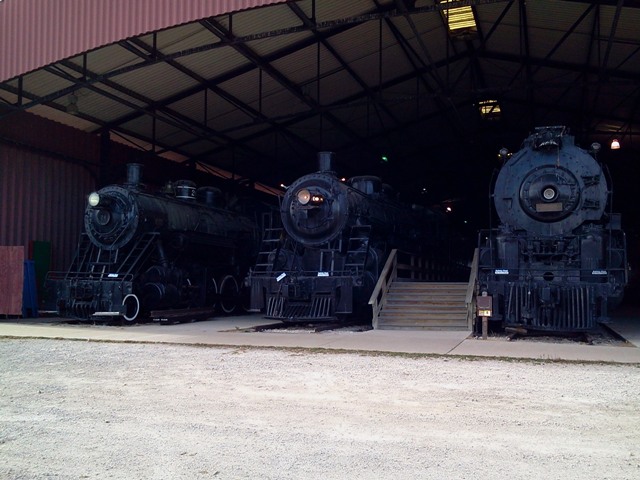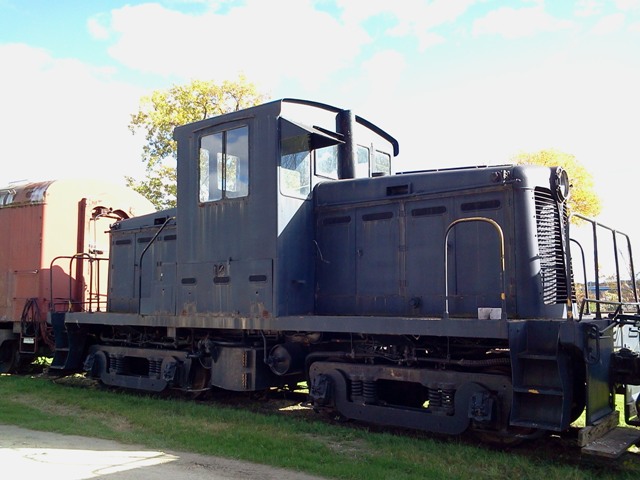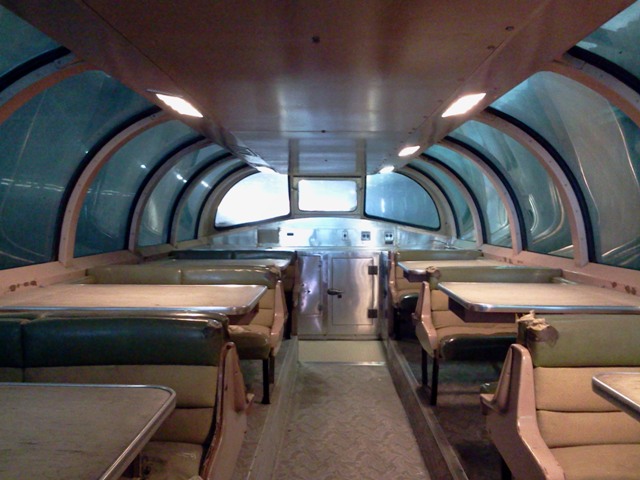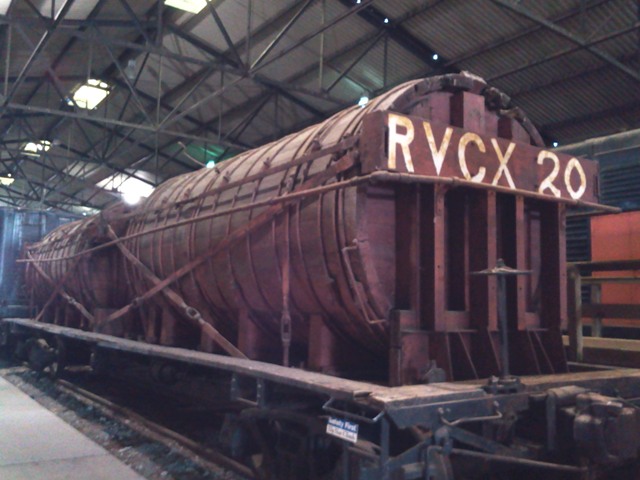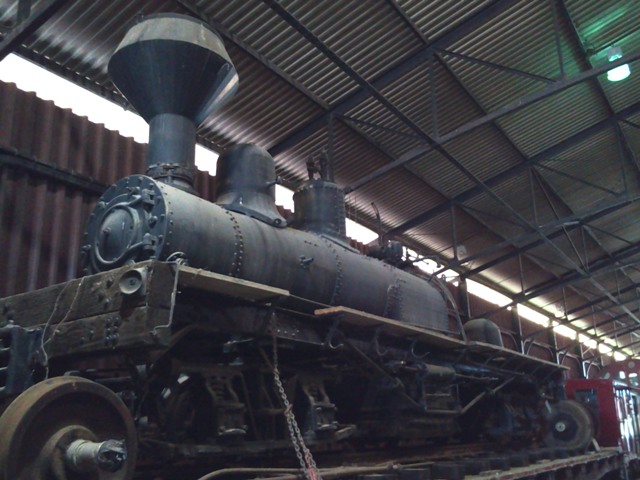 It's on my way to Pamperin County Park that I hit my first real navigational snag. That whole area of town has been overrun, as with kudzu, by a tangled jungle of roundabouts. Not even in Galway, Ireland did I ever see such an infestation. After a few wrong turns, however, I finally reach my destination.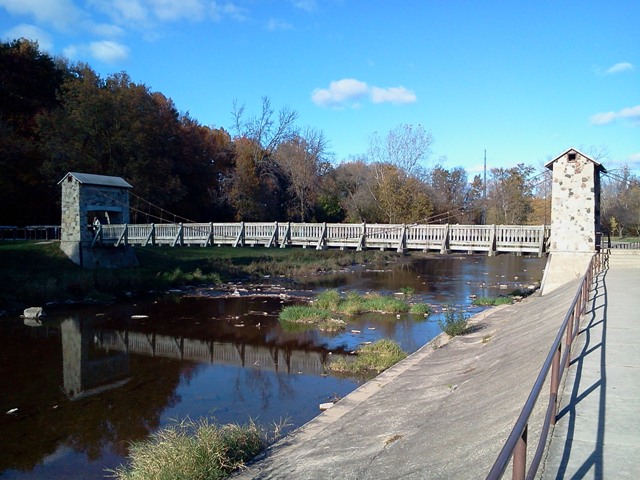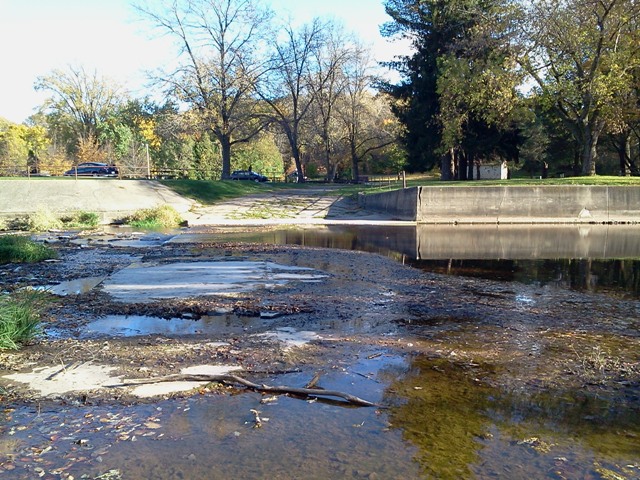 Afterwards, I eat dinner at Chili John's, one of the most venerable and cult-followed greasy spoons I know of. And I mean greasy! By my standards, even their spiciest chili is pretty tame, but such is the level of lubrication that it will still slide through you as in the proverbial goose. Zippy the Pinhead would be right at home here.
Come sundown, I'm at the Shorewood Clubhouse for the reunion of the Bluewhale Coffeehouse. This was a gathering place for folk musicians back in my time, and it's ironic that even though I'm sort of a folk musician now, I wasn't remotely interested in the place back then. I don't recognize a single person there, and it drags on way too long for me. After a couple of hours, I'm out of there.
Saturday, October 17
As part of UWGB Alumni Days, they booked a couple of slots for a tour of Lambeau Field. Although I'd visited the Packers Hall of Fame during my last visit to Wisconsin, I haven't been in the stadium itself since my one-and-only Packers game in the 70's. Since my last visit, the stadium has been expanded into a monstrous, year-round, revenue-gathering, tourist and event hot spot.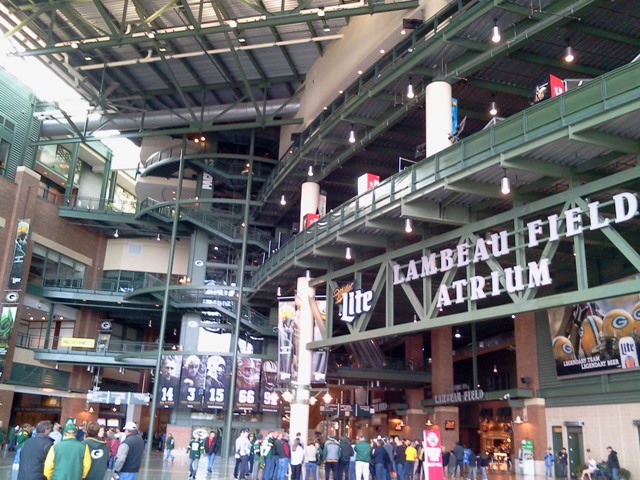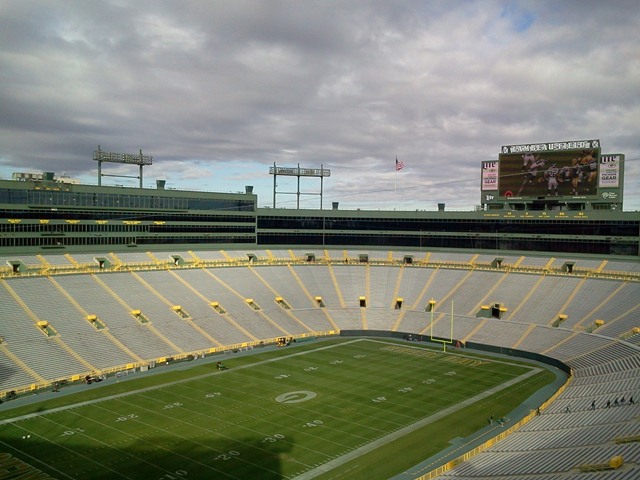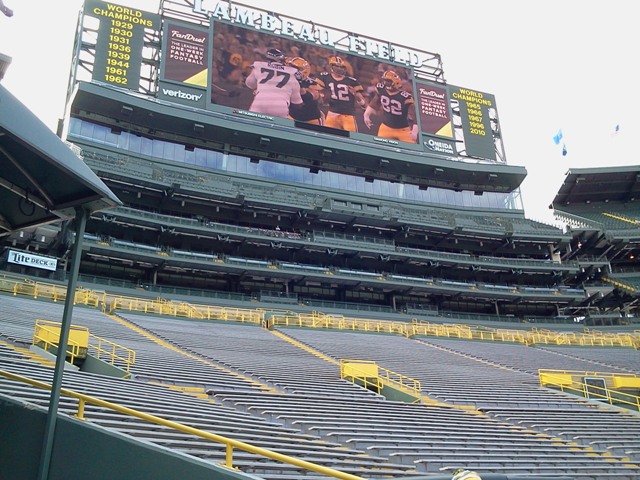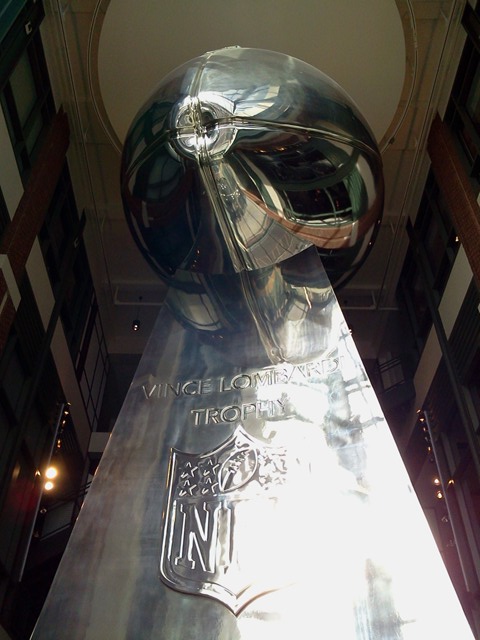 And so we come to the Alumni Days event itself. It's freezing cold today, but stoically I attend the outdoor carnival and t-shirt photograph session. T-shirts are color coded according to the decade in which we graduated: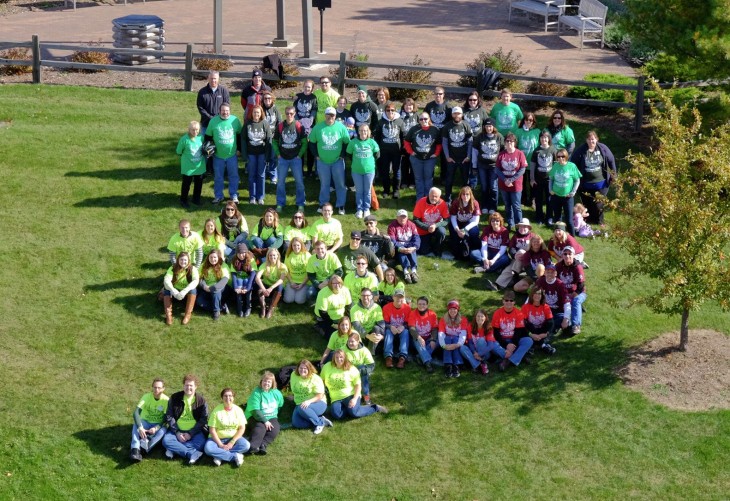 [80's graduates are burgundy -- I'm the guy with the wide-brimmed hat to the upper right of the "0"] Once again, I don't recognize anyone here, but I enjoy a few beers, a bratwurst [no sauerkraut! this is Wisconsin?], and some more chili.
The only picture I end up taking is during the walking tour, from the top floor of the Cofrin Library, looking out toward the Weidner Performing Arts Center.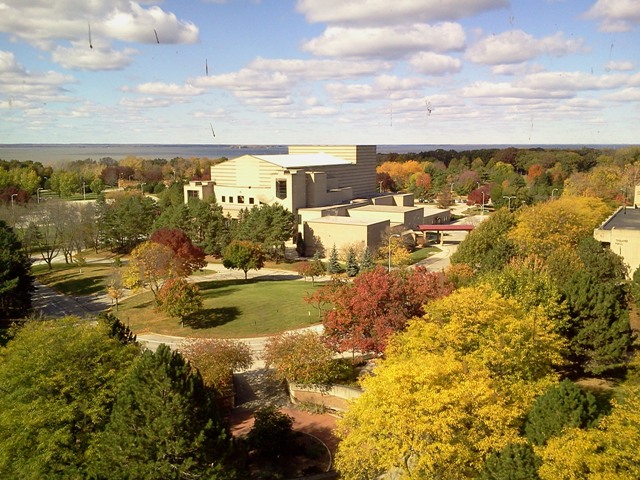 The old Rathskellar [which we all called the "Rat Cellar"] is long gone, as is the little second-hand shop below the library, where for 95 cents I bought the Cheap is Beautiful sign that hangs in my bedroom today. The moment I bought that sign, a more regular customer protested that he'd always wanted to buy it, and they wouldn't sell it to him. I don't remember the exact words of the reply, but it was something along the lines of "this is the time." Golden moments like that are rare in life.
In the fall of 1981, when I entered the UW 2-year school in Rice Lake, I was 18 years old. That was the legal drinking age in Wisconsin at the time (hence the massive liquor stores near the state border), and upon coming of age, I promptly obtained my special drinker's ID. [Not that I was a virgin to alcohol, after working at McDonald's though high school.] At that time, Wisconsin still had returnable bottles. I'd buy a case of Leinenkugel and return the bottles when buying the next case. When I transferred to UWGB in 1983, I encountered a new experience: the campus had its own bar. At the Rathskellar, I could buy beer on tap and a small pizza or deep-fried mushrooms. There were even some great old pinball machines. What's left there now is some sad, sanitized sports bar with video games and wall-mounted TVs. And most of the students can't even drink there. OK, it's my first real disappointment of this trip, but I already knew it was coming.
UWGB has grown significantly from the relatively small commuter campus it used to be. Now there are dorms, an expanded sports complex, another academic building, and the performing arts center. I'm impressed, but my alumnus enthusiasm peters out pretty quickly, and I end up blowing off the rest of the day's events.
In terms of career, my undergraduate and graduate college days may have been one colossal blunder, and I don't really feel that I owe anything to UWGB or WSU. But that doesn't mean I didn't have a heck of a lot of fun at the time, pretty much right up to the end, when the house of cards finally fell apart and I split the scene.
Sunday, October 18
I've never been to the EAA Museum in Oshkosh, WI, so I decided to make that my focus today.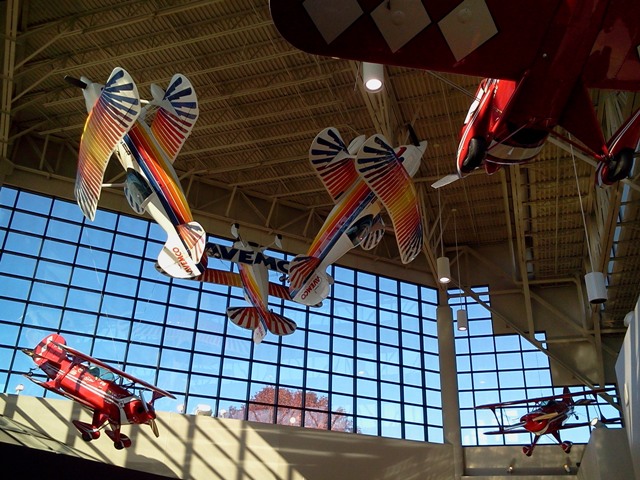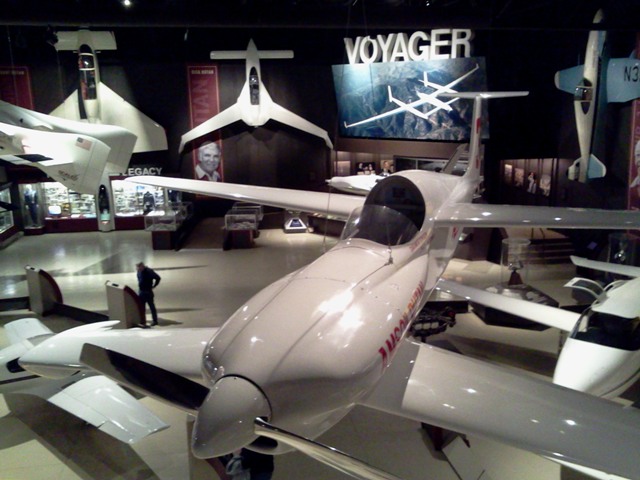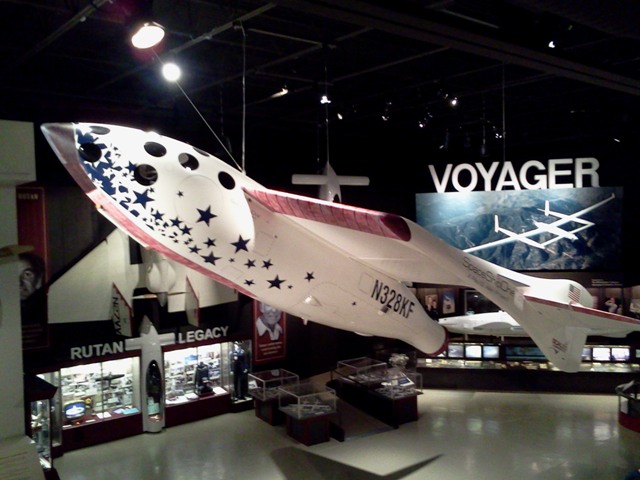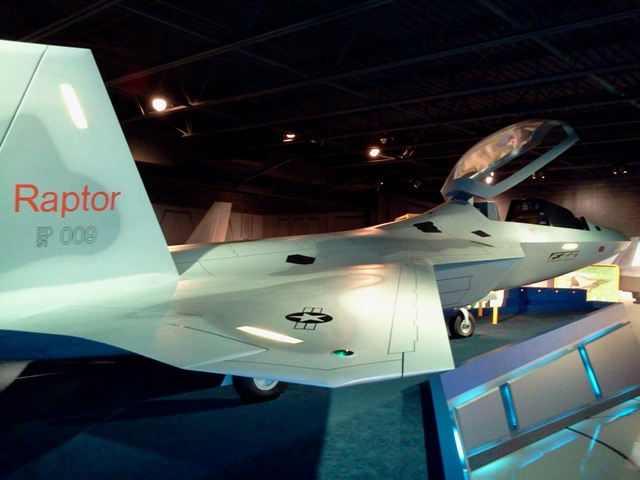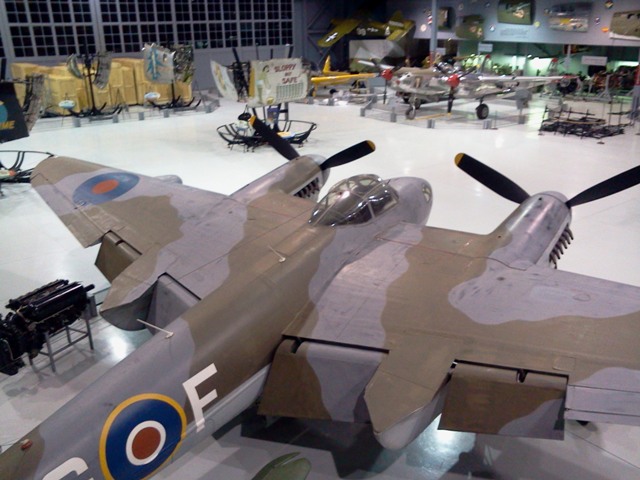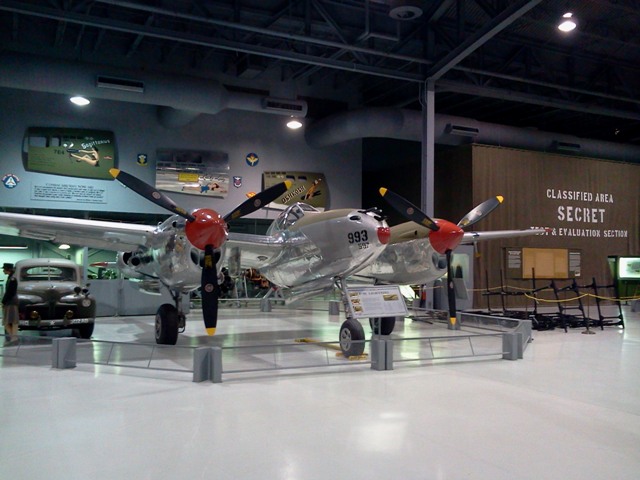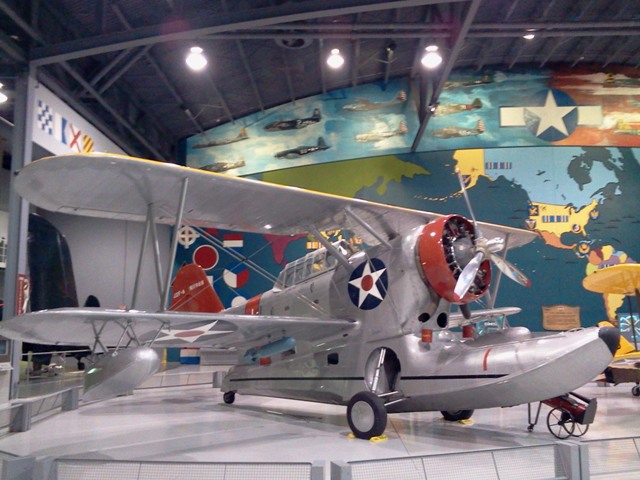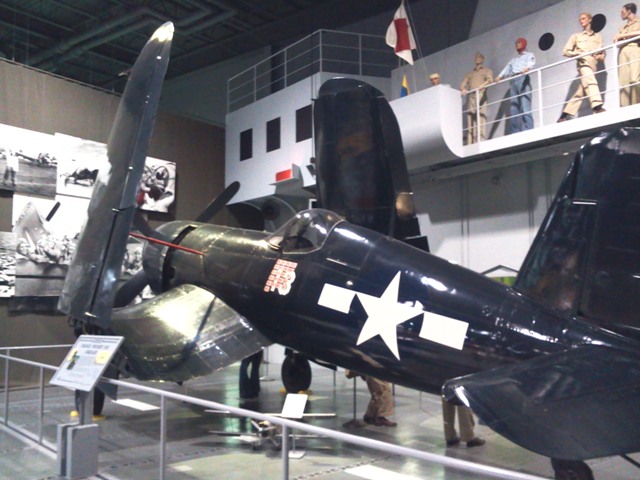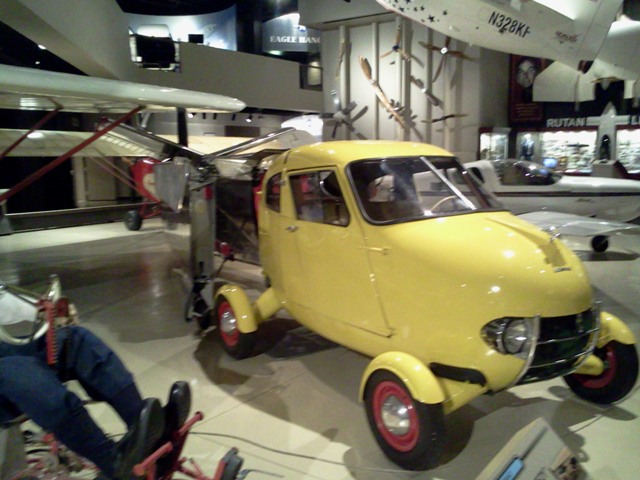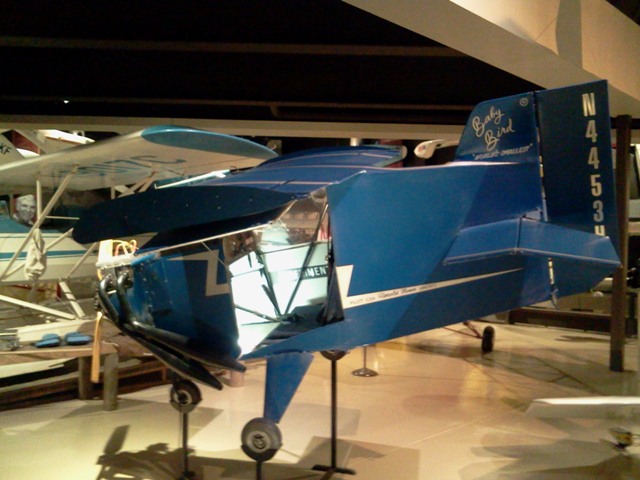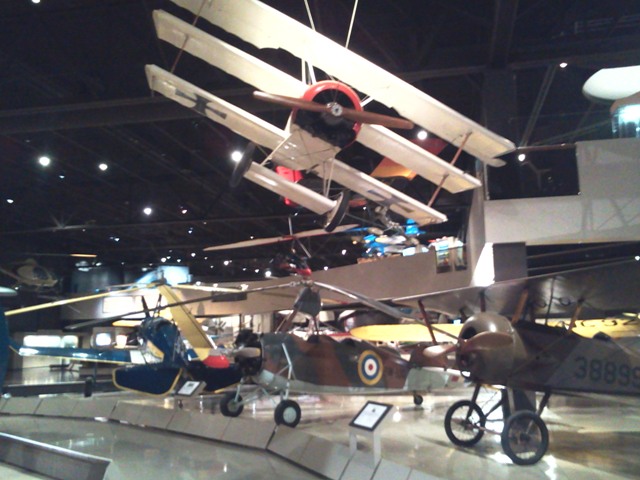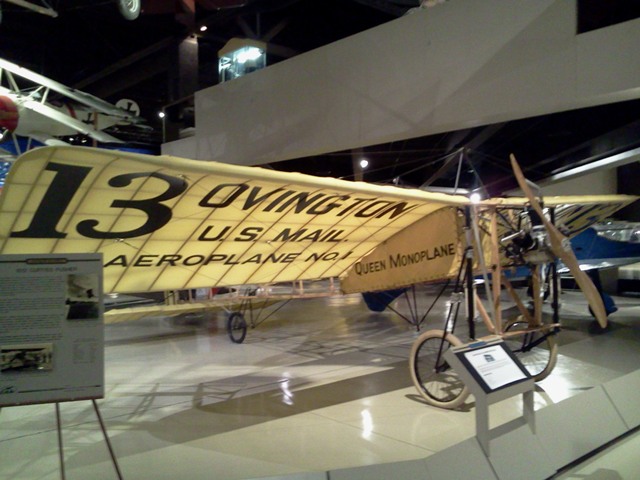 On the way to the museum, I spotted a Rocky Rococo, another Wisconsin tradition, and couldn't resist returning for lunch. It's not as good as it used to be. Oh, well. From there, I drive along Lake Winnebago to Fond du Lac and across to Sheboygan. Once again, as I drive though the countryside, I'm filled with such a sense of gladness that I'm here.
More about Piggly Wiggly. For me, the original small-town grocer is IGA, and Piggly Wiggly is the first supermarket. Let them fight it out. For my money, Piggly Wiggly was the first store I ever saw that had an automatic electric opening door. I also remember Robin Hood Flour from those days, which offered an abridged copy of Howard Pyle's novel. I remember very few "special offers" these days, but for some reason I still remember the "Quisp" vs. "Quake" cereal promotion. Quake lost and vanished immediately, but I don't remember that Quisp lasted much longer.
When I originally lived in Green Bay, the best grocery store in town was Sentry, but it went away. In college, I shopped at Cub Foods. During this trip, I shop at the local Copps, which is actually pretty darn good.
The first IGA I remember was in Elroy, WI. The first Piggly Wiggly was further south at Union Center. The dairy outlet in Elroy smelled of sour milk. The creamery was across the railroad tracks. The post office had adhesive traction strips on the granite stairs. There was a park with a swimming hole carved out of dirt. We had corn boils there. The school was at the top of the hill, and my best friend, Bob Bowersox, lived on another side down the hill. He had a tree house and the coolest toys at the time. On the other hand, the church my Dad was pastor at had a bell with a rope. Tree frogs filled the countryside with their singing. Then, one day, I saw "2001: A Space Odyssey" at the movie theater in Mauston, and the world was never the same for me since. If you care to blame any influence, blame Stanley Kubrick.
Today, my all-time-favorite movie is "A Clockwork Orange" and my second is "Kill Bill" (I refuse to consider that as two movies).
In Sheboygan, it is my intention to visit Indian Mound Park [no official web site], but on my way there, I realize that I forgot the directions, and so I end up stopping at a McDonald's to use the wi-fi. As soon as I spot the park on the map, I have no trouble getting there, despite the road closures.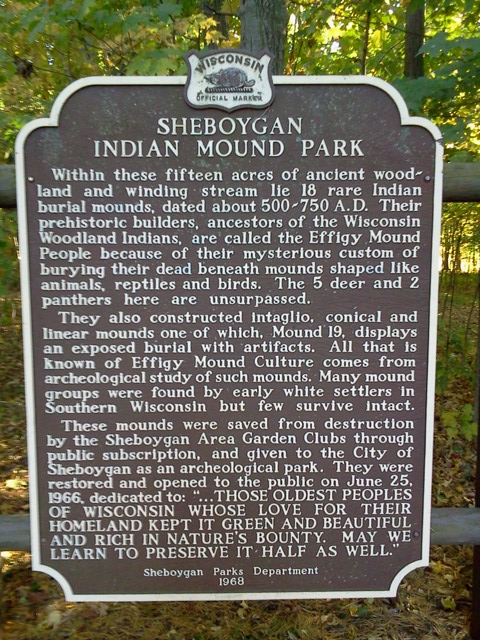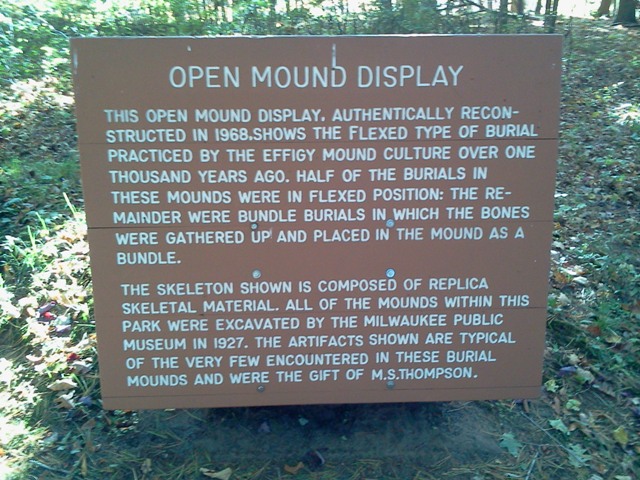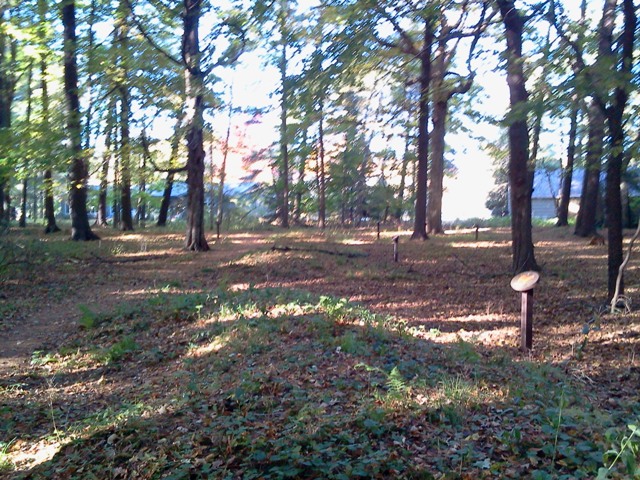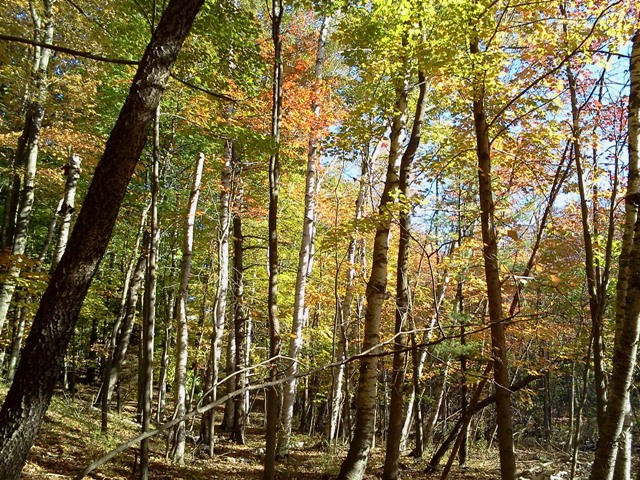 Afterwards, I pass Manitowoc on the way back to Green Bay, but I'm already getting too tired to stop at the Wisconsin Maritime Museum. I'd been there before, but still hope to return on a future trip, and also ride again on the SS Badger, which was already closed for the season. Even as I write this, I'm thinking about taking the train to the Great Lakes in 2018 and renting a car to do a grand tour: I already have other plans for 2016 and 2017. Anyway, we'll see what happens.
Monday, October 19
Today I decide to go north and "Say Ya to da UP, eh." On the way there I stop at Copper Culture State Park in Oconto, WI. The little museum is already closed for the season, but I enjoy walking around anyway.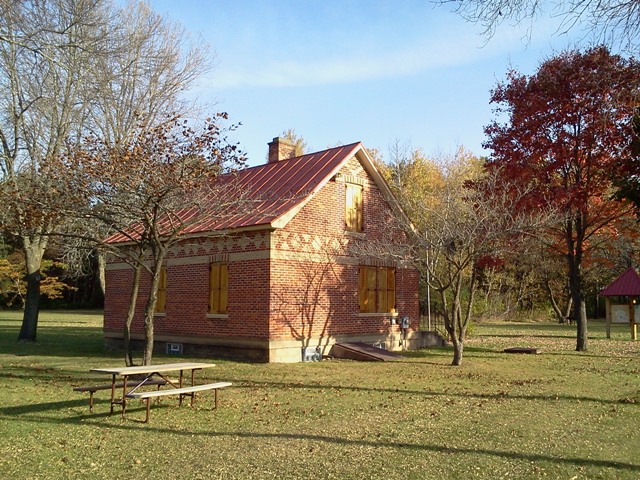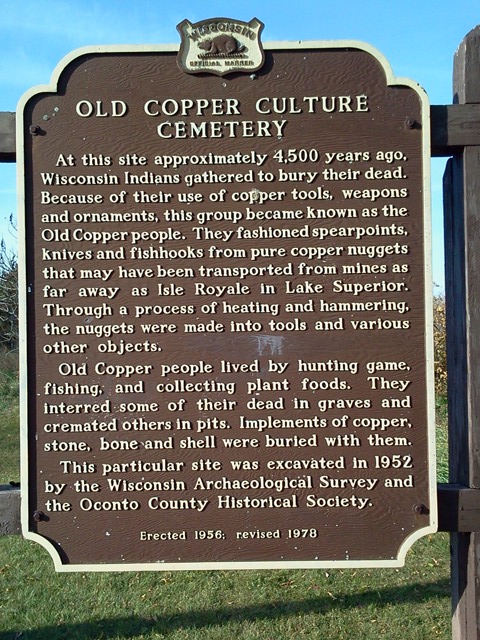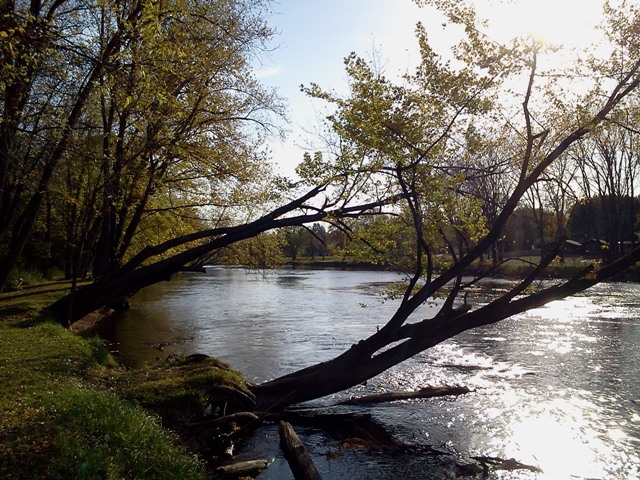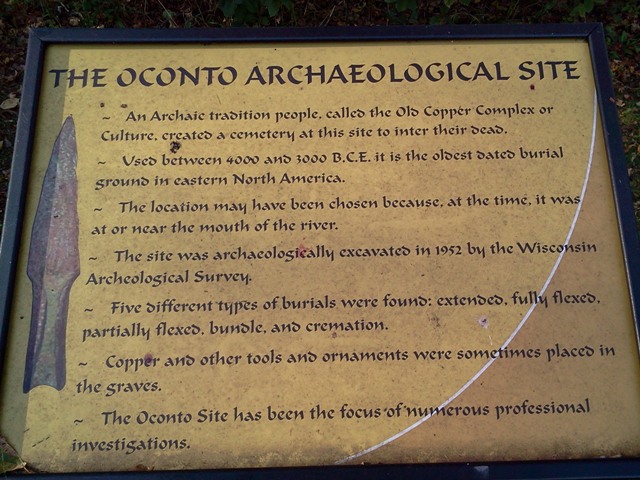 I also stop by the Peshtigo Fire Museum [no official web site], which is also closed for the season.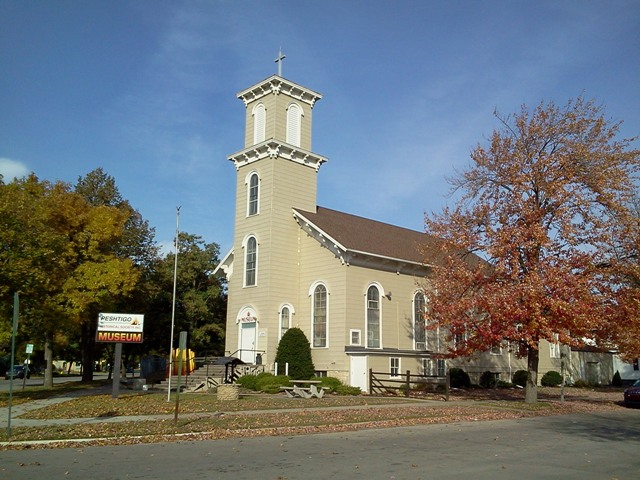 Upon reaching Escanaba, MI, I can't resist stopping at the Swedish Pantry restaurant. In hindsight, I sort of regret not stopping for a pasty somewhere, but so it goes. From there, I visit the Sand Point Lighthouse, which again is closed for the season.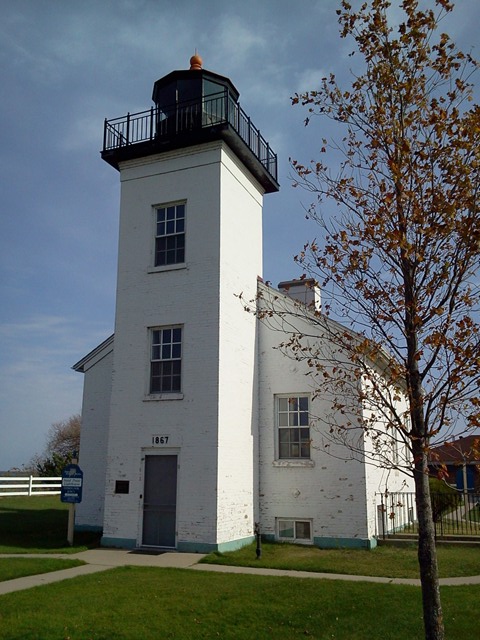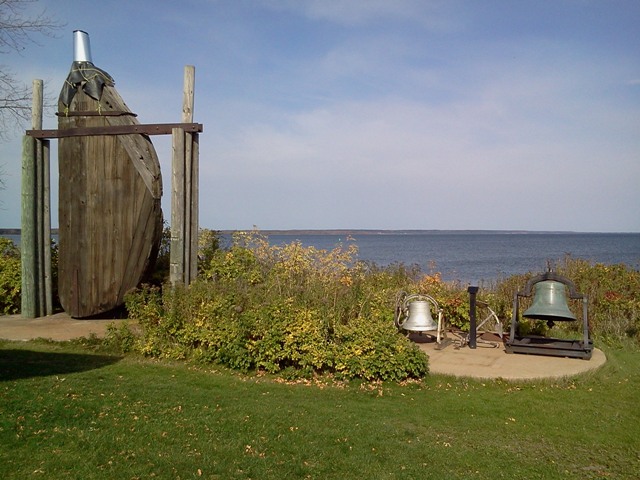 On my way back to Green Bay, I cut across some back country to reach Amberg, WI, where I visit Daves Falls County Park [no official web site]. It reminds me somewhat of Big Falls County Park in Eau Claire, where my parents would sometimes take me.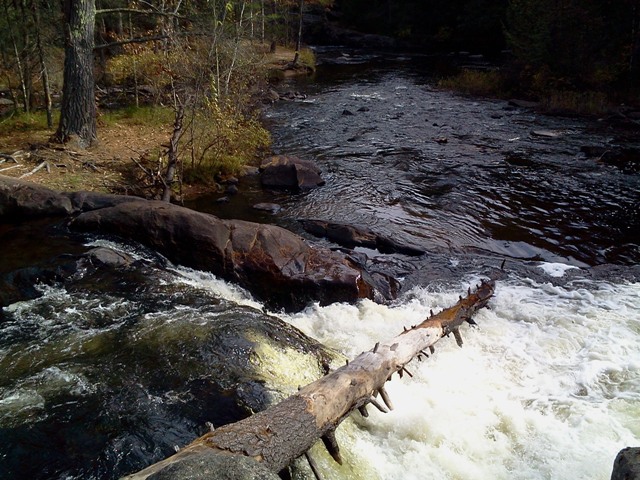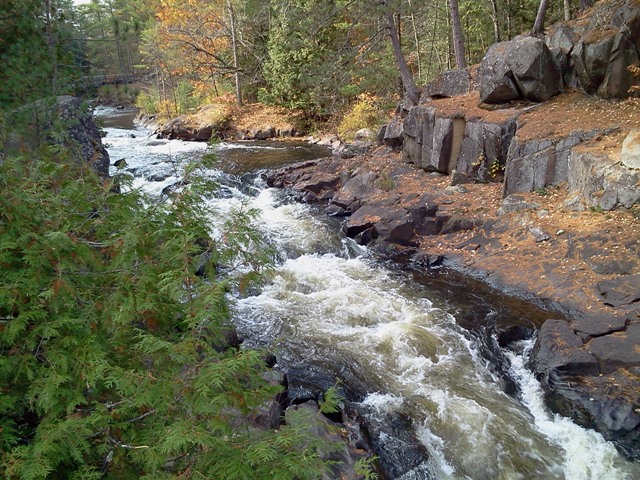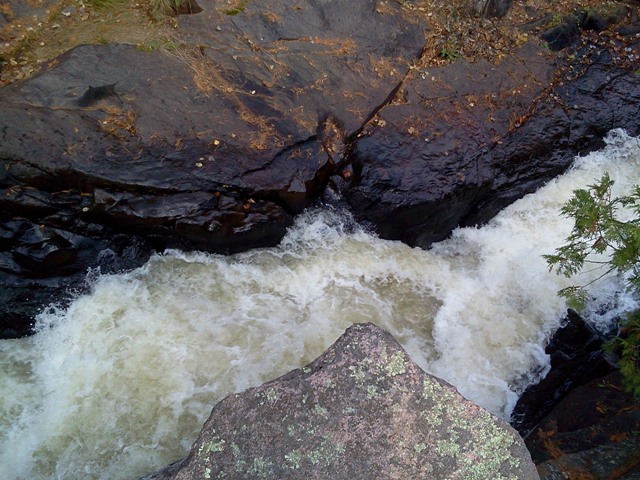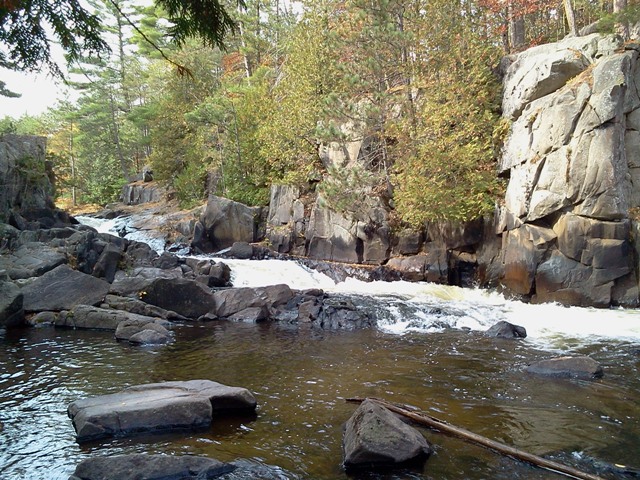 And that's the last of the photos. On the flight from Green Bay, I converse with a guy from Manitowoc, who plants a false rumor in my head that the SS Badger will be retired in 2017. Upon my query to them, they reply with an assurance that they plan to operate for many years to come. Let's hope that's not just another Cock-and-Bull Story.
Saturday, October 31, 2015