Trans-Siberian Railway: February 2014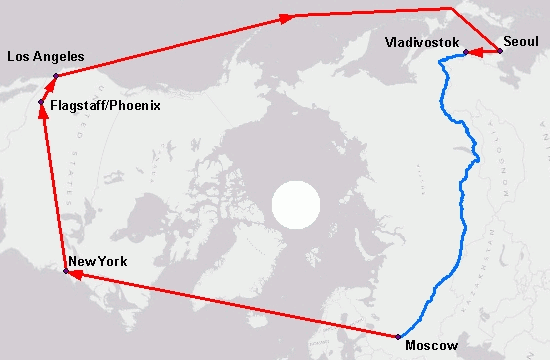 During my trip, I took an official total of 875 pictures, most of them spray-and-pray through the dirty windows of a rapidly moving train. I was able to whittle them down to my goal of 120 or fewer, but sometimes I faced some difficult choices. Nonetheless, I am happy with the selection I present here.
Friday, February 14
Incheon International Airport, Seoul, Korea
I'm on my way to Vladivostok! The Asiana Airlines flight across the Pacific evokes four dwarfs named Long, Nasty, Cramped and Stuffy, but nonetheless has good food and service. Slippers are provided, though I have brought along my own. One feature I particularly enjoy is the flight information display available on the seat back monitor, which displays current conditions, progress along the flight route, distance/time elapsed and remaining, and so on. I'd planned to buy a travel pillow for the trip, but completely forgot.

ICN is one of the nicest airports I've ever been to. The upper level is devoted to rest and relaxation, with hot showers [no charge! towel, shampoo, body gel, toothbrush, and toothpase provided], nursery, play room, spa, massage, sleeping rooms, and more. For $21, you can hang out in a comfy internet lounge with an all-you-can-eat buffet. One other notable detail is that motorized carts play Beethoven's "Für Elise" instead of just beeping.

After a cold beer and a hot shower, being a fan of Korean food, I opt for the food court and enjoy a delightful lunch: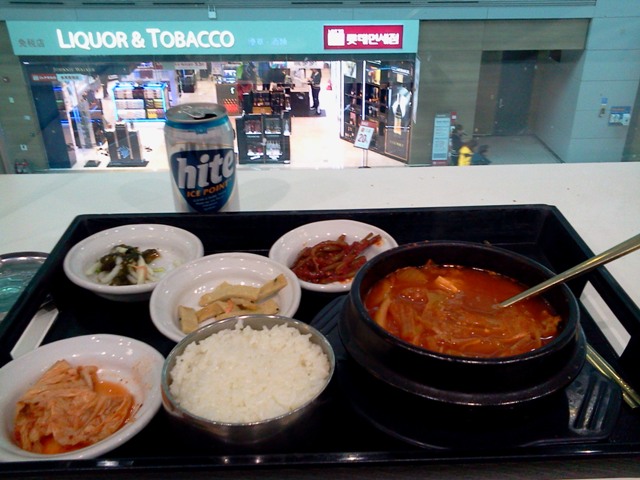 This is the most hilarious picture I will take the entire trip: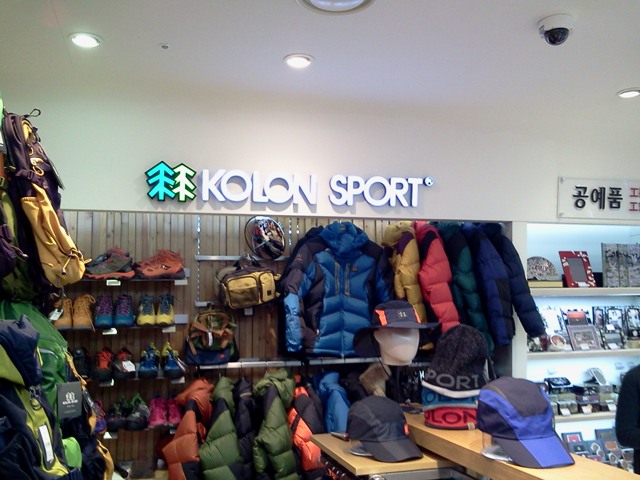 Vladivostok, Russia
Vladivostok Airport is surprisingly small for a city of over 1 million people. Vendors consist of a coffee stand and a fish monger. Taxi drivers are very aggressive, and I need to fight them off until I find my assigned driver/guide.

In researching this trip, I'd decided on a package from a British-based travel company which offers an English-speaking guided tour for one day each in Vladivostok and Moscow, as well as a custom printed travel guide with itinerary, timetables, emergency contacts, travel tips, Russian phrasebook, historical tidbits, and much more.

As I'm driven to the hotel, the guide points out many sights along the way, including a statue of an Amur tiger, which is one of the symbols of Vladivostok [no picture, sorry]. Although traffic is in the right-hand lane, many cars have driver seats on the right-hand side, because they are used imports from Japan. One other thing I notice is that traffic lights turn yellow before green as well as before red. Also, where walk signals count down, they also count down the time remaining on "Don't Walk". Where traffic signals are lacking, drivers are extremely aggressive, cutting in front of each other with utter abandon. On the other hand, many drivers are good at stopping for pedestrians waiting at crosswalks.

The Hotel Primorye, where I will spend the next three nights, reminds me a great deal of the hotel I'd stayed at in Dublin. Old-fashioned bathroom fixtures include an amazingly dangerous bathtub, with high walls and a narrow, stepped bottom which nearly causes me to fall and break my neck. Steam radiator heating has no control that I can discover. The mattress is an unyielding slab, but is nonetheless welcome after a grueling series of flights.
Saturday, February 15
The breakfast buffet is far superior to the memorably wretched repast I'd had in Dublin.

Now begins the tour in earnest. First stop is at the tip of the peninsula. To one side is Amur Bay: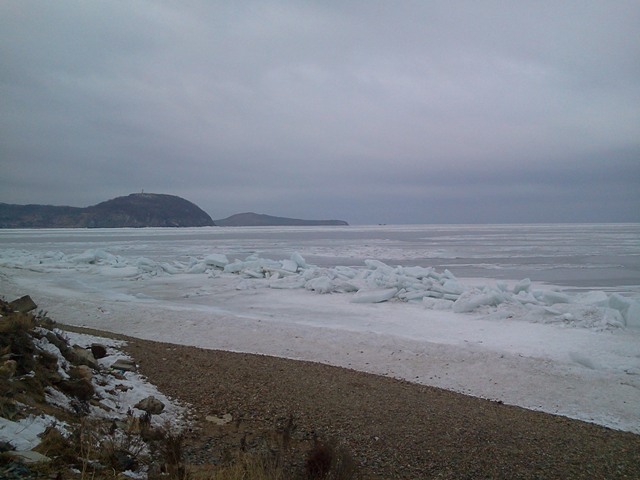 To the other is the entrance to Golden Horn Bay. Note people walking on the ice, and Russky Bridge in the distance, which connects the peninsula with Russky Island: it is supposedly the longest cable-stayed bridge in the world. Ice fishers abound, even though the bay is polluted. No huts in sight, though, since (as the guide puts it) the fishers are heated by vodka.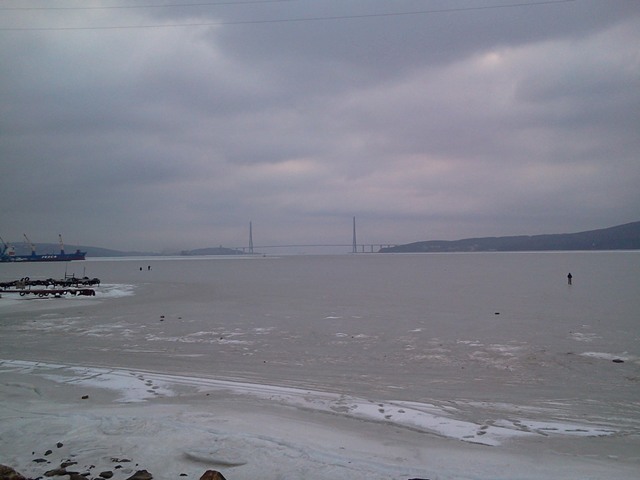 Vladivostok is especially proud of native-born citizen Anna Shchetinina, who is considered the world's first woman to serve as a captain of an ocean-going vessel: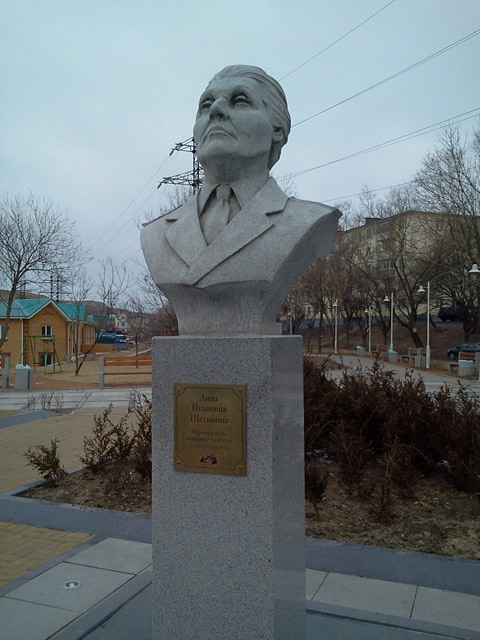 In case you're wondering, I did learn to read the Cyrillic alphabet before leaving on this trip, and also learned a few phrases such as "Hello", "Good morning", "Goodbye", "Thank you", "Where is the toilet", and "I do not speak Russian". Unfortunately, I did not get very far with numbers, but for the most part vendors had calculators to display the total for items I would point out. I also had a handy-dandy pronouncing phrasebook app on my Android MP3 player (which also doubled as my camera).
At Vladisvostok Rail Station, I catch a whiff of coal smoke. While the train is electric along its entire route [my guide tells me she was surprised to discover that electrification was completed only in the last year or two], the passenger cars are heated with coal, as is the hot water boiler for tea, noodles, etc. The aroma evokes Ireland once again, where all the farms and villages I saw burned coal.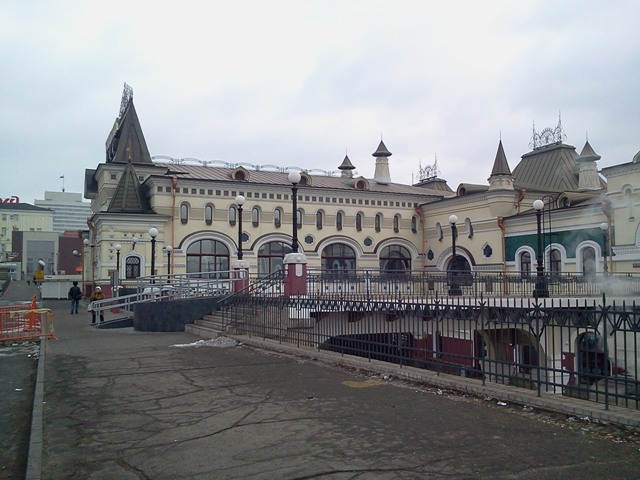 Clocks at the train stations, on the train, and times listed in timetables are all in Moscow time.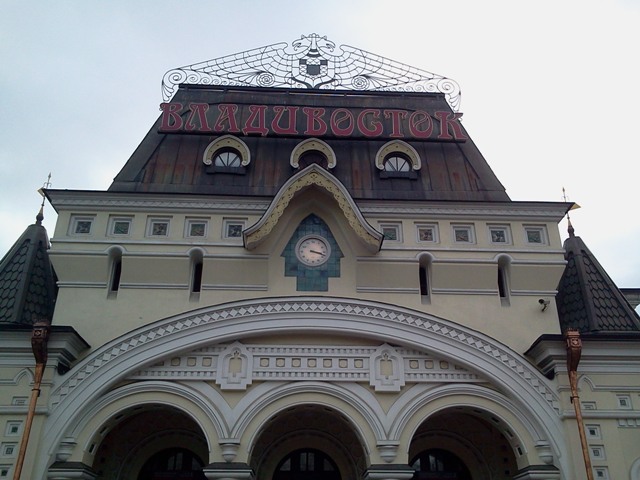 One advantage of visiting Vladisvostok in the wintertime is that there are no long lines of (mostly Japanese) tourists waiting to take pictures. On the other hand, it's less likely to meet someone who speaks English. Russians are taught English in school, but (as do Americans with Spanish, French, or German) promptly lose it.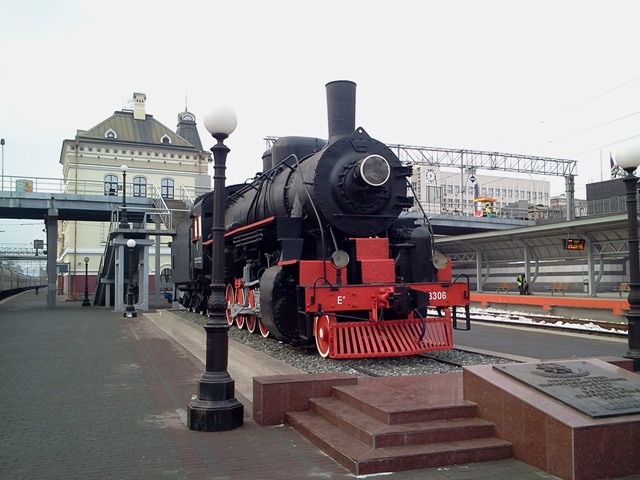 Here is the monument marking the terminus of Trans-Siberian Railway. At 9288 km (5771 miles), it is one of the world's longest contiguous passenger lines, passing through seven time zones (actually six are physically traversed, one being bypassed on the route).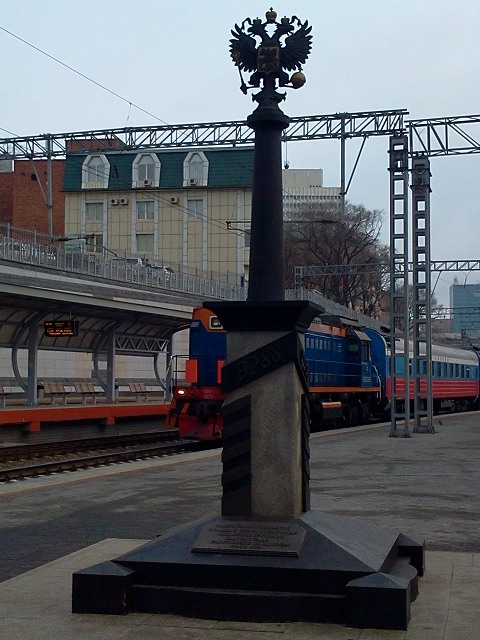 Central Square: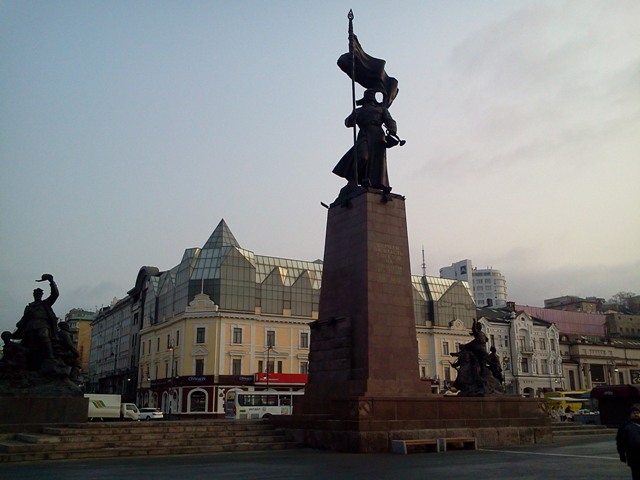 Vladivostok, like many cities in Russia, has a central heating plant that provides steam heat via an immense network of pipes. Many historic buildings downtown were refurbished to make a good impression at the APEC 2012 conference, but are used mainly for stores and offices; they are not as desirable for residences, since they lack elevators and, in many cases, central heating.
One invaluable service my guide provides is to help me buy a new cell phone. Mine was all set up for making emergency calls in Russia, and at the very last minute before leaving on the trip, I dropped and broke it. I pick up the cheapest possible model and add about $30 of time. While I'm discussing the transaction with the guide, one of the security people approaches and listens with a smile, fascinated with hearing the English language ["From England?" he asks the guide, and she replies "America"]. I'm sure the sensation is not far from what I feel while watching a foreign film in the original language with subtitles (my preferred mode of viewing).
You may wonder whether I really needed the phone, but one never knows if it will be necessary to make an emergency call. And, as with other items I'd brought along and not used, it's better to have and not need, rather than the other way around. Or, as Tom Lehrer would say, "Don't be nervous, don't be flustered, don't be scared, be Prepared!"
[In the foreground] WWII memorial with perpetual flame: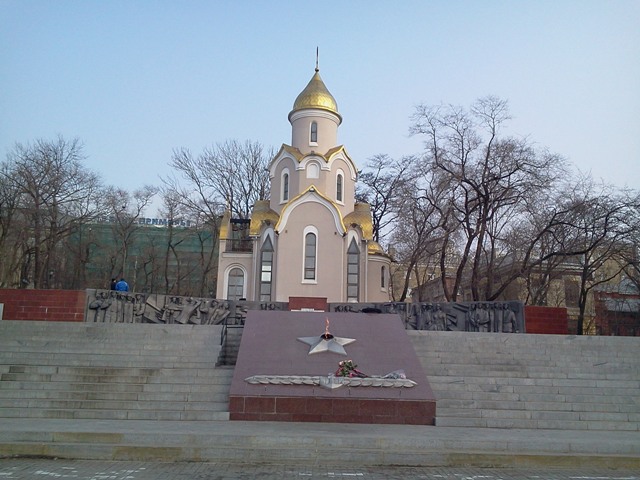 Only one original Russian Orthodox church survives in Vladivostok [sorry, no picture]. All others were destroyed during the Communist Era, but starting in the 1990's many were rebuilt. Here is the Arc of the Triumph, also rebuilt: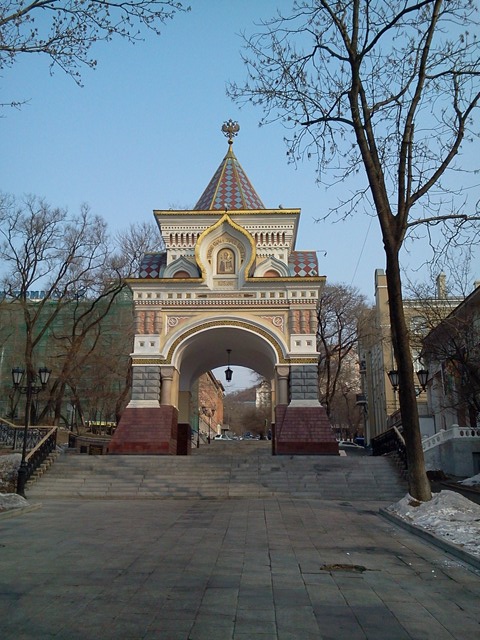 S-56 Submarine Museum -- about half of the interior is preserved, while the other half contains a variety of exhibits: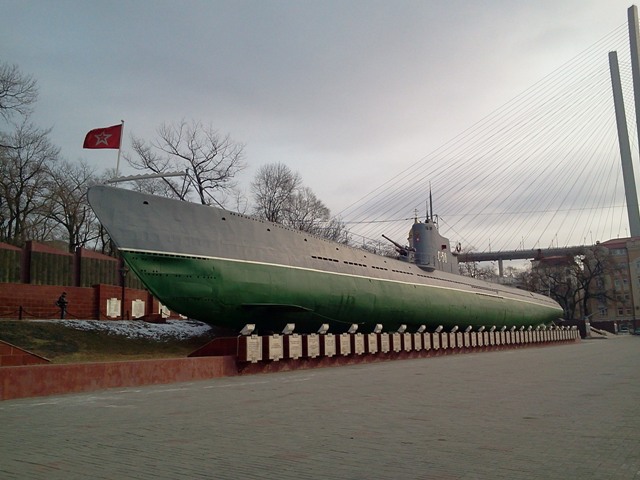 View of Zolotoy Bridge from Eagle's Nest viewpoint, atop the highest hill in the city:
Monument atop Eagle's Nest viewpoint. Statue is of Saints Cyril and Methodius: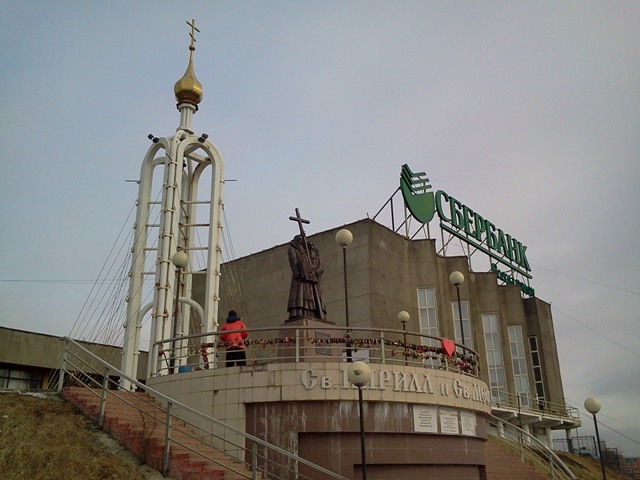 Voroshilovskaya Battery, one of many batteries built to defend Vladisvostok. This is one of a pair that is particularly well preserved by volunteers -- with an excellent English language flyer -- allowing entrance inside and down through five levels: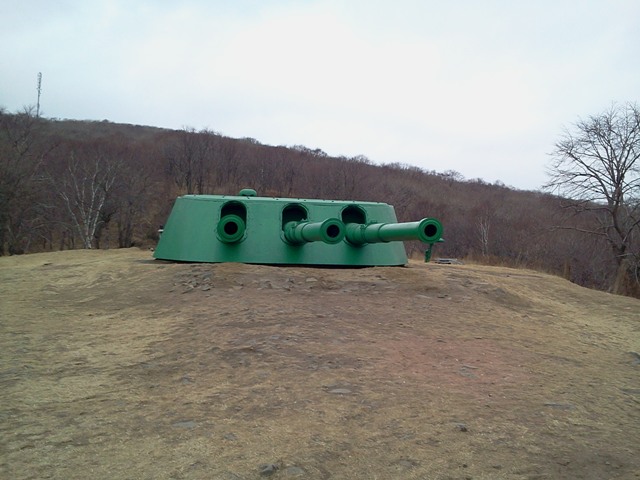 Cliffs at Russky Island: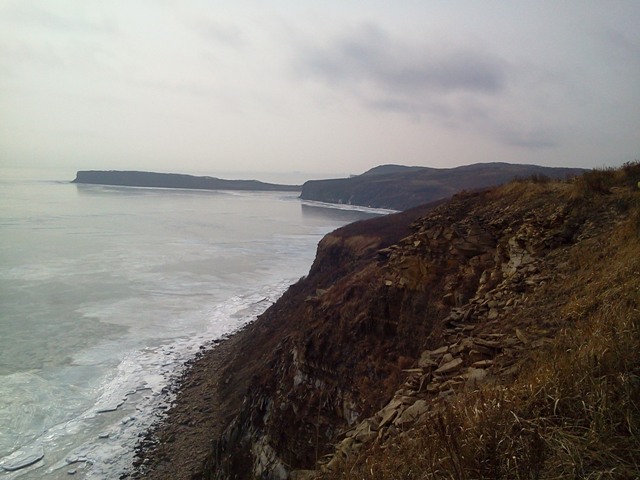 St. Bartholomew's Cathedral (reconstructed from original plans and photos):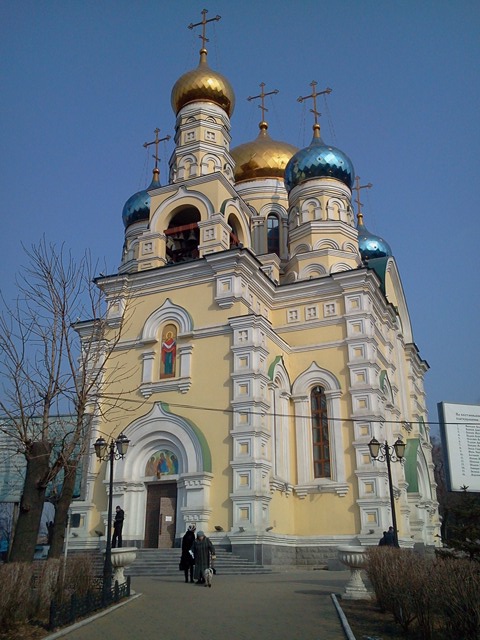 Vladivostok Battery Museum: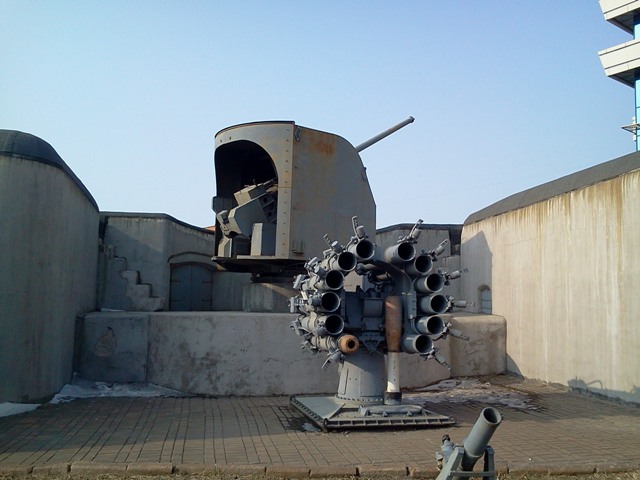 Tiger cub statue at waterfront: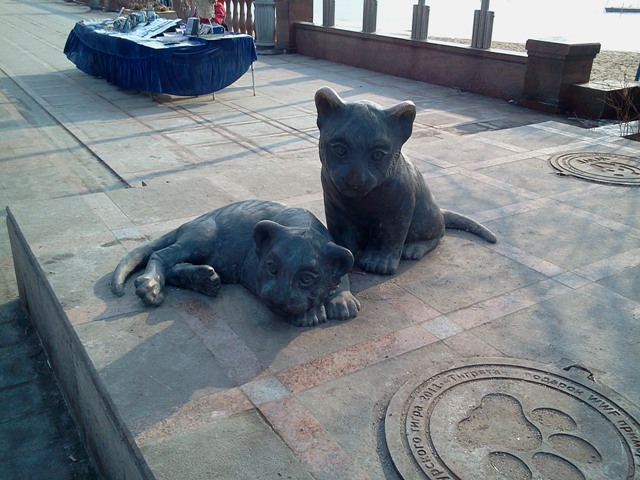 Sunday, February 16
Today is a free day, frosty with freezing fog. Vladivostok is very hilly and foggy, much like San Francisco, but colder. It's easy to imagine how icy the streets can get. I spend the day wandering around town and doing some shopping. Although it's fairly cold, it's not bad enough to justify the thermal underwear and hand/foot warmers I'd brought along. In fact, it's a good 10-15 degrees above normal here.

Here is the only surviving Lenin statue in town, with Vladivostok station in background: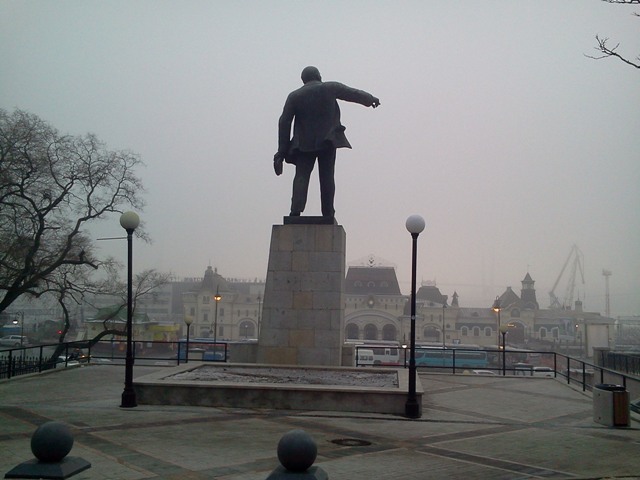 Yul Brynner's birthplace: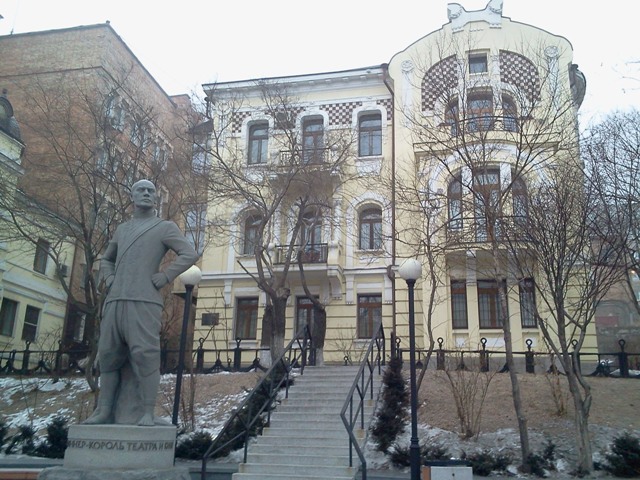 A humorous episode: Today, I decide that I want to buy a notebook for the trip. Unfortunately, I fail to locate the word for notebook on my phrasebook app [I would eventually find it after the fact], and the English word "notebook" pretty much exclusively applies to computers in Russia. The result is that, as I wander about asking for a notebook, everybody assumes that I want a computer, and I just can't get across the concept of what I really want. Fortunately, there are a number of kiosks in the streets selling everything from food to magazines and cigarettes, and, finally I spot a notebook in the window of a magazine kiosk.
Monday, February 17
With martial music playing over loudspeakers, Train No. 1 ("Rossiya") departs from Vladivostok on the epic journey to Moscow. I occupy a first-class compartment, containing two bunks: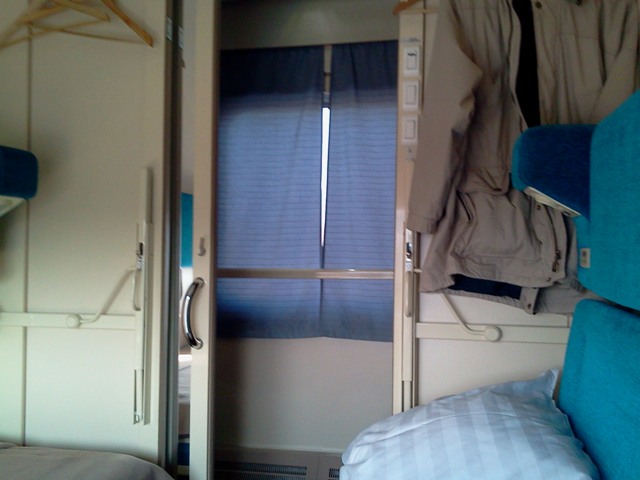 One very practical feature of the cabin is the placement of sturdy handholds just above the door [not shown in the picture], to aid access of the upper storage shelf. If Mom's RV had had such handholds, I might never have had the fall which broke my ribs last October.
Table service includes cups for soup, noodles, etc., and a tea glass and holder for tea. Tea and snacks are provided at a cost, so it's better to pack your own. Souvenirs are also available, though the tea glass and holder I purchase are unfortunately not quite the same as the official version used on the train itself.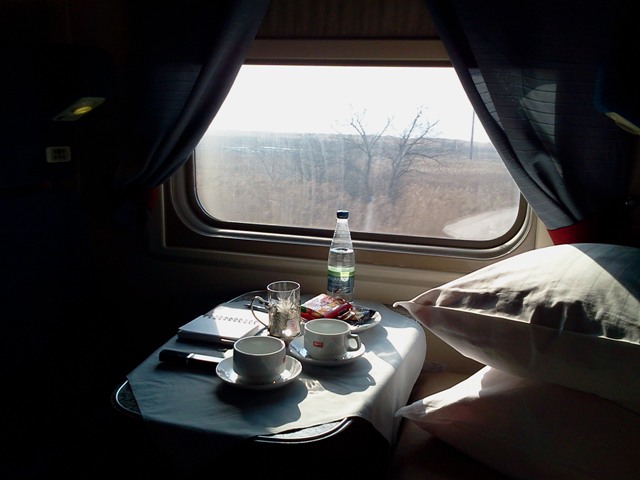 Second-class compartments fit four bunks into the same space, which I consider far too claustrophobic. Even first-class sleepers are shared, unless you purchase both bunks. Fortunately, it will turn out that I only share this compartment for one night [more on that later].
At the advice of the travel guide, I have supplied myself with groceries (fruit, cheese, sausage, mashed potato cups, vodka) to last four out of six days. I also have purchased wet wipes and sandwich bags, which I find to double very nicely as mini trash bags.
The compartment is roasting hot, as was the hotel room and the overnight flight coming over. The windows can't be opened, and there's no vent or AC for bringing in fresh air. Most stops on the line are too short to get outside, but I will get out whenever I can.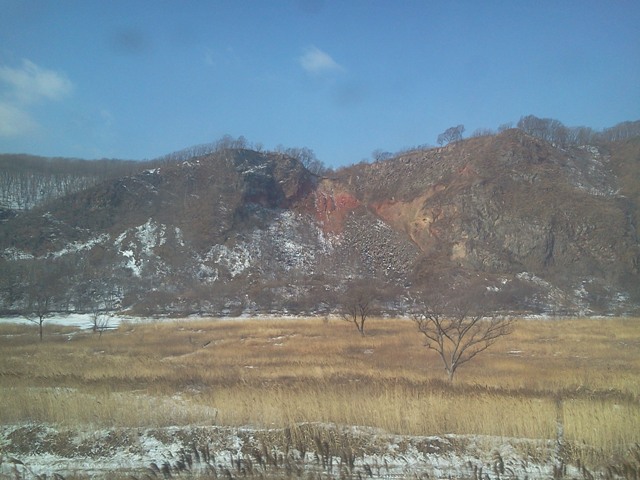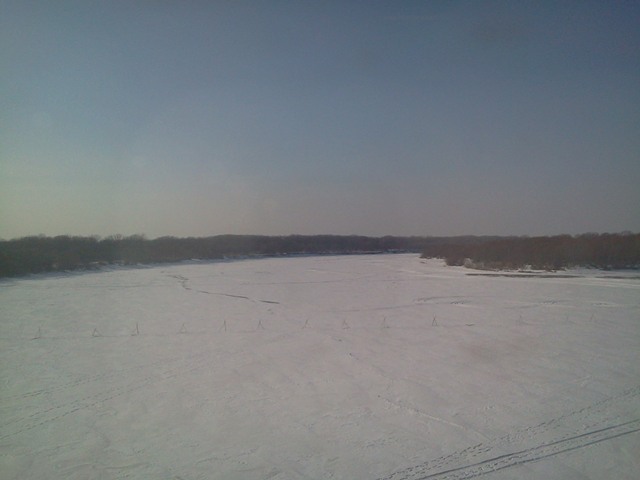 Ruzhino station is my first opportunity to step outside the train. I take this picture from inside the train, as the height gives me a peek at a nearby church: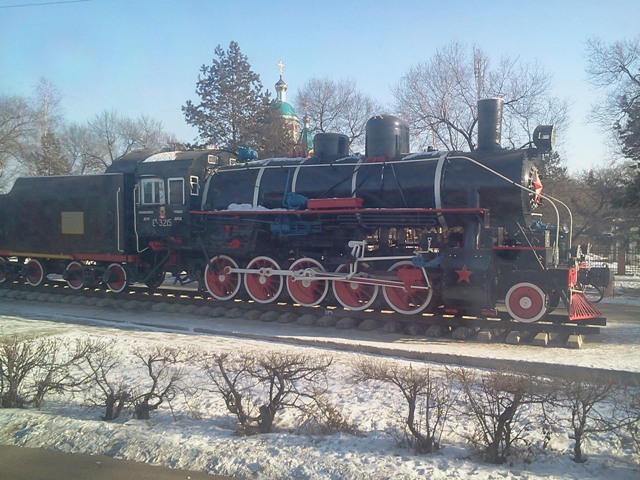 Unfortunately, my compartment is on the south side of the train, which is going to affect the quality of my pictures, except when I can get a shot out the aisle window. The carriages alternate their orientation, but I failed the coin toss. The windows are pretty dirty as well, but I'd expected that, which is another reason (aside from travelling light) that I didn't bother to bring the fancy camera on the trip.
Tuesday, February 18
Russia seems to have a fondness, or at least a gritty determination, for very firm mattresses. The bed on the train is no exception. That aside, before setting out on this trip I was curious to find out how sleeping across the tracks (as in the Trans-Sib) would compare to sleeping along the tracks (as in Amtrak). As far as I am concerned, both are quite comfortable, and most definitely preferable to sleeping on a plane or bus.

One of the toilets in the carriage is out of order, and I find myself having to make trips to the adjacent car.

My only real complaint about the train is the smoking. While smoking is not allowed inside the sleeper car proper, it is allowed in the end spaces, and in the diner. I rarely see anyone in the diner car, except the staff, who smoke like Five Year Plan industrial chimneys. Every time I travel between cars, or go to the diner to buy a quick beer, I smell the effects on me afterwards.

Here is Belogorsk station, with a Lenin statue out front: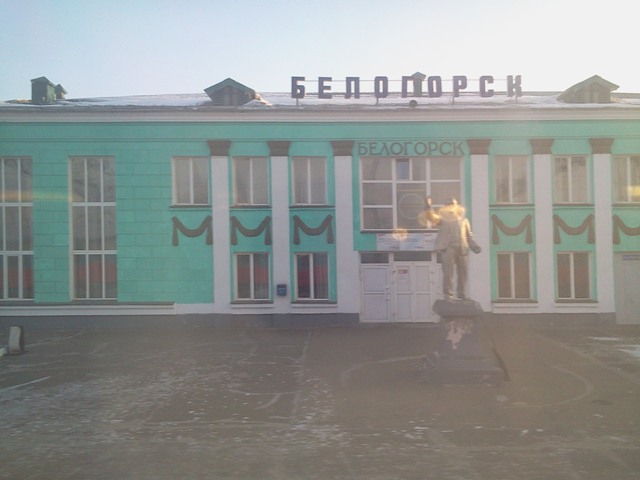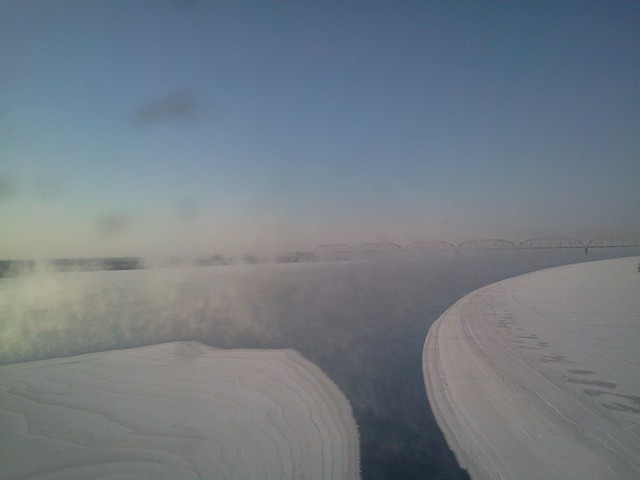 Svobodny station: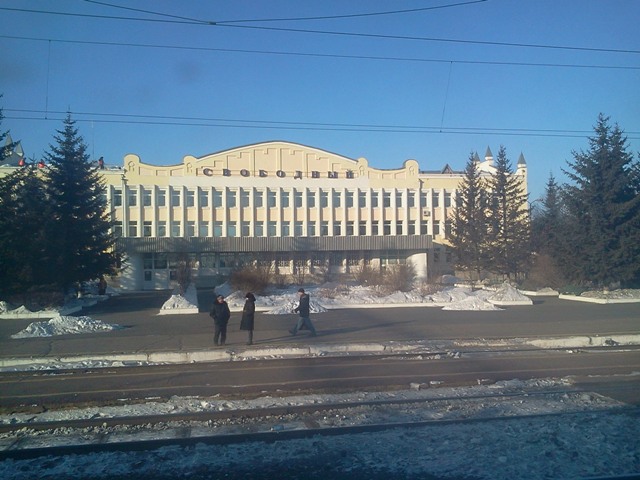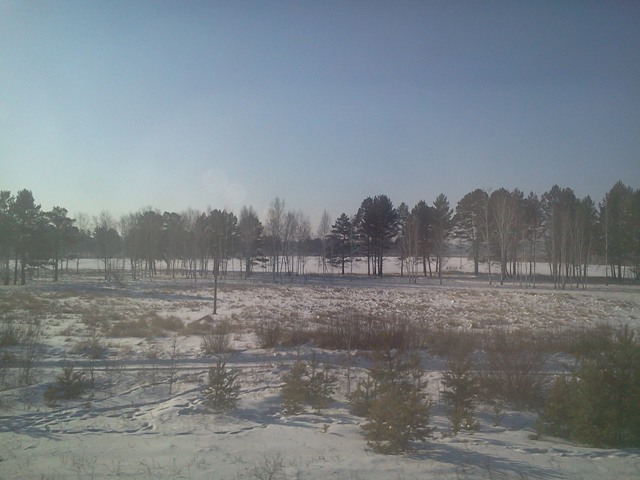 Shimanovskaya station, with Stalin statue: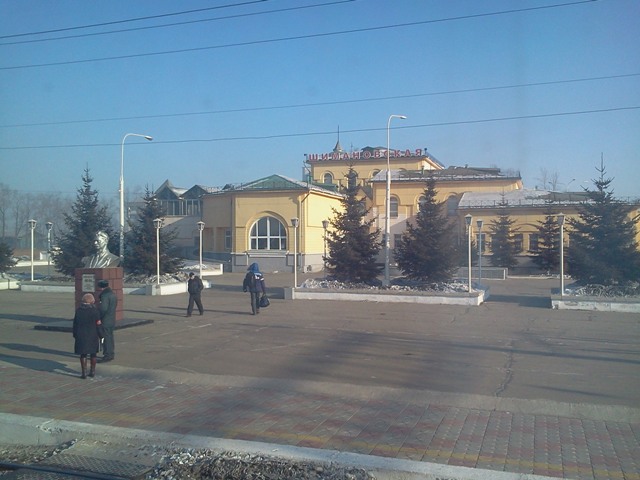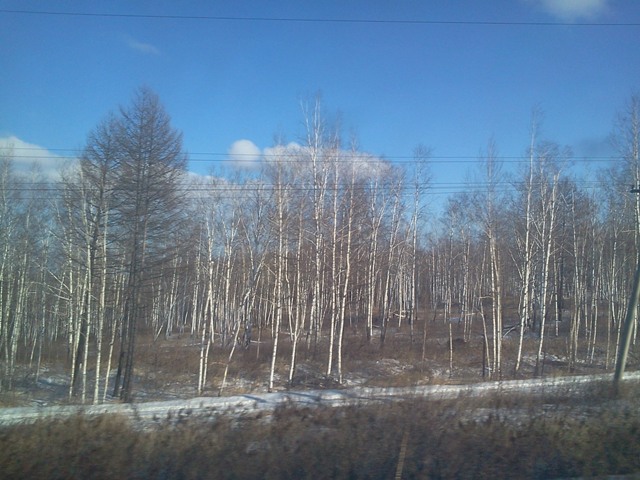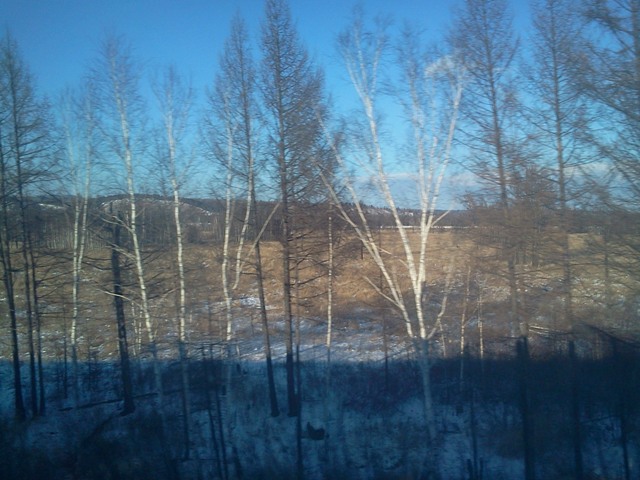 Skovorodino station, last daylight stop. Only 3 minutes, but a surprising number of people board the train, including several in my carriage.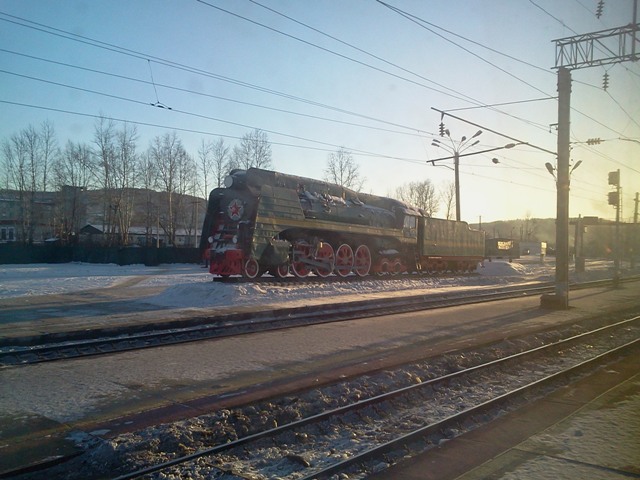 The clock app on my Android MP3 player is quite useful, because I can display clocks for different time zones simultaneously. Thus I can display Flagstaff time on top, then Moscow time, followed by each time zone I travel through, deleting the topmost as I leave it.
Wednesday, February 19
Last night, I spent my final waking hour writing about "The Great Amtrak vs. Trans-Sib Sleeper Car Debate". While I won't hash out the details, I did come to the conclusion that Amtrak overall has the better sleeper car. Nonetheless, while I'm here in Russia, I must affirm that the experience on this train is sublime, and any minor complaints can be flushed out the toilets and onto the tracks [there's a reason why toilets are locked while at stations or passing through major urban areas].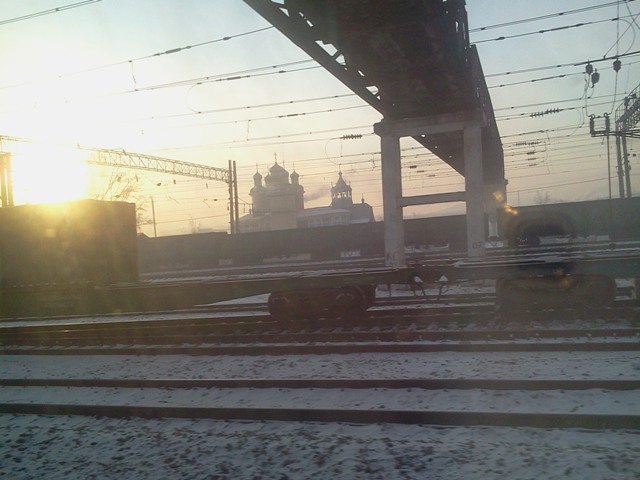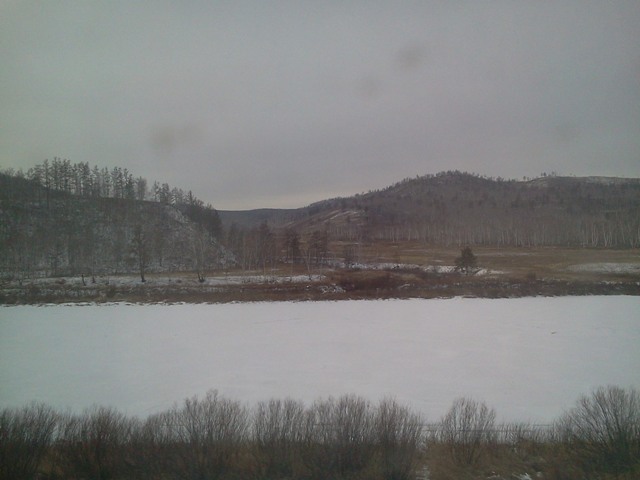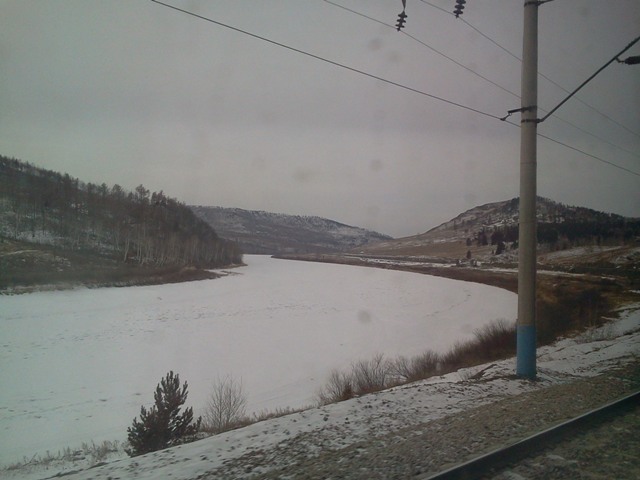 Coming into Karymskaya station: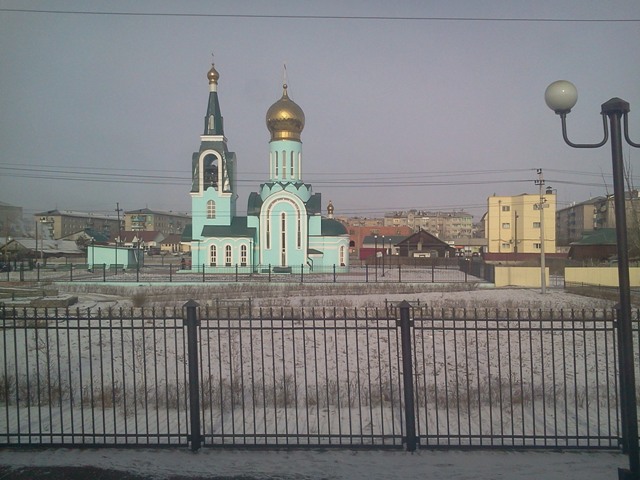 Finally, I realize that I should take a picture of the train itself. Here's a view of the "Rossiya" towards the font. My carriage is the first one on the left, and the next one has the functioning toilets: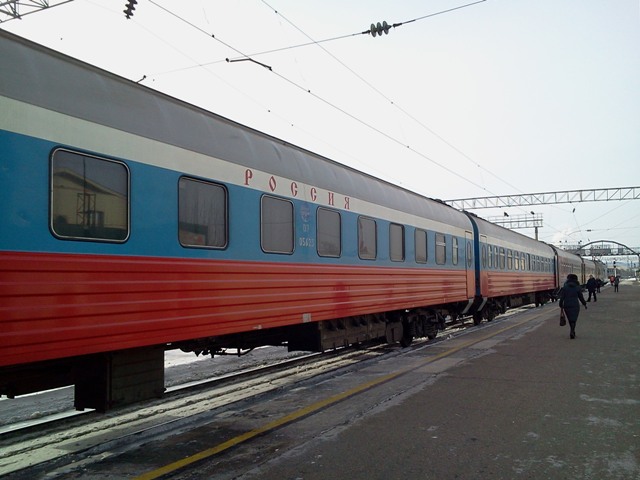 View towards the rear. The second car from the right is the diner; therefore, I travel through one sleeper car to get to it. The cars further back are second class.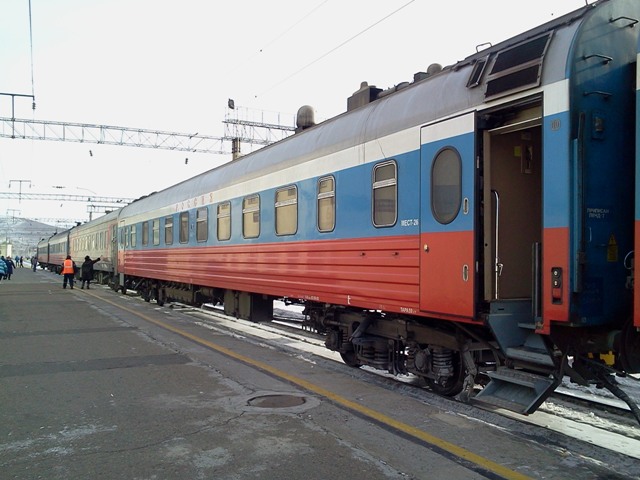 Except for a couple of die-hard smokers, most passengers have yet to get out onto the station, and are content to remain in their compartments. I must be the only tourist on board, or at least I'm the only one who gets out at every opportunity and takes pictures.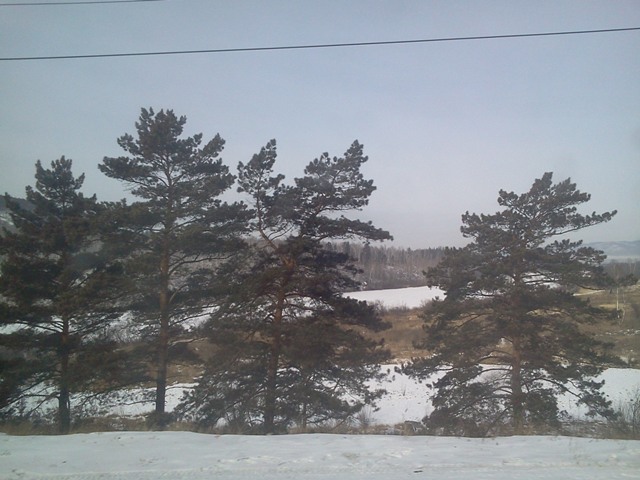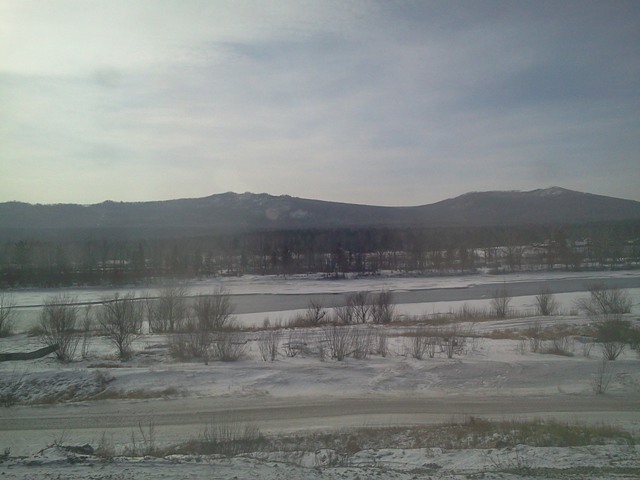 It is at Chita that I realize I hadn't purchased enough fruit back in Vladivostok. I do buy a couple of lemons at the grocery vendor here (for tea), but decent fruit becomes increasingly scarce as the trip progresses.
The Russian Railways logo on the tower [try refreshing the link if it doesn't work at first] is a stylized contraction of the Cyrillic characters R-ZH-D.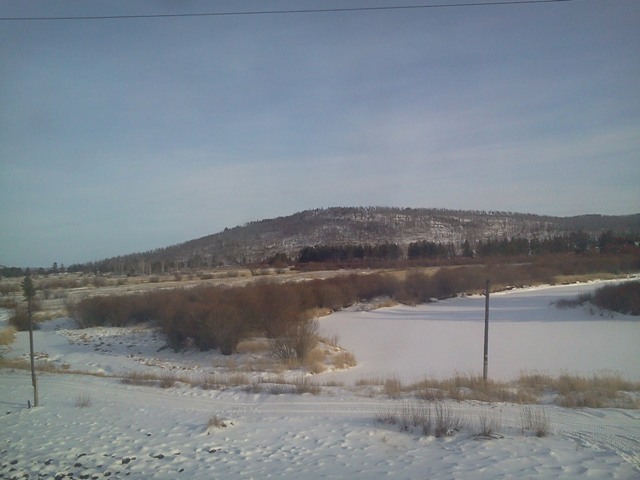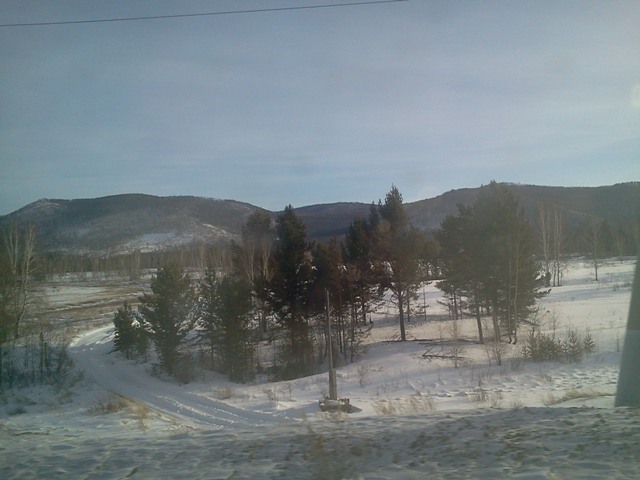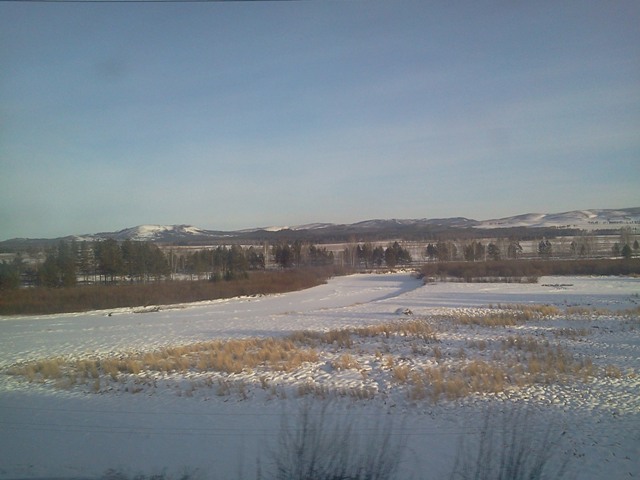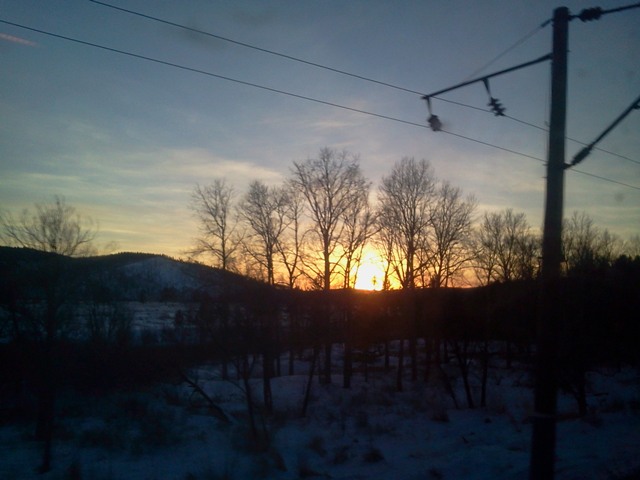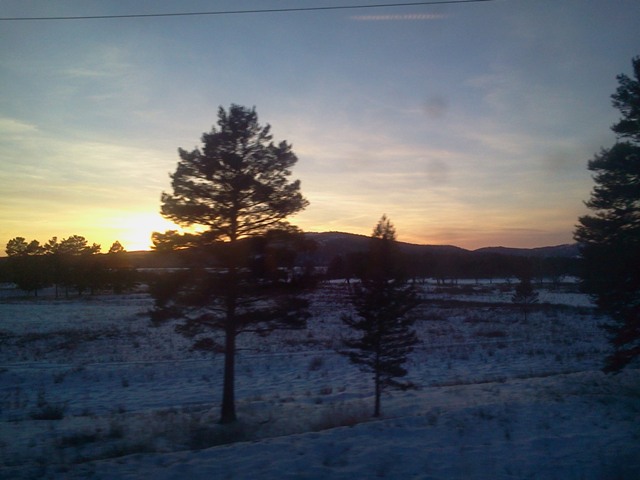 Thursday, February 20
The train passed along the south shore of Lake Baikal around 1-2 AM local time. I got up briefly, but couldn't see anything out the north-facing aisle window. I did take a nighttime picture of Irkutsk station later on, but it didn't turn out.

There's a guy in the compartment next door who snores like a Caesar and leaves the TV on while sleeping most of the day [each compartment has its own TV set, but I never bother to turn mine on]. The worst is yet to come.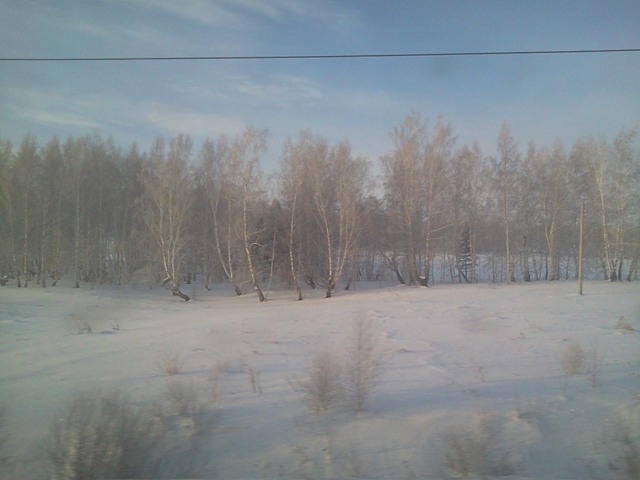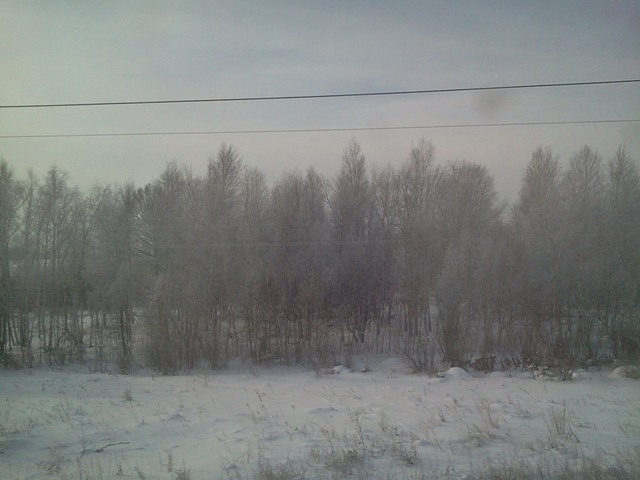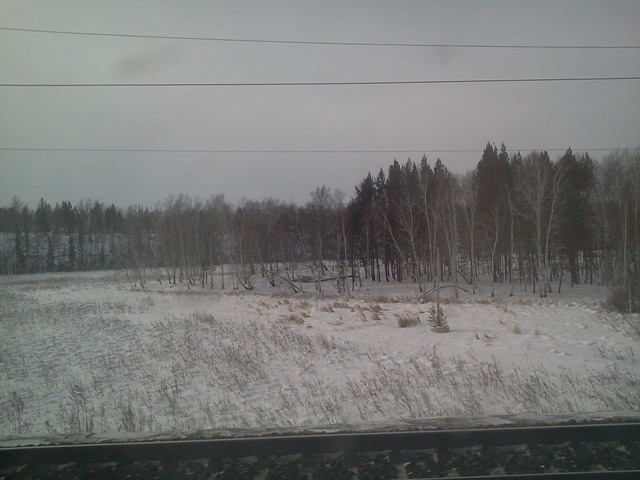 Somewhere around here we pass Cheremhovo station (without stopping), which displays a temperature of -18°C (0°F). So far, it has not seemed all that cold outside at the stations, but then I'm not outside for long.
On this next picture, note the blue-and-white shutters on the house. They are quite common all across Siberia: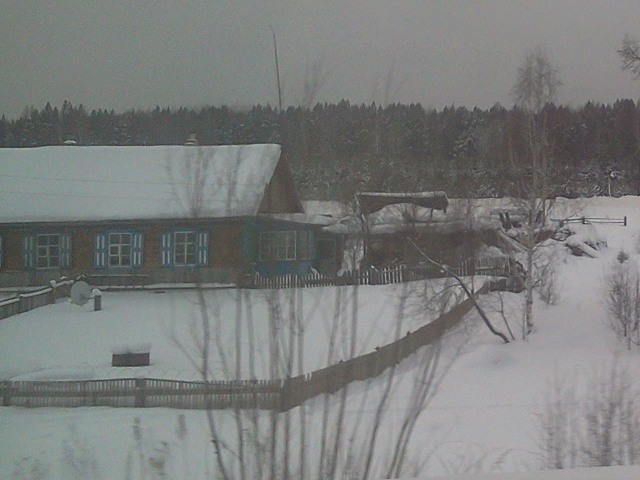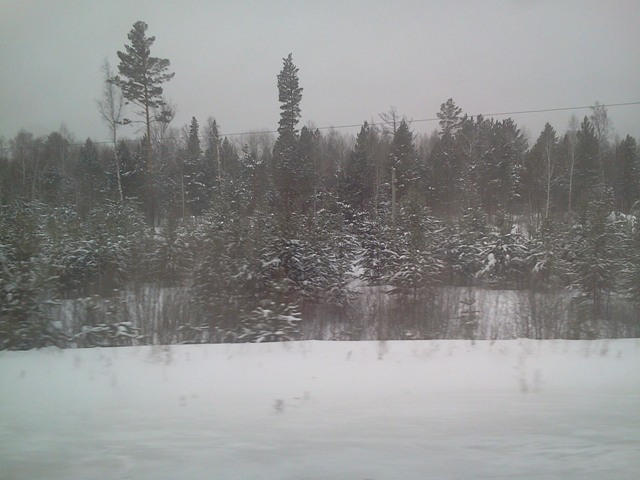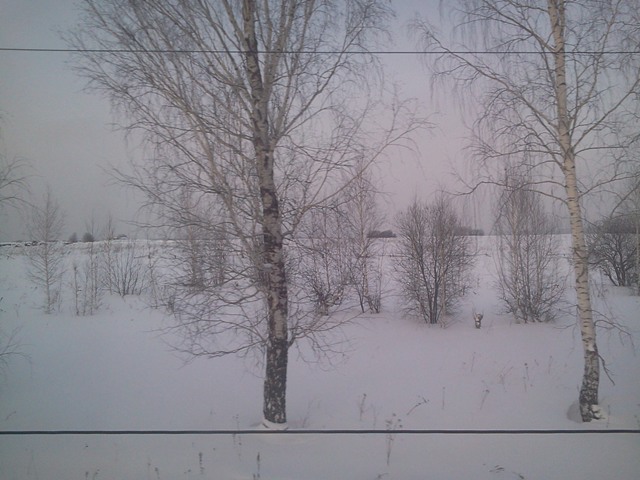 Light snow showers begin to appear now and then. I spot the occasional railroad plow and snow removal equipment, but can never get a good picture.
As much as I dislike the smell of cigarette smoke, I begin to feel that it may indeed act as an incense or fumigant to combat the increasing body odor throughout the train. Although I sponge myself down each morning, and rinse my alternating sets of drip-dry underwear and socks, a spray bottle of Febreze would definitely have augmented this trip.
Friday, February 21
And now we get to a scene that could have been right out of a Charlie Chaplin movie. I must have been completely zonked out last night, but at 2 AM, I'm suddenly awakened by a stentorious snort that puts the Caesar in the next compartment to shame. I look around, do a double-take, and discover a guy sleeping in the other bunk. I realize that the Provodnitsa (female car attendant) must have brought another passenger into my compartment while I was dead to the world. With resignation, I return to sleep.

Dawn arrives, and I decide to eat breakfast in the diner for the first time. While the food is not downright terrible, I begin to understand why so few people bother to eat here.

Now we approach Novosibirsk station: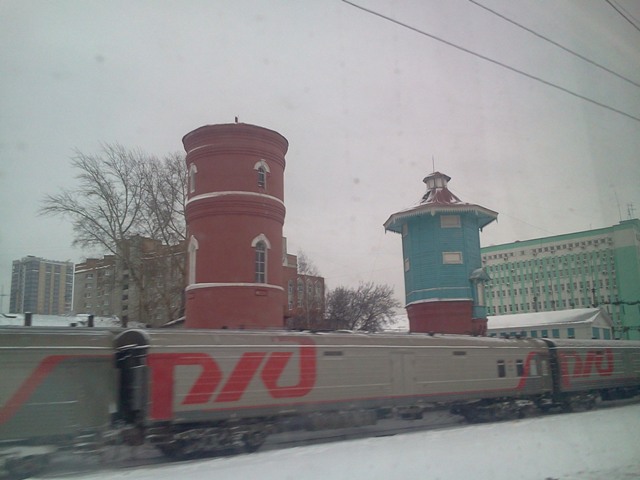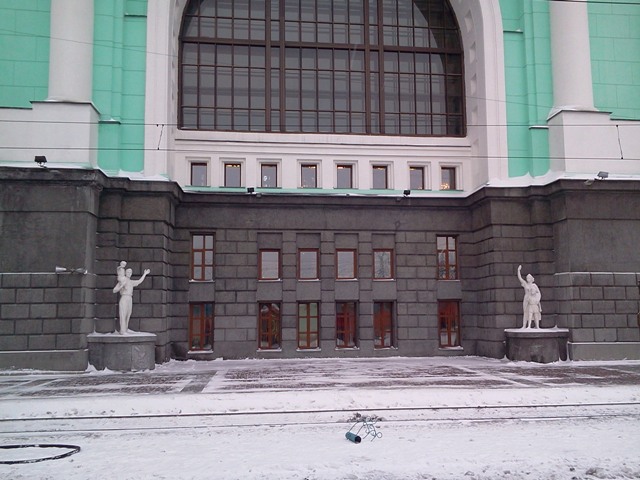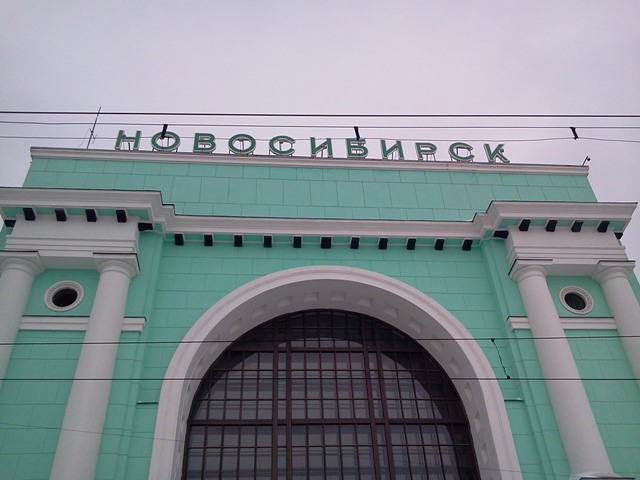 The Visigoth departs here, and once again I have the compartment to myself.
Now I'm starting to run out of food, and at the vendor here I buy two oranges, a meat pie, and a bottle of kvas. I could still use another lemon, and more grapefruit would be nice.
Kvas is a lightly fermented bread and malt beverage, similar to nut brown ale, but without the hops.
As the car gets moving, a new breed emerges from the woodwork: the ambulatory vendor. One tries to sell me a vibrating massager, another scarves, another jewelry, another a turtle carving (actually, in some cases, the same person comes along wearing a different hat). If someone actually sold something I wanted (like grapefruit), that person would be welcome. Fortunately, this will peter out by the time we reach Barobinsk.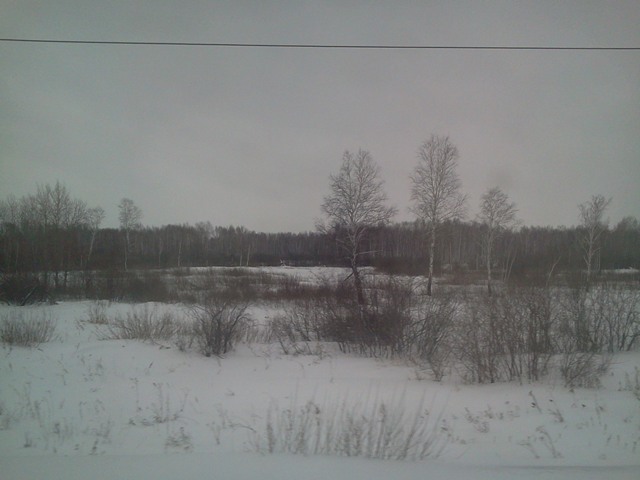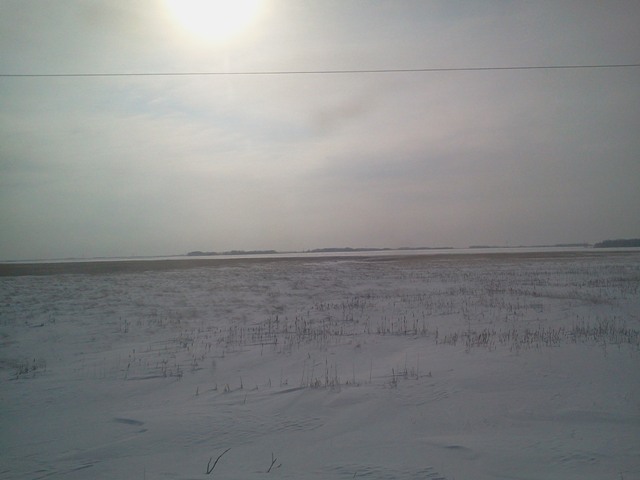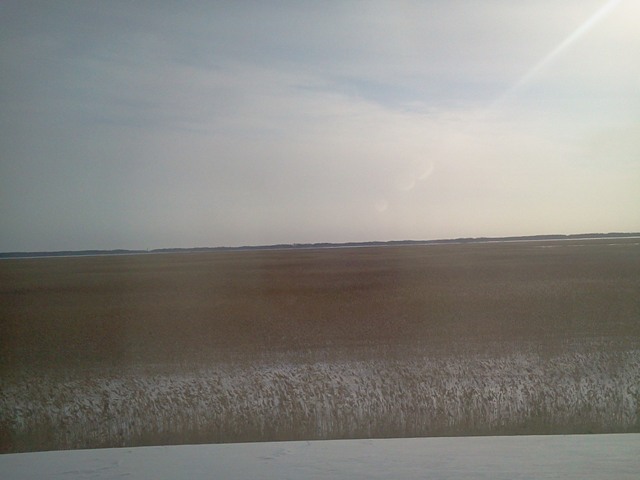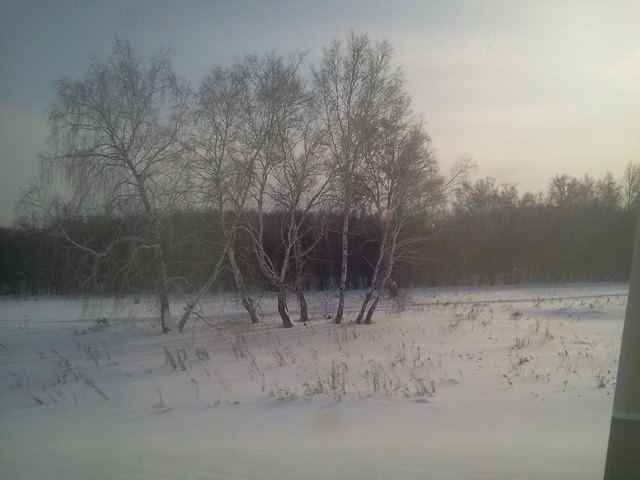 Somewhere around here we stop at Barobinsk, though I don't bother to take a picture. No temperature on display, but I would say that it's the coldest stop yet -- I can actually feel it through my gloves. Also, there's enough of a breeze that I'm forced to put up my hood, which I haven't done since Vladivostok. A number of vendors at the station are selling smoked fish, furs, meat pies, and scarves.
For the first time, I manage to get a picture of a passing milepost -- 2749 km to Moscow: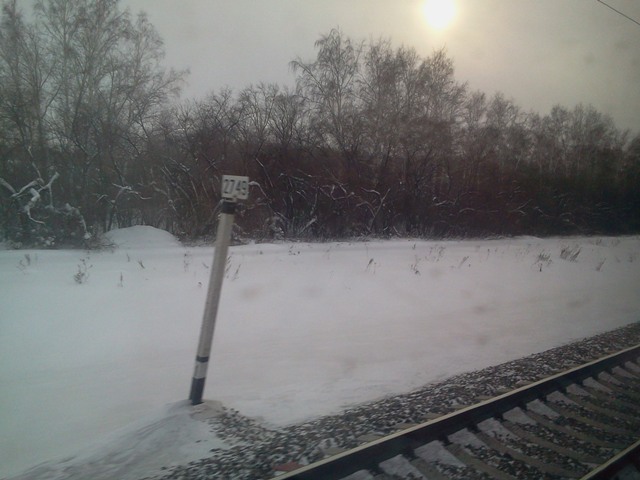 Omsk station [no pictures] is cold and raw, with light snowfall. All day I haven't seen a station vendor I like since Novosibirsk. I guess the lesson here is that when you see something you like, stock up on it, because you may not see it again.
I make another trip to the diner for an overpriced, tepid bowl of soup, and finally give up. If I don't find a decent station vendor again, I will have to settle for a noodle cup.
Saturday, February 22
Just after midnight local: Tyumen (-30°C, -22°F). Boy howdy little dogies, now that's cold! The vendors look fairly decent, but I'm already in bed. The next stop, Ekaterinberg, is around 5:30 AM, and I sleep through it.

Since passing Ekaterinberg, we are out of Siberia and Asia and are now passing through Europe. Just as I was unable to see Lake Baikal, we pass through the Urals while it's still dark, and nothing is visible.

This is the last full day before arriving at Moscow.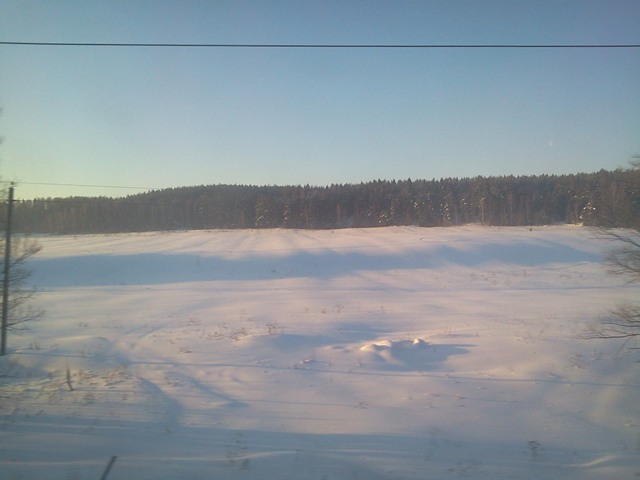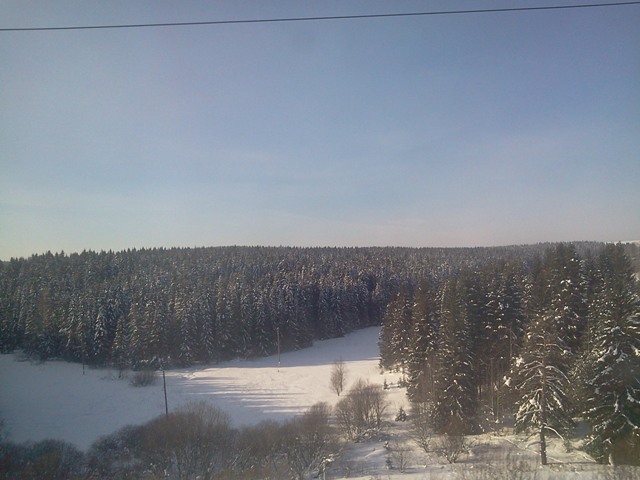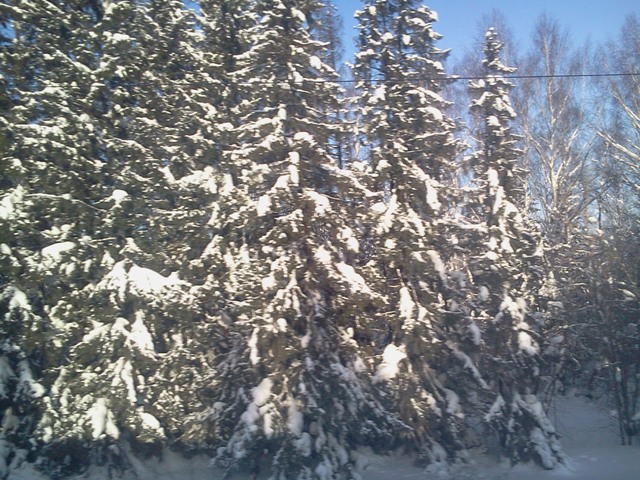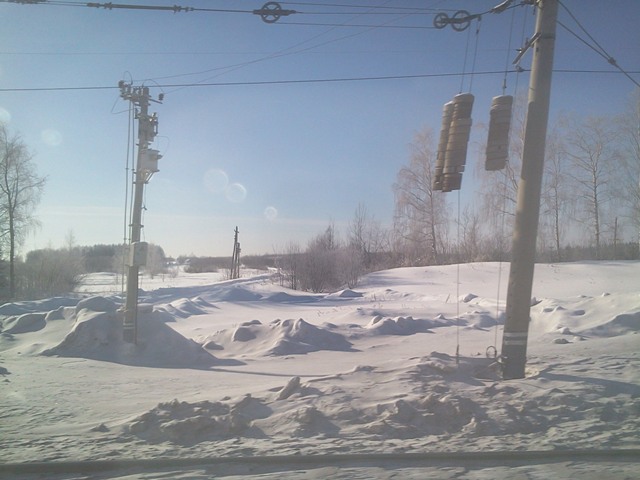 Perm (no temp on display but definitely below 0°F): lousy vendor, bought some fruit nectar and a noodle bowl for breakfast.
It occurs to me to take a picture of a railroad crossing. Most railroad crossings have not only a gate that lowers, but also wicked tire barriers that rise up from the road: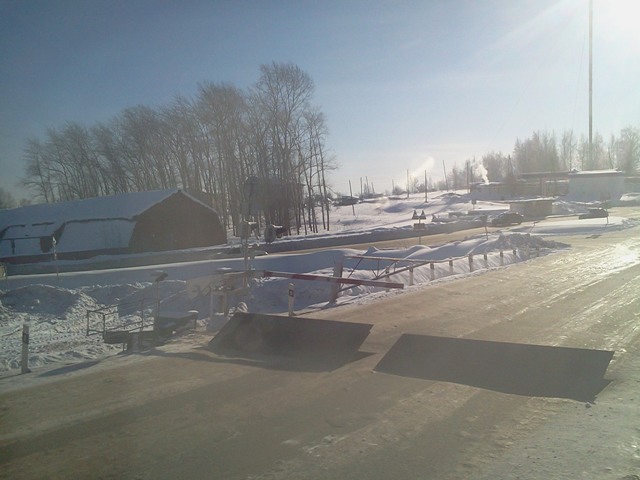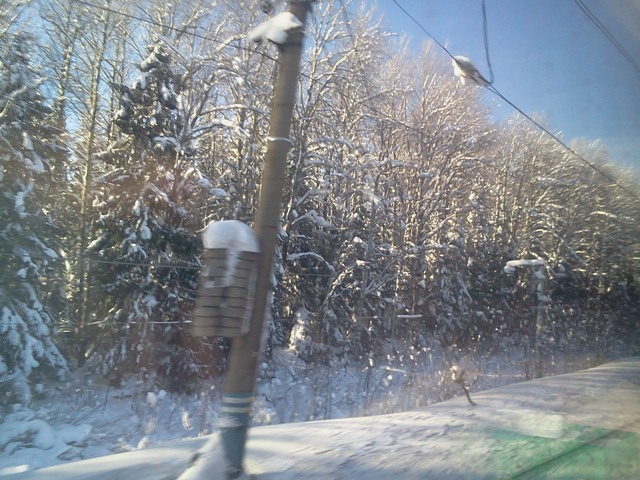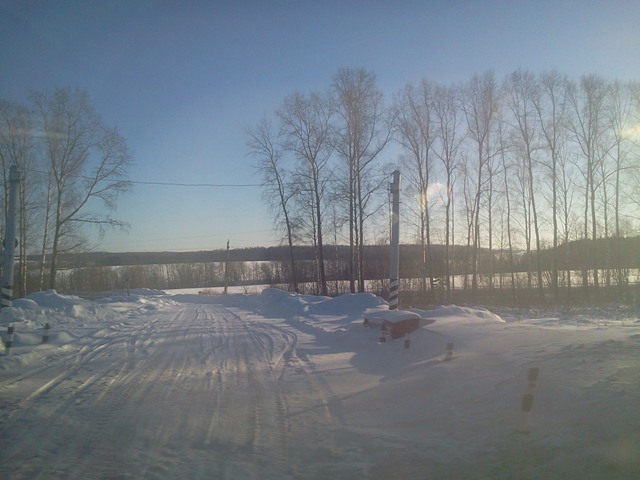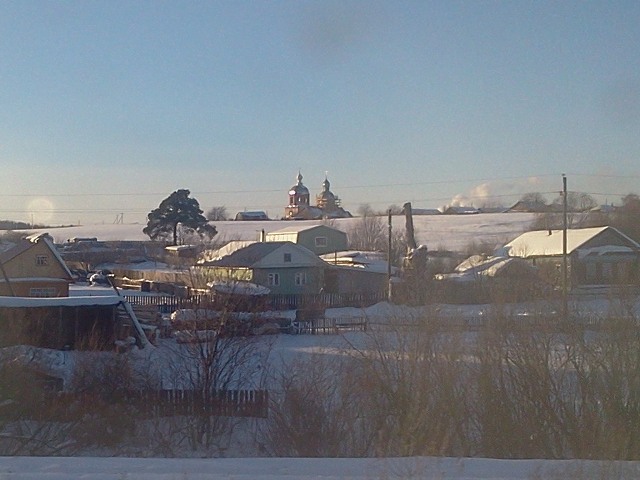 Kirov (-12°C, 10°F): last daylight stop before Moscow. On the way out of town, I spot this cabin and manage to take a picture: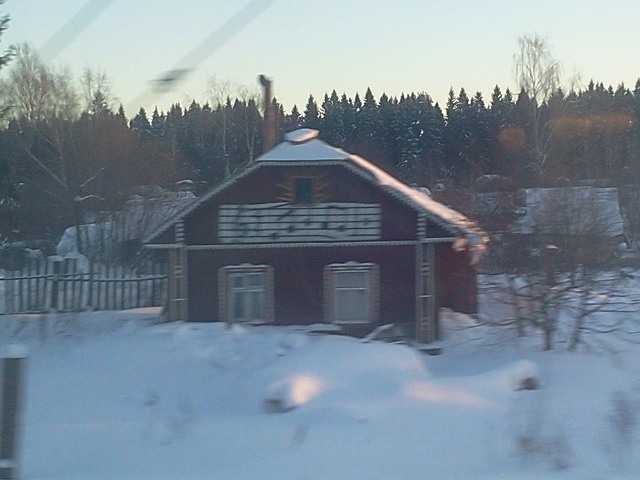 Sunday, February 23
Early morning arrival in Moscow. Temperature is just above freezing, with light drizzle: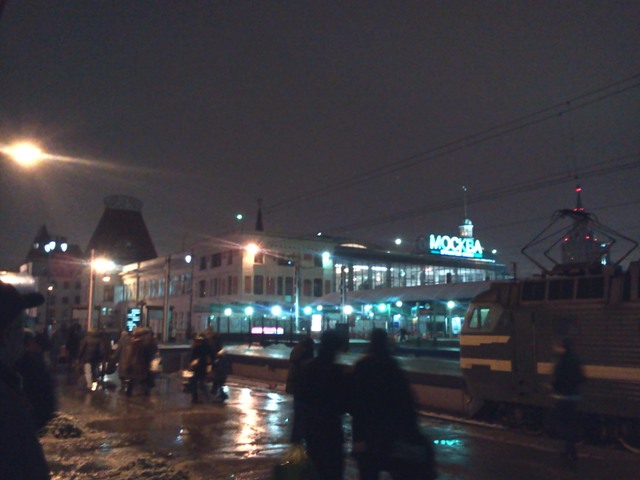 Rush, rush, rush, out of train, to driver, out of station, and to the Hotel Budapest. Still, it's good to be at the hotel and have a hot shower before breakfast. I still have my train legs, so the room feels like it's still moving.
After breakfast, I meet the guide for a walking tour of Moscow. Today, naturally, is a national holiday, and both Red Square and the railroad museum I wanted to visit are closed. Nonetheless, there's much to see.
If I had an entire free day, I could easily spend it just on the Metro. Admission is just over $1, and is good for the entire system. Each subway station has its own distinctive architecture and artwork, and it's a shame that I could only sample a small bit of it: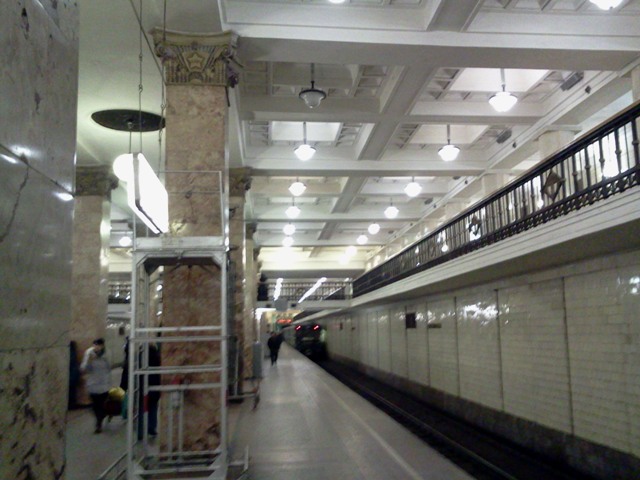 Three major railroad stations in Moscow are close together. This is Leningradsky Station, which goes to St. Petersburg: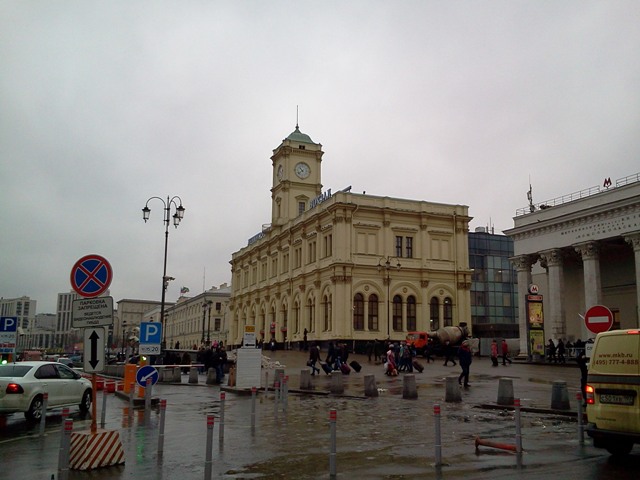 Yaroslavsky Station is where I arrived on the Trans-Siberian [note finger in picture]: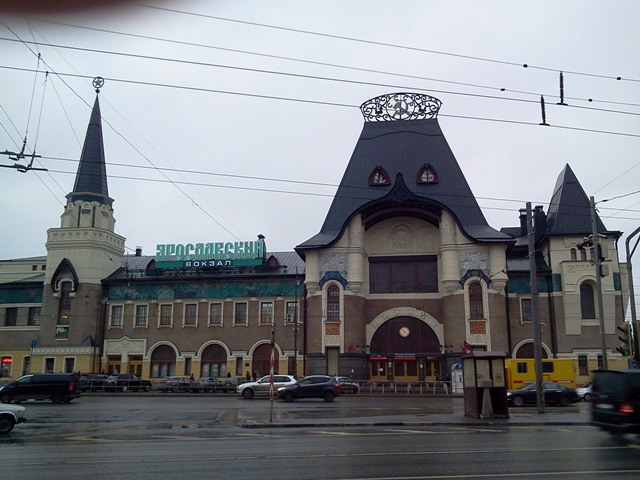 Kazansky Station [note KFC to the left]: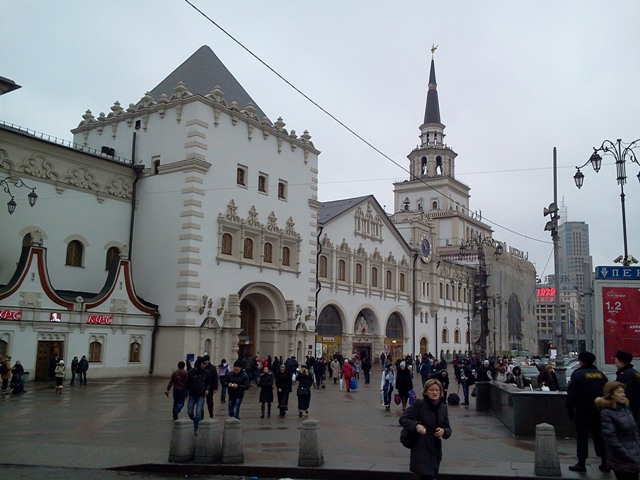 More Metro pictures: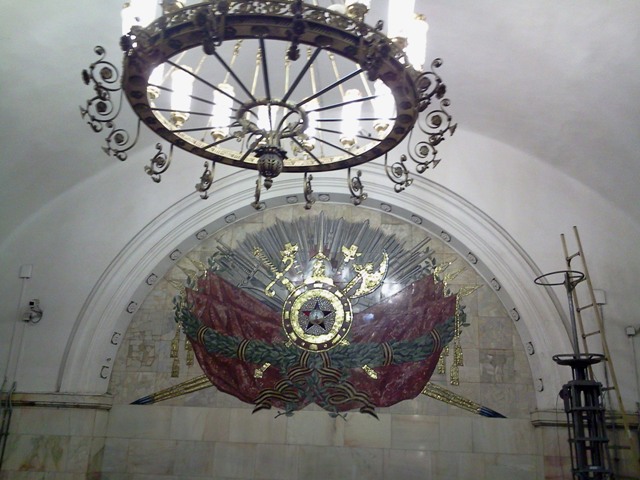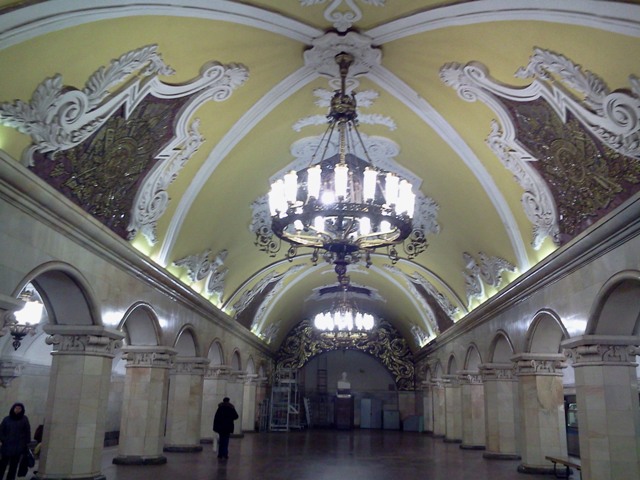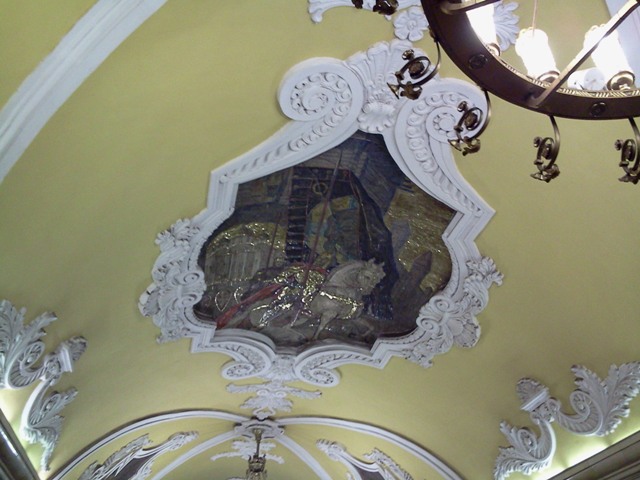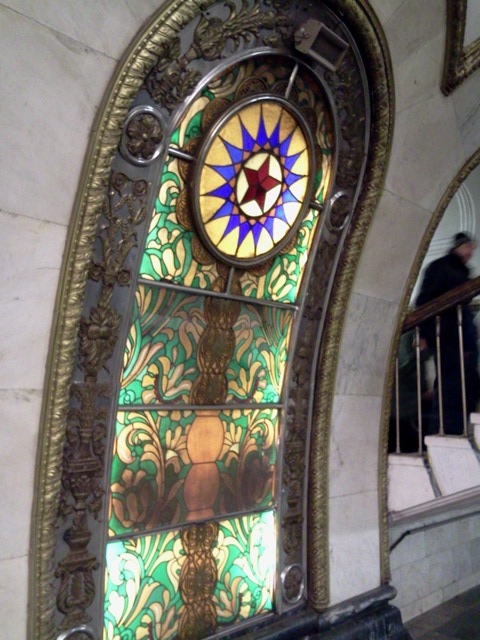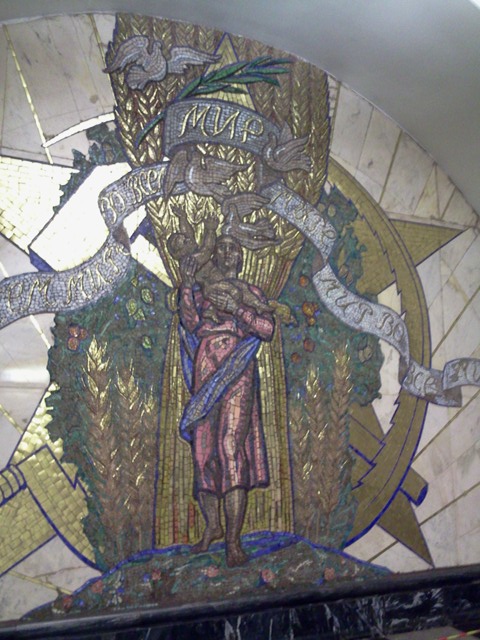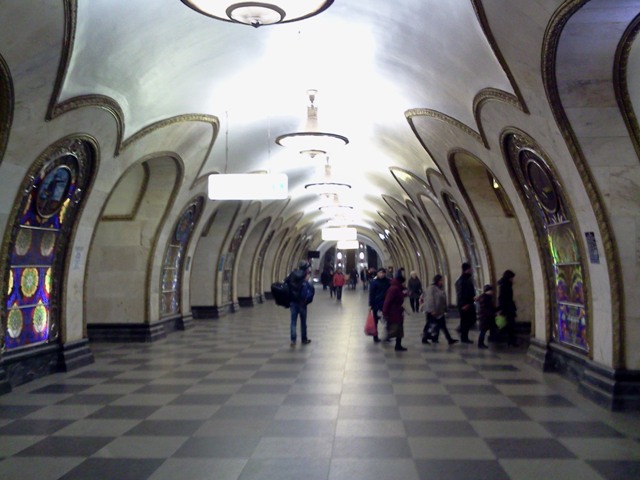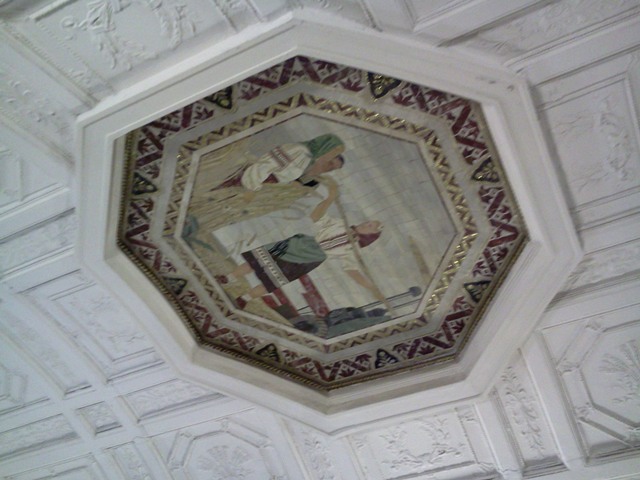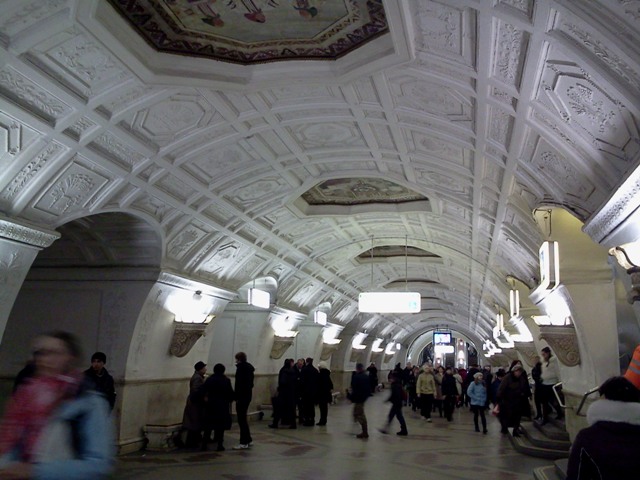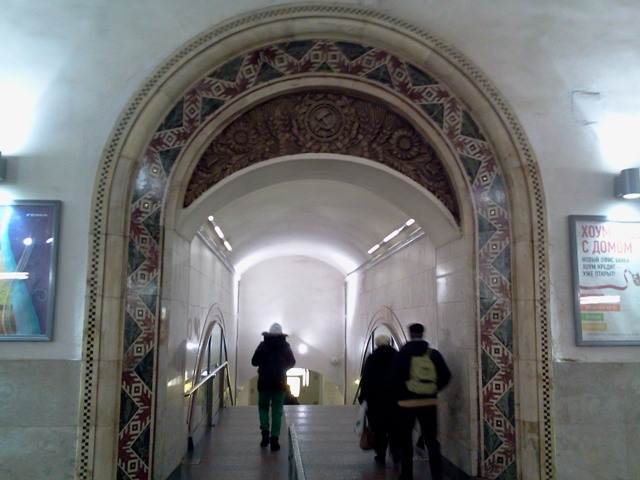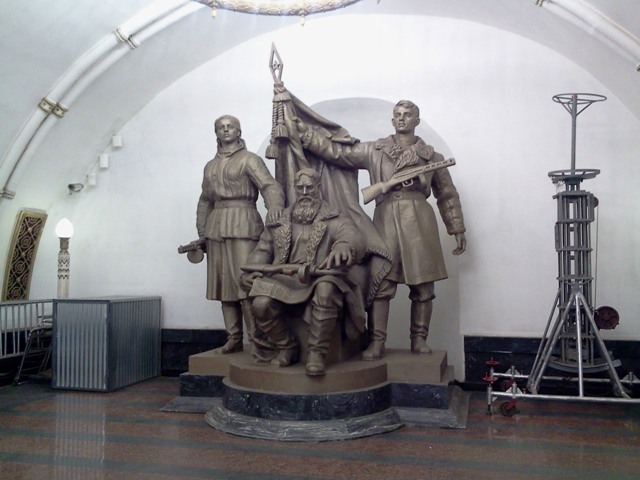 This picture was taken inside a supermarket converted from a confiscated mansion: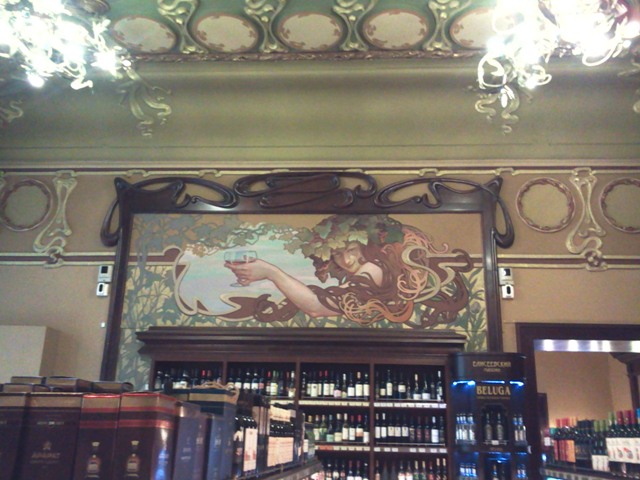 There's a lot of fascinating historic architecture in Moscow. I've already forgotten the story behind this place, but the pictures are worth keeping: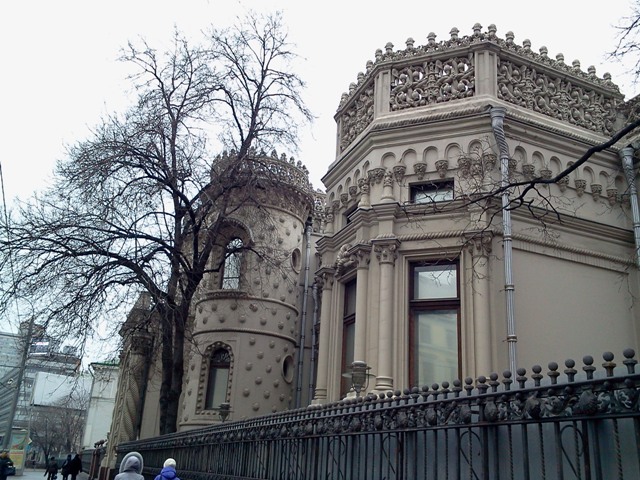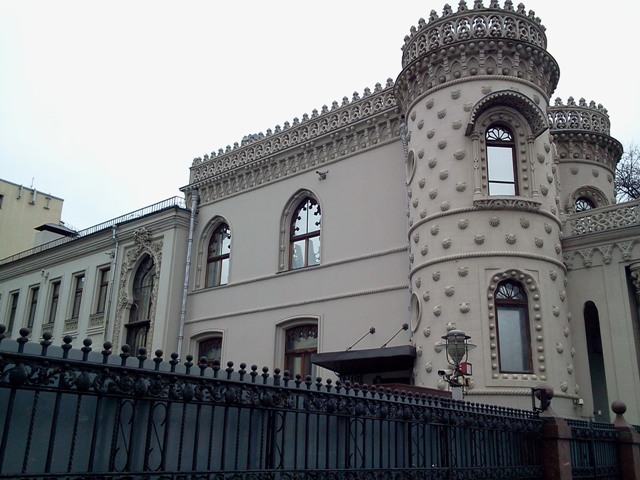 This house was made of exquisitely carved wood, was abandoned for years, and restored again: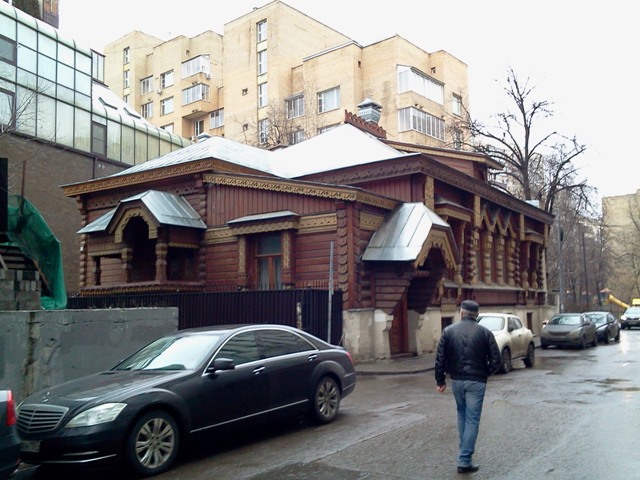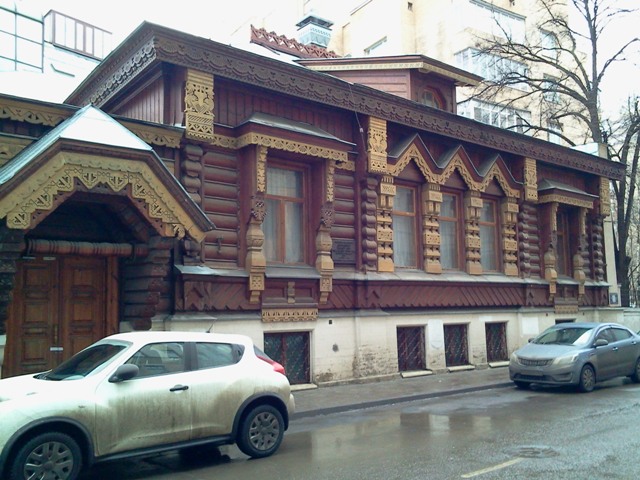 Yevgeny Vakhtangov State Theatre: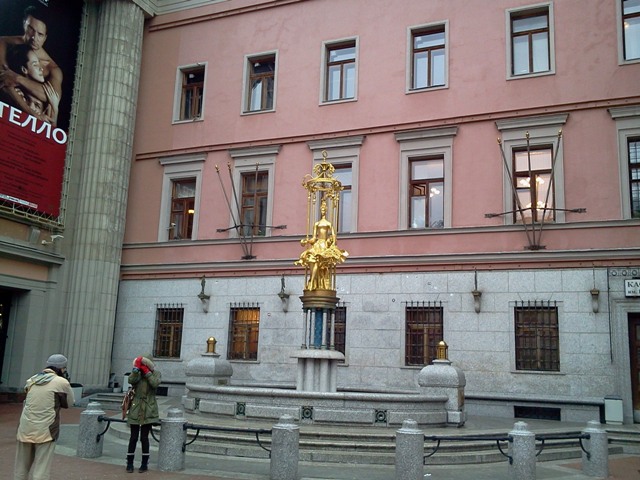 More Metro pictures: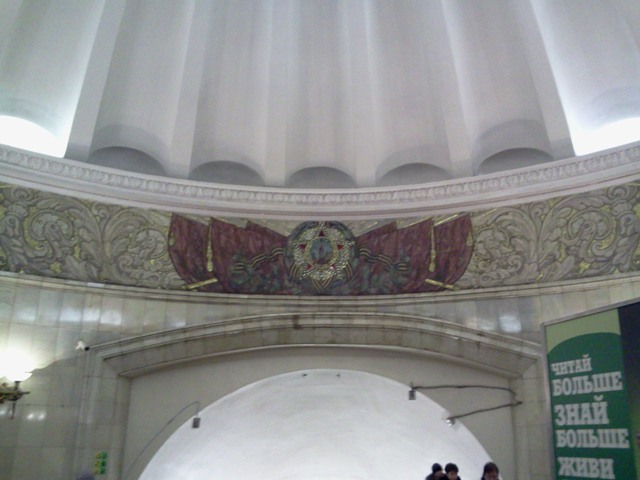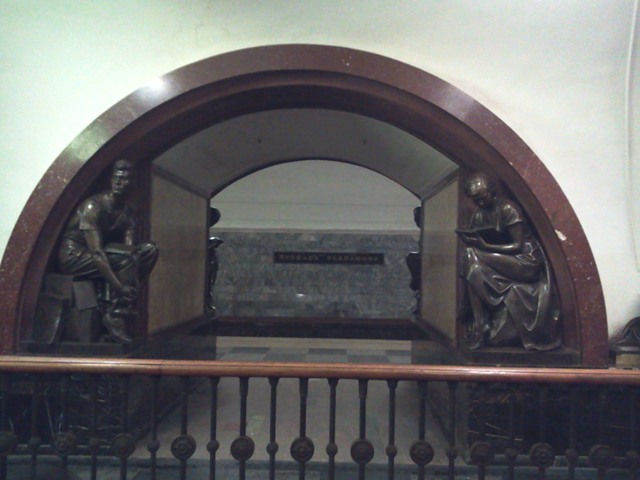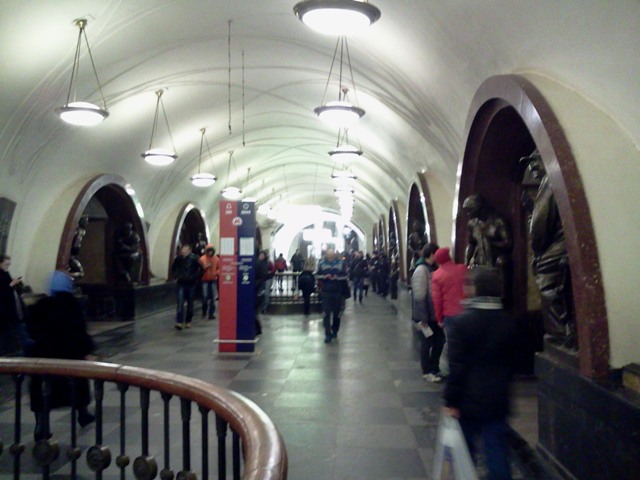 At this point, the guided tour ends, and I make my way back to the hotel to spruce up a bit. Here's the Bolshoi Theatre: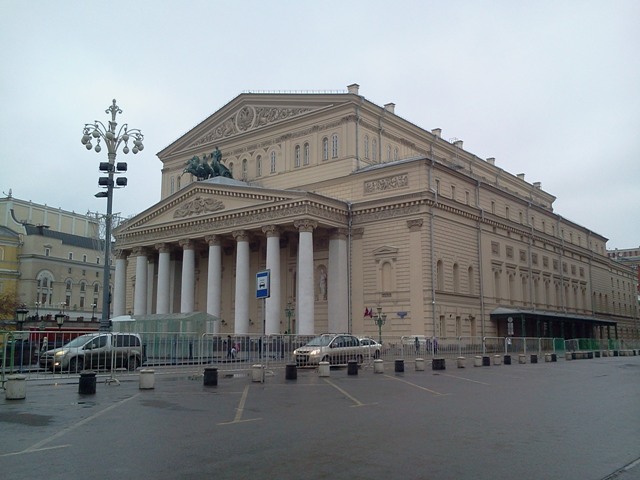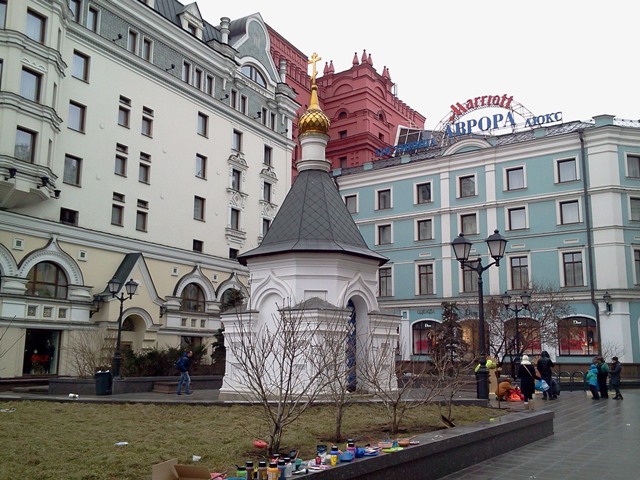 At the hotel, it's a bit of a shock to encounter guests who actually speak English.
Now I'm on my way to Red Square. Here's the Marx statue across from the Bolshoi: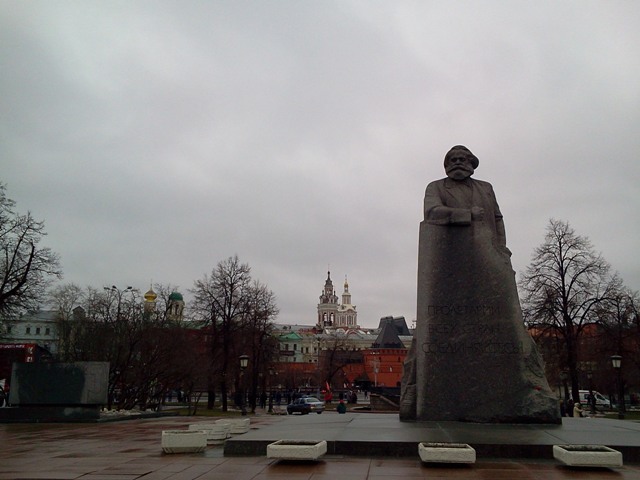 There's a Communist Party rally going on nearby. Lots of police and security forces all over the place. There is definitely a surreal aspect to Moscow which, on one hand, has a strong Communist presence, yet has streets lined with upper crust department stores, haute fashion displays, and jewelry worth a king's ransom.
Red Square is closed off, but I can still take pictures of it and the Kremlin from outside: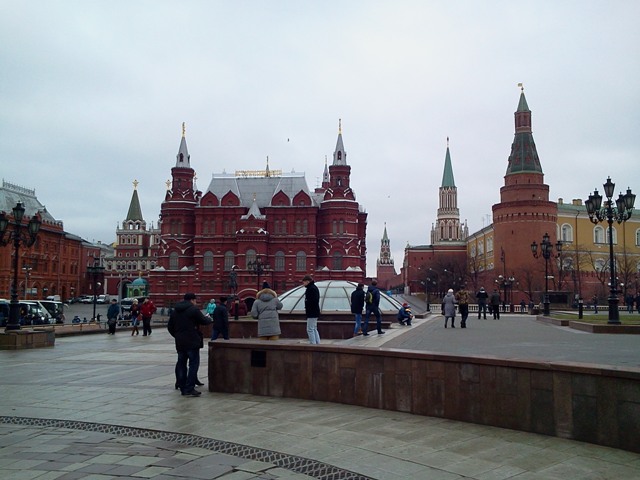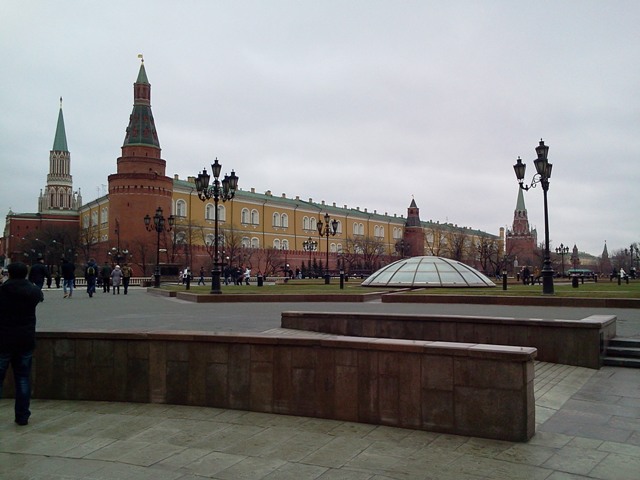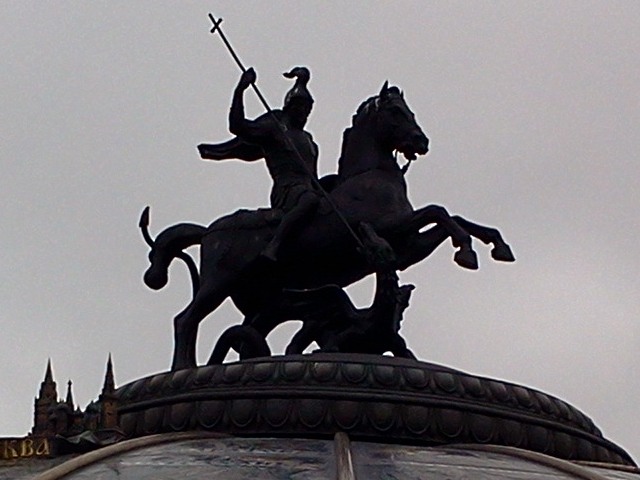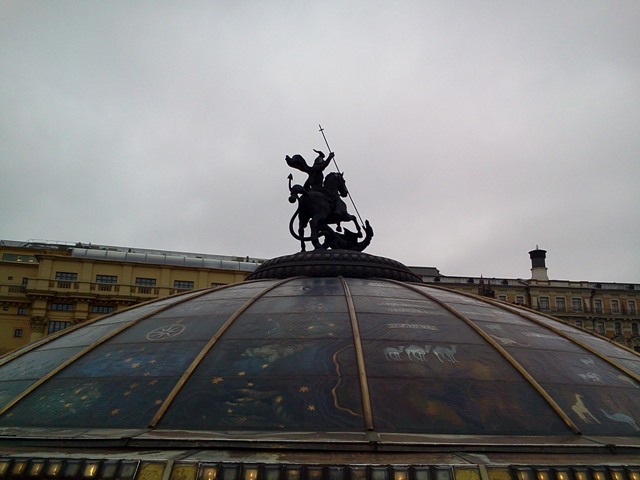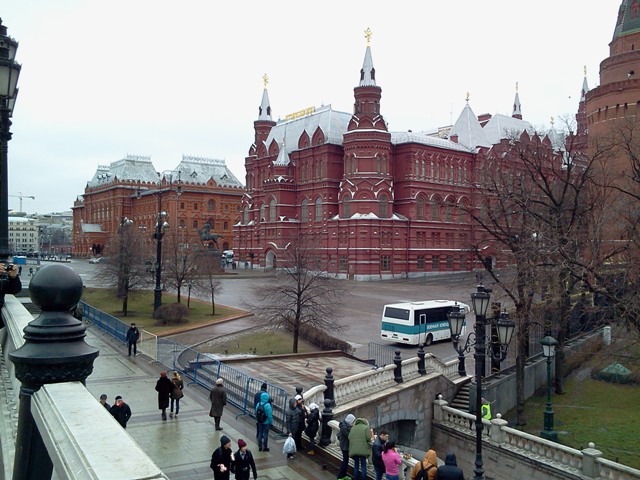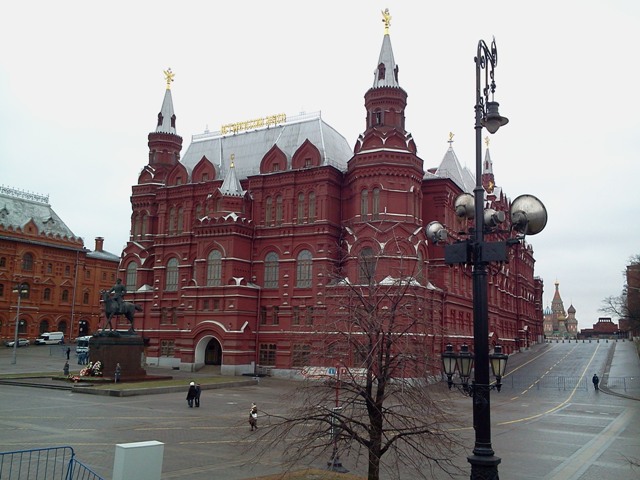 At the end of the day, I relax and eat dinner at the hotel restaurant, ordering Beef Stroganoff, which is served over fried potatoes instead of noodles or rice. It's absolutely delicious, but so rich that I can feel my gall bladder and vascular system crying for help.
Monday, February 24
My room at the Hotel Budapest doesn't have a clock, so I rely on my own gadgets for knowing when to get up. The bed is the least firm that I've encountered thus far, a definite step above concrete. The bathroom is definitely superior to Vladivostok, but the breakfast is not as good.

Before heading off to the airport, I take an early morning stroll back to Red Square to see if I can get in. Here's another shot of the Bolshoi: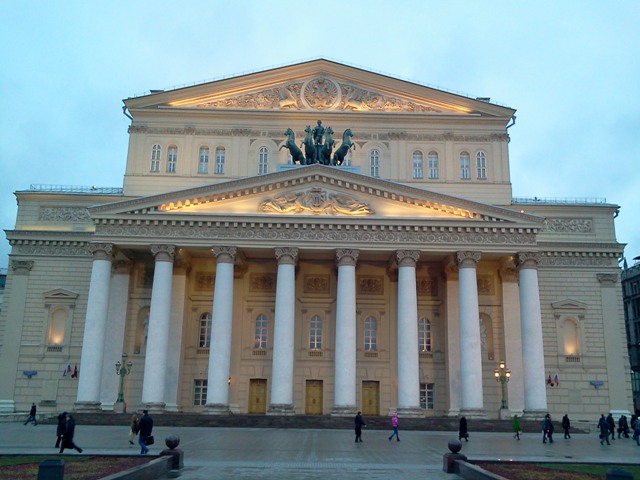 Entrance to Red Square: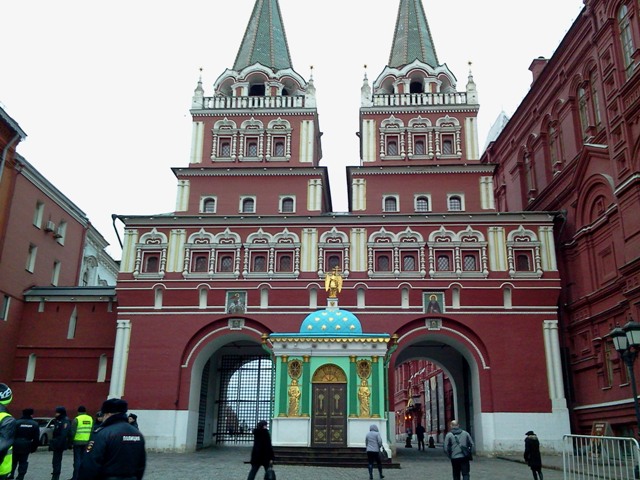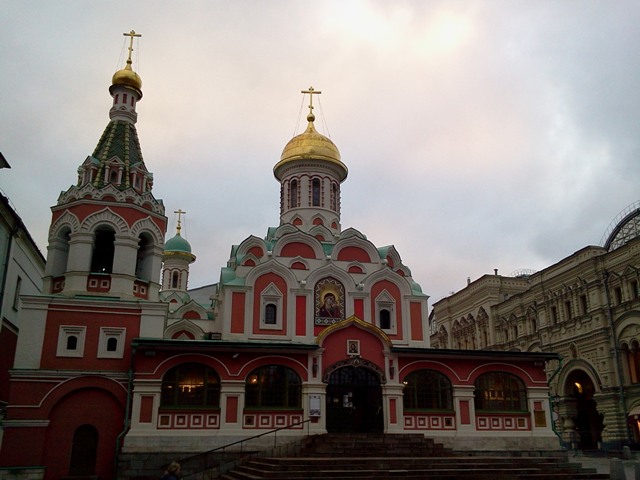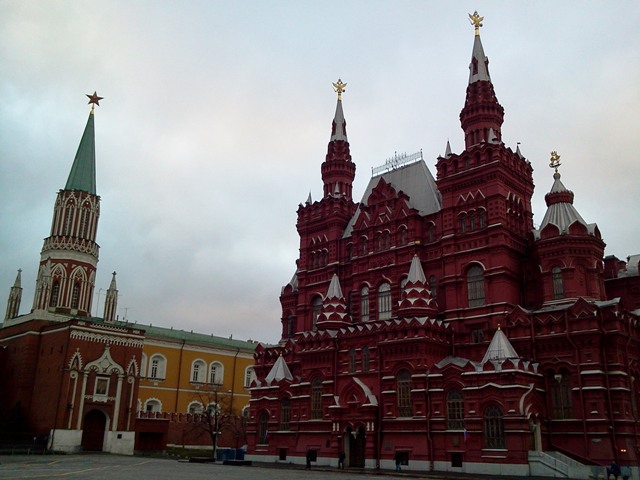 Lenin's Mausoleum next to the Kremlin: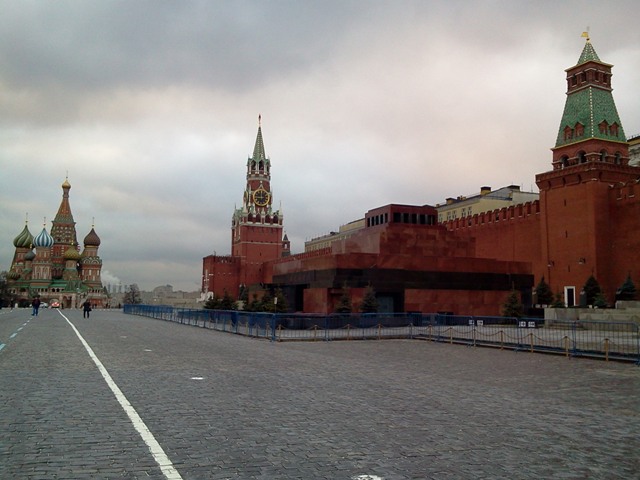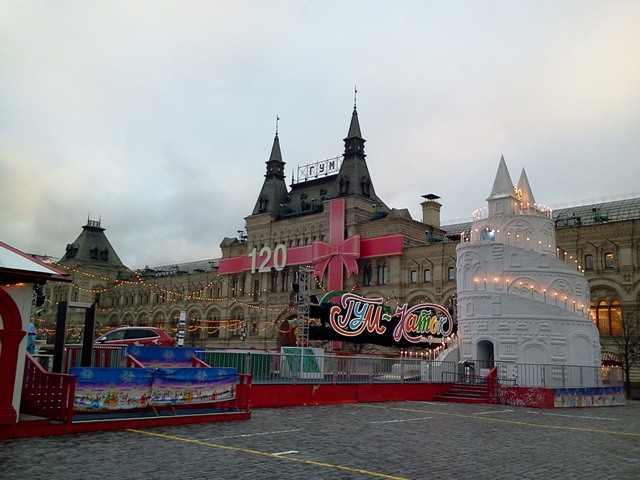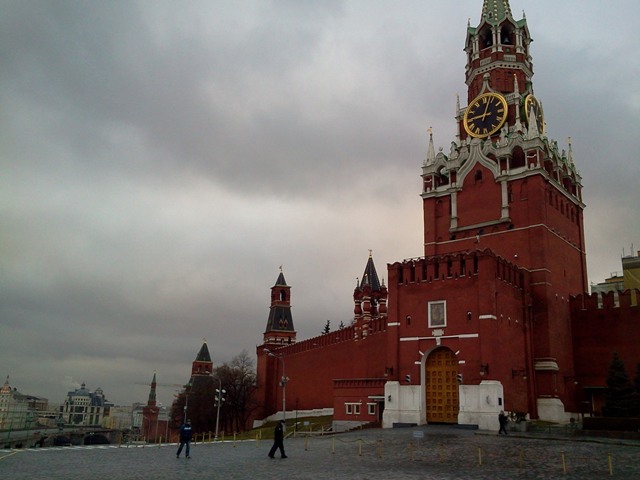 St. Basil's Cathedral: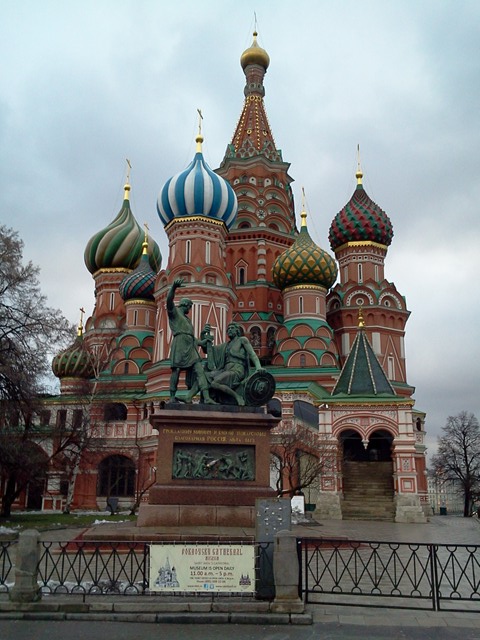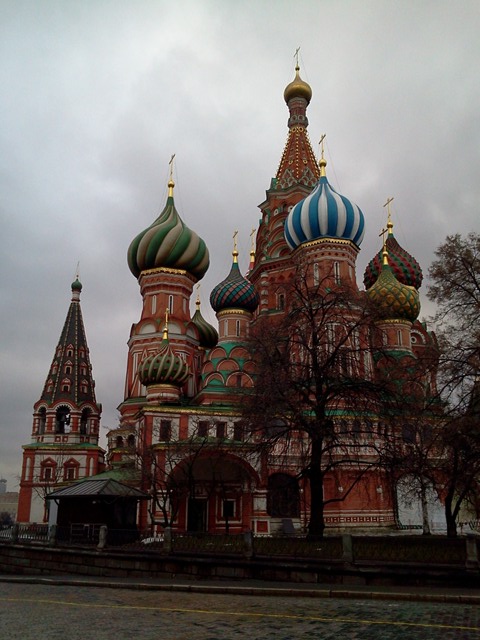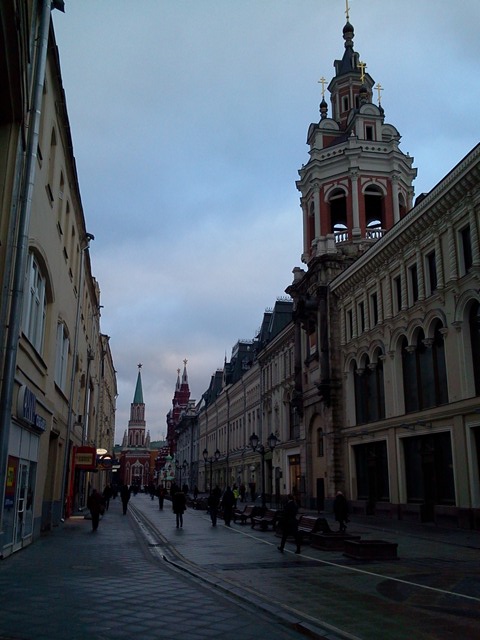 And that's the last of the pictures.
The flight back to the U.S. goes much more smoothly than the return trip from Dublin. Customs and security are a snap, and the food on Aeroflot is good (one meal was stewed lamb with a beet salad). I have a short overnight stay in New York Monday night, and return to Phoenix and Flagstaff on Tuesday. Wednesday is designated crash day.
Postscript:
Read at your own peril!
It was my intent to gloss over my experience of the return flights, but as I review my notes, I feel the urgent need to describe one episode as a Warning to the World. While I'm sitting on the john in Sky Harbor Airport in Phoenix, I hear somebody talking on the cell phone while he's farting and plopping. Once again I'm flabbergasted that there are people who actually do this. Does he think that the party on the other side can't hear what he's doing? Does the other party feel absolutely incapable of saying: "Dude! I'm hearing another party on the line. Could you call back after your asshole is done?" Red fervor seethes through me, but Glorious Revolution is only possible with the help of others. I implore you to do your part for the greater benefit of the People, and let us speak out against this atrocity.